Sanders Got His Start In Burlington, And His Policies Continue To Shape The City
Play
This article is more than 7 years old.
Despite Bernie Sanders' string of primary losses to Hillary Clinton earlier this week, he's vowing to continue his campaign for the Democratic presidential nomination.
With Clinton's big advantage in delegates, the nomination might be a long shot for Sanders. But he's still raising money and rallying for his case that the Democratic Party needs to embrace a set of progressive policies.
Those policies took shape here in Burlington, where Sanders' political unlikely career began — and where his policies continue to shape the city.
A 'Seismic' Mayoral Election
Church Street is the commercial center of Burlington, a lovely pedestrian mall with businesses that remind you of where of you are — and also Sanders' national presidential campaign headquarters. This is ground zero for what he calls his "political revolution."
A lot of people know Sanders in this small city of 40,000 people, including Garrison Nelson, a political science professor at the University of Vermont. Nelson knew Sanders back in the 1970s, when Sanders ran twice for governor and twice for the Senate, in a series of independent campaigns that went nowhere. Back then, Nelson dismissed him as a tedious lefty who needed a day job.
Then Sanders set his sights on the 1981 race for mayor.
"And on Election Night -- I was on the radio sort of doing the play-by-play -- and the results came in and Bernie had won by 22 votes," Nelson recalled. "And I announced, 'Burlington will never be the same!' They did a recount, and the recount shrunk the [winning] margin from 22 to 10."
The victory, to say the least, was unexpected — due in part to a divided Democratic Party, which had run City Hall for decades. Sanders campaigned for rent control, property tax reform and higher wages for the police — and built a citizen coalition that challenged the status quo.
"There is one city in America where people have taken on the Democratic Party, the Republican Party ... and the whole damn establishment, and we beat 'em!" Sanders said in his victory speech in 1981, to applause.
"There's no question that the election was a seismic event in Burlington.  It shook the city fundamentally," said Joe McNeil, who was Burlington's city attorney when Sanders won. McNeil was a Democrat, part of the old guard, but out of loyalty to the city, he stayed on and worked with the new socialist mayor. "And there was worry on the part of the old guard that the sky would be falling, it was just a matter of time, not a matter of whether."
For example, the Board of Aldermen, Burlington's city council, did everything it could to block the new mayor. They rejected his appointments -- even fired his secretary.
"Bernie had somewhat of a peripatetic work history," said Chip Wadhams, a Republican attorney who was also a member of the Board of Alderman. "We thought he was extremely liberal -- that's a little bit understated. He was much more outspoken about being a socialist at the time. So we all thought that this was, I thought that this was all a flash in the pan."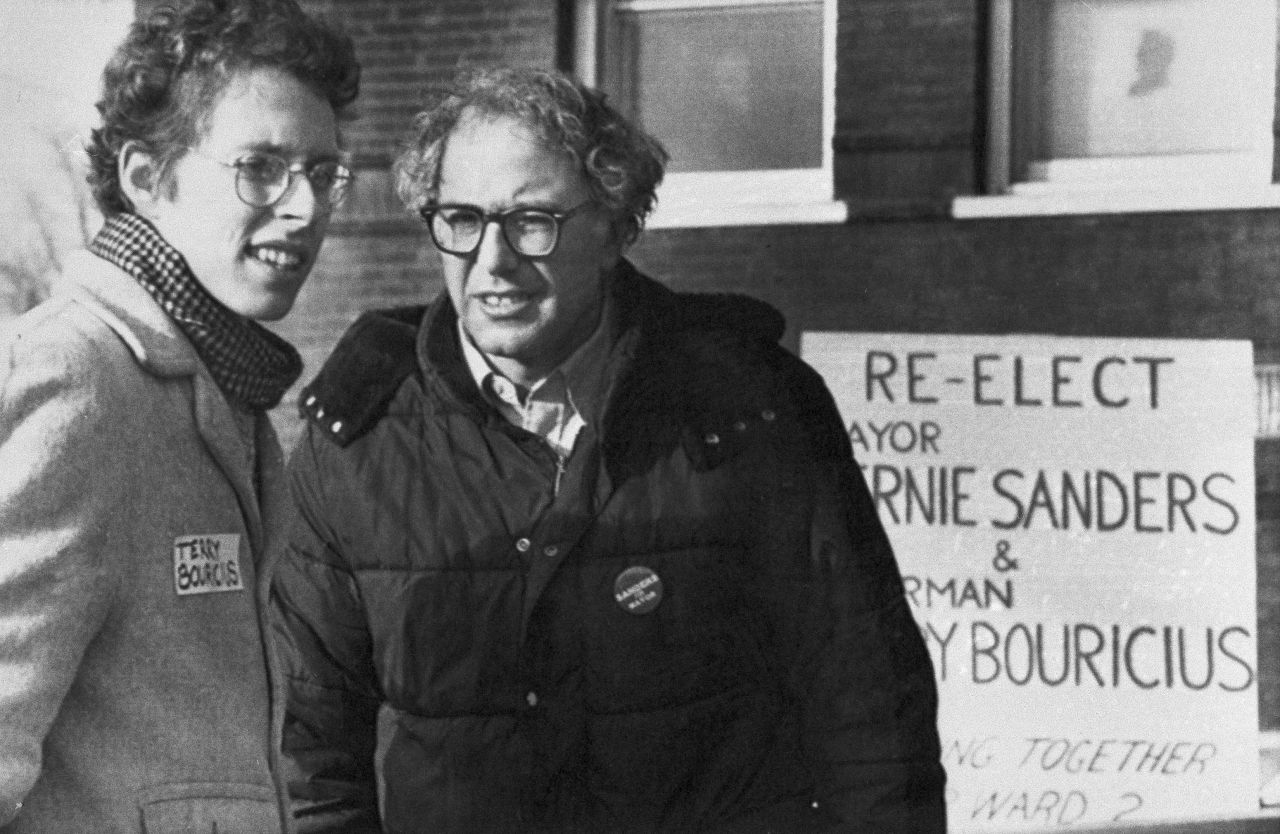 But it wasn't — far from it. The next election, Sanders got more of his allies elected to the city council and started pushing his progressive agenda. Then he won re-election three more times.
And today, even the early critics, like Wadhams, say Sanders was a surprisingly effective executive.
Then-city attorney McNeil agrees with that. He says Sanders turned out to be a budget hawk, who paid close attention to the nuts and bolts of the city's administration and infrastructure.
"It is a bit discordant," McNeil said. "And it took a while to get used to the fact of what some people called a flaming radical was very, very attentive to the bottom line and to the nuts and bolts."
McNeil says that allowed Sanders to pursue much bigger goals — and multiple agendas.
"So for those who were working close with him, he could drive you batty," he said. "I know at times he drove me batty. We would have so many things going that it seemed we wouldn't have the time to be as thoughtful about them as we would have liked. In retrospect, we did have enough time, because we did a number of things."
A Legacy Of 'Civic Engagement'
Here, on the edge of downtown Burlington are the shores of Lake Champlain, with the mountains of upstate New York visible to the west.  This is perhaps the most visible part of Sanders' legacy in this city. Before he became mayor, much of this shoreline was an inaccessible industrial wasteland. Sanders pushed an effort to reclaim it and open it up to the public. And today, there are playgrounds, parks, a community boathouse and an eight-mile bike path along the shore.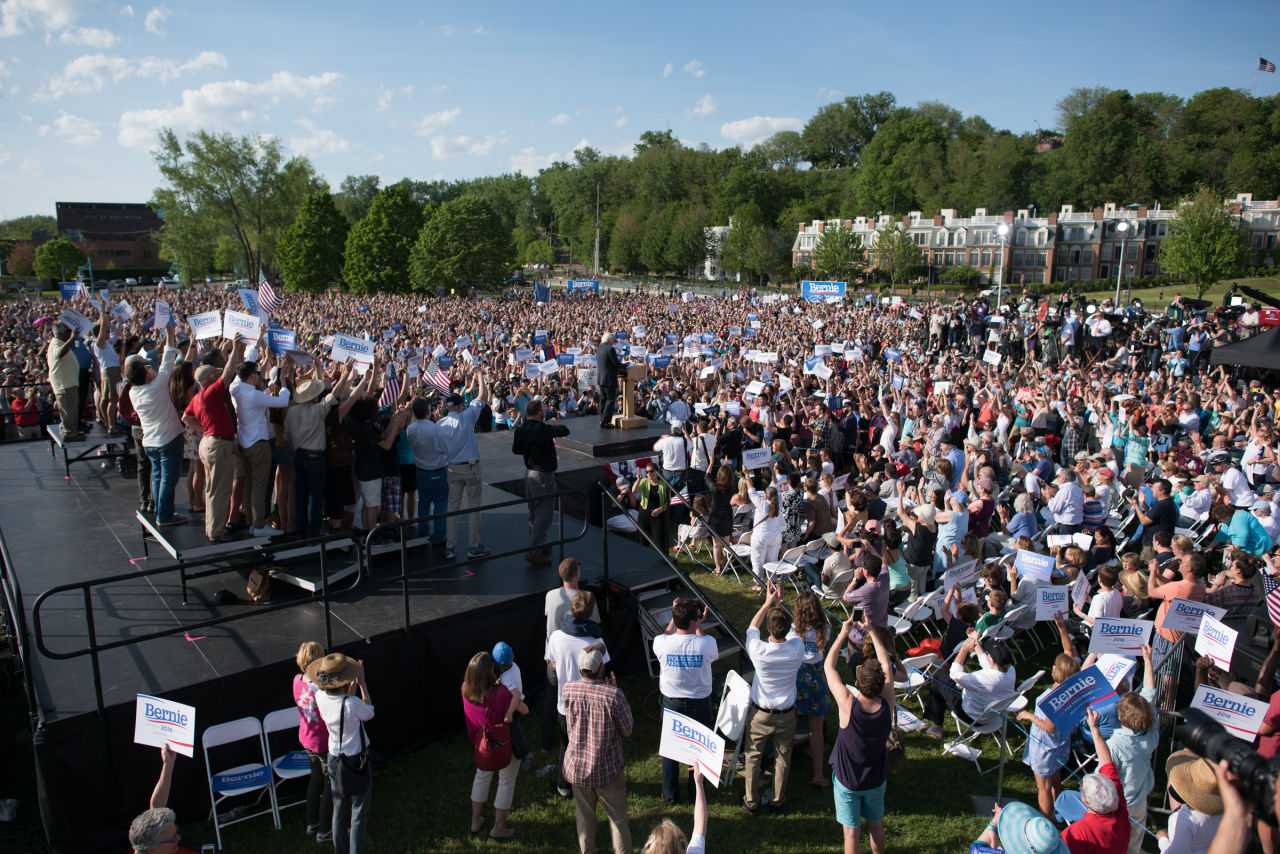 Almost one year ago, Sanders chose this spot to announce his run for the presidency.
"As mayor I worked with the people of Burlington to help turn this waterfront into the beautiful, people-oriented public space it is today," Sanders said to cheers. "We took that fight to the courts, to the legislature and to the people, and we won."
That fight went all the way to the U.S. Supreme Court and established a major precedent that supported public ownership of the waterfront.
If the waterfront represents one part of Sanders' view of what democracy should be about, the Champlain Housing Trust represents another.
"Bernie had invited us to Burlington because in his words, 'I need a few new ideas for affordable housing,' " said John Davis, who worked as the city's housing director for Sanders, who was among the first to champion community land trusts, which promoted homeownership for low-income residents in Burlington. Land trusts make it easier to own a home by allowing families to purchase just the house, while a nonprofit agency  pays for the land.
"People focus on Bernie the socialist and they assume that his highest priority is going to be to expand the government sector, or to suppress the market sector. He did neither," Davis said.
Instead, Davis says Sanders pushed to make the private sector more fair and government more efficient by investing in the nonprofit sector, like the Champlain Land Trust — which over the years has helped hundreds of low income families become homeowners and providing a model that  cities and towns around the world have copied.
But Davis says the most significant part of Sanders' legacy went beyond any one particular program or policy. McNeil, the ex-city attorney, agrees.
"If I were to characterize Bernie's legacy, it would be more about civic engagement, frankly, in terms of just the way he involved people in government," McNeil said.
This began when the Board of Aldermen tried to block Sanders' agenda — so Sanders took his case directly to the people and set up neighborhood planning assemblies, which got people involved in city politics.
"The notion was that most public issues merited from the broadest possible public engagement, which the city council really didn't like initially, because that was their provence," McNeil said. "But he convinced people that the city was worth caring about. And the only way to demonstrate care is to participate. And Burlington has stayed an active city from that time."
Sanders long-time allies say his years as Burlington's mayor offer important clues about what he means by a "political revolution" in his presidential campaign — and what kind of chief executive he would be.
Garrison Nelson of UVM is not so sure. He says Sanders deserves credit as an effective mayor, but he's skeptical of how he'd translate such experience to the White House.
"You're running from a small, monochromatic state like Vermont — 95, 97 percent white," Nelson said. "You know, if your largest city is only 40,000 — which you know there are apartment buildings in New York City larger than that — you're not really ready for all the multitude of issues that are going to get tossed at you in a national campaign."
No surprise that Sanders' long-time allies reject that. Among them, John Flynn, an attorney in Burlington who worked closely with Sanders throughout his years as mayor. Flynn says Sanders has already changed politics well beyond Burlington.
"People have to understand that at the time Bernie Sanders was elected, Vermont was still very much a Republican state, with Republican governors more or less," Flynn said. "By the time Bernie Sanders was done, Vermont was very much a blue state. That happened because the types of issues that Bernie Sanders brought to the table. I mean, he was talking about national health plan when he was mayor in 1986 and '87. So what Bernie's presence on the stage has done is move the center of the political debate way over to the left, which is precisely the effect that he's having in the presidential debate right now in the primaries."
Sanders' allies in Burlington, including those close to his presidential campaign, can count delegates as well as anyone, and know that it's increasingly unlikely he can win the Democratic nomination — especially after his losses this week. But they argue his record as mayor of Burlington launched, if not a political revolution, a significant political movement that continues today.
Correction: An earlier version of this story incorrectly attributed a Garrison Nelson quotation to Joe McNeil. We regret the error. 
This article was originally published on March 18, 2016.
This segment aired on March 18, 2016.