Next Season, Boston Lyric Opera Will Occupy 4 Different Theaters
This article is more than 7 years old.
After facing an uncertain future in terms of its location, the Boston Lyric Opera (BLO) is going from homeless to gypsy for the 2016-'17 season.
Along with details about its 40th anniversary line-up, the BLO announced Wednesday the venues it will occupy when it leaves the Citi Shubert Theatre. It wraps its tenure there after "The Merry Widow" closes in April. News that the company would break with the Shubert after nearly two decades came last fall.

Four Operas, Four Venues
Each of the BLO's upcoming four productions will be staged in different locations: The Boston Opera House, Emerson's Paramount Center, the Emerson/Cutler Majestic Theatre and John Hancock Hall at the Back Bay Events Center.
BLO general and artistic director Esther Nelson acknowledged that's a lot of roving for a major opera company. And while she calls it a creative solution to the BLO's venue challenges, she hopes for a permanent home in the future. "Ideally at that point we'll have something that doesn't necessitate us moving around for every single production," she said, adding, "we are in fact in talks with Emerson and a few partners with regards to the Colonial."
That's a decision that Emerson College will ultimately have to make, Nelson said. The school owns the Colonial and was criticized for exploring non-theatrical use of the space before deciding to scrap those plans.
In a statement, Emerson College president Lee Pelton said he's pleased the BLO has two productions slated for Emerson's Paramount and Cutler Majestic theaters next season.

"Boston's arts community is wonderfully collaborative and supportive. BLO's magnificent global performances are a vital part of the city's rich and innovative arts offerings, and complement the diverse productions that take place on our campus year-round," Pelton said.
If talks regarding a collaboration between the BLO and the Colonial fail, Nelsons said Boston should consider creating a performance venue for local performances.
"This community does have a need for a facility — whether it be a facility that is new, or a facility that is re-purposed for its local producers — in a way that allows us to do our art, and to produce and rehearse in venues that are sustainable and allow us to our best artistic work," she said during a media conference call Wednesday morning.
In a statement, Mayor Marty Walsh said he's "grateful to the theater operators who worked with (the BLO) to help ensure this season." And he added, "BLO's commitment to hiring local artists is strong and reflects the city's commitment to the sector."
Matching Operas To Their Spaces
Nelson and the BLO's board of trustees believe the four spaces will provide the best artistic environment for each of the operas. There's the ambitious season opener, Bizet's "Carmen" (Boston Opera House). Also on the schedule are Turnage's "Greek" (Paramount), Stravinsky's "The Rake's Progress" (Cutler Majestic) and Mozart's "The Marriage of Figaro" (John Hancock Hall).

Some, like "Carmen," will be grander presentations, others will be more intimate. Regarding "Carmen," Don Law, principal owner of the Boston Opera House stated, "Bringing BLO and this glorious production to the Boston Opera House is a dream of ours. It's been 25 years since true, professional opera has been produced here, and we are eager for the return of a spectacular, exciting opera performance to our stage."
The Opera House executive director, Jim Jensen, added during the press conference that they are looking forward to hearing an acoustic performance in the building. Broadway In Boston occupies the theater for a significant portion of the year. "Broadway shows are all miked, and we do a lot of them at the theater. And we enjoy doing them. And we've been the home of the Boston Ballet."
Then he added, "It really has been trying to juggle the scheduling for those two major tenants that has presented the obstacle to us giving this opportunity to BLO in the past, but the opportunity arose and we think that the theater will shine with an opera performance."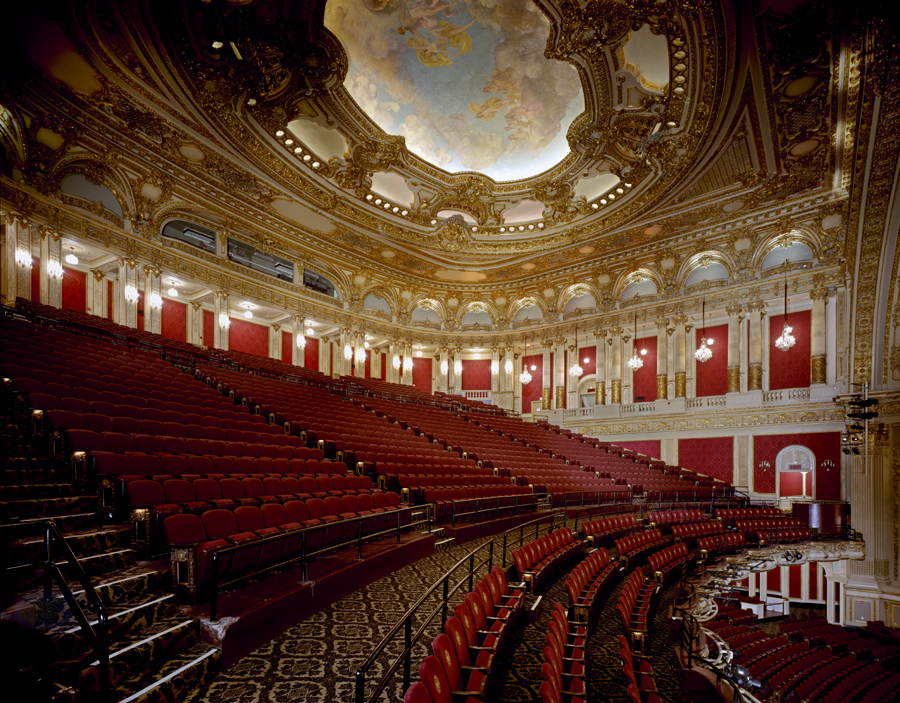 Opera On The Road
The BLO team is accustomed to roaming, in a way, because the company's more scaled-down Opera Annex program has been moving around to various venues over the past few years. It will be different though, Nelson said, using bona fide theaters as opposed to alternative spaces. Regardless, she is clearly excited about the possibilities.

This news comes the same week Boston University said it struck a deal to sell the Huntington Theatre Company's longtime home and two adjoining buildings to local investors and commercial developer John Matteson for $25 million. The hope appears to be that the Huntington will be able to remain in that location after its free-rent contract with the university ends in June 2017.
Preliminary plans for BU's new, state-of-the-art performance center have been unveiled this week, too.
Time will reveal more about the shifting tides in the city's performing arts landscape.