New MBTA Site Lets Commuters Better Track The T's Daily Performance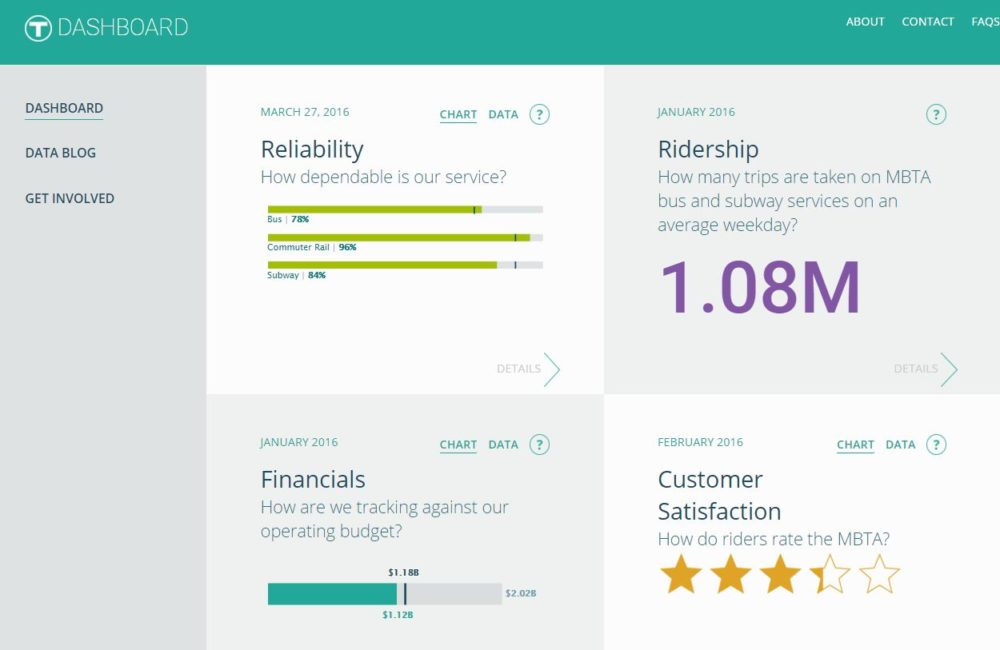 This article is more than 5 years old.
On Monday, the MBTA launched a new interactive online tool that allows passengers to keep tabs on the daily performance of the T's buses and subway and commuter rail lines.
Dubbed the "performance dashboard," the new website provides metrics on ridership, on-time performance, financials and customer satisfaction.
The dashboard won't have real-time reliability data; it will show on-time data from the previous day.
T officials say these metrics will enhance transparency and accountability for riders, as well as serve as a resource for the transportation system to identify lines in need of maintenance or other improvements.
"Sometimes it's vehicles, sometimes it's signal and power, sometimes it's other issues," T General Manager Frank DePaola told WBUR's Newscast Unit. "We're trying to look at each line and each bus line as a individual service that we're providing, and go to those areas that will impact service the most."
DePaola explained that the system will also help users better understand their commutes, including the impact of "minor" delays.
"We're hoping that over time, as a result of key investments that we're making, people will start to recognize trends of both cost control and performance enhancement that they will see build over time," he said.
In addition to the new dashboard, this is the first time data for all branches of the Green Line has been made publicly available. The line appeared to have the most sluggish performance of the T's subway lines on Sunday: