In Key Senate Race, N.H.'s Kelly Ayotte Faces Challenges From The Left And The Right
05:32
Play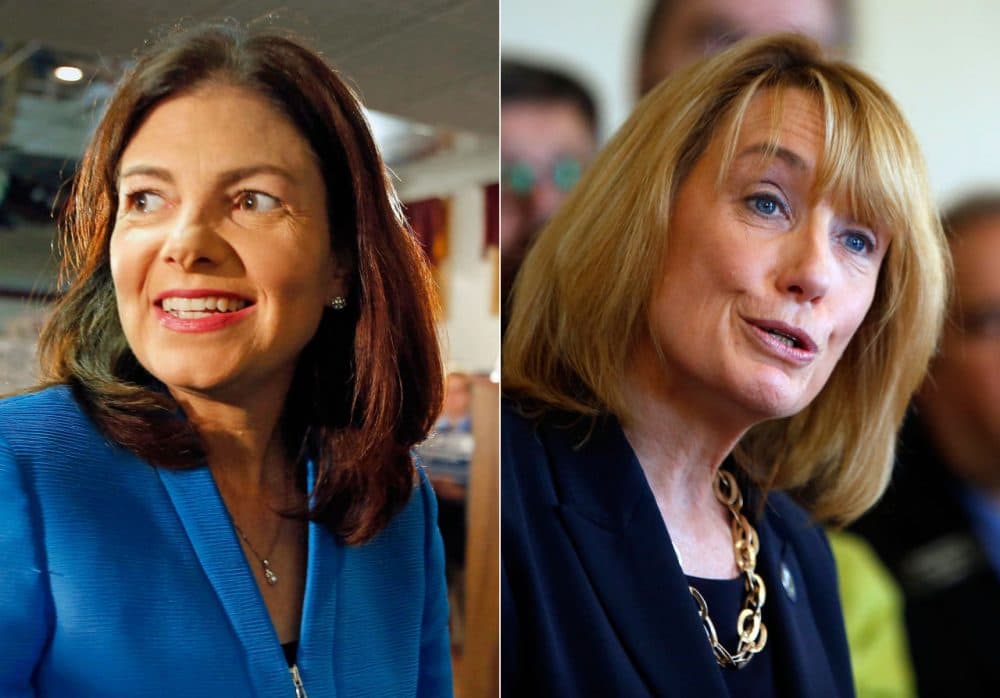 This article is more than 6 years old.
With the presidential campaign attracting so much attention, it's easy to lose sight of another major political race taking shape: the campaign for the U.S. Senate.
Democrats are hoping they can win control of the Senate, where Republicans hold a four-seat majority and face the challenge of defending 24 seats in November.
Among the key races is the contest in New Hampshire, where popular Republican Sen. Kelly Ayotte faces a series of threats: a challenge on the left from popular Democratic Gov. Maggie Hassan, and a challenge on the right from within her own party. And then there's the question of Donald Trump.
The Senate Majority PAC, which is supporting efforts to elect Democrats to the U.S. Senate, is running ads in New Hampshire that fault Ayotte and her fellow Senate Republicans for refusing to give a hearing to Judge Merrick Garland, President Obama's pick for the Supreme Court. The ads link her to the combustible Republican frontrunner, Trump, who could be a liability in November.
"Donald Trump wants the Senate to delay filling the Supreme Court vacancy so he can choose the nominee next year," the ad says. "And Sen. Kelly Ayotte is right there to help."
Asked if she would support Trump if he were to win the Republican presidential nomination, Ayotte says she's focused on other challenges.
"I'm running against Gov. Hassan," she said in Hanover last weekend. "I'll support the Republican nominee, but I want to see how this plays out. This process is far from over."
At the same time, Ayotte is facing her own process to win re-election.
A few days ago, Gov. Hassan was at a ribbon-cutting for an addiction recovery center in Manchester. After the event, she talked about why she wants Ayotte's job. Hassan called the senator too close to the Republican Party's right wing, citing her votes to repeal Obamacare, defund Planned Parenthood and oppose new gun control measures.
"Her voting record in her first four years was about 90 percent with the Koch brothers and her far-right party's leadership," Hassan said. "And she's standing with them right now, saying there shouldn't even be a hearing on President Obama's nominee."
Asked if the Democrats would handle the situation any differently, Hassan said that "past dysfunction is not an excuse for current dysfunction."
Hassan and the Senate Majority PAC are counting on this issue to fire up the base. Whether it will or not is unclear, though it has sparked some small protests and editorials urging Ayotte to "do her job."
"The Constitution is clear," Hassan said. "The president has a duty to make a nomination, and the Senate has a duty to advise and consent."
For her part, Ayotte takes the position of the Republican leadership that the Senate should put off any high court hearings until after the election.
"The people should have a voice in this," she said. "This is a decision that is going to have an impact on the nation for decades. So my position is, let's let the people have a voice in this."
But Ayotte's position requires a bit of a balancing act: On the one hand she opposes hearings for Garland, but on the other she's among a small group of Republican senators willing to meet with the judge, prompting her critics to say she's trying to have it both ways.
Among her critics is Jim Rubens, a fellow Republican and former state senator who's challenging her in the Republican primary. Rubens questions Ayotte's conservative credentials.
"The problem is she's gone completely off the rails on the big issues," he said last weekend on WMUR. "She stabbed the base. She stabbed our party's principles in the back."
Among Rubens' charges: that Ayotte supported bipartisan immigration reform that would have provided a path for citizenship for undocumented immigrants.
Andy Smith, of the University of New Hampshire Survey Center, says the fact that Ayotte is being attacked from both the left and the right represents a difficult challenge for her in a state like New Hampshire.
"New Hampshire is a state that leans Democratic, so that makes it difficult for any Republican," Smith said.
"If she's forced to run to the political right to stave off a primary challenge, that could make it more difficult for her in the general election, where you have to be more in the political center."

Andy Smith, of the UNH Survey Center
Ayotte has an advantage in that she's popular and the incumbent, but Smith said, "If she's forced to run to the political right to stave off a primary challenge, that could make it more difficult for her in the general election, where you have to be more in the political center."
Ayotte says she is not surprised or daunted by the challenges from the right and the left.
"This is what happens when you actually work with people and you have a record like mine," she said last weekend in Hanover, touting her reputation as a centrist.
It is fair to say that Ayotte is a conservative who doesn't always vote in lockstep with her party. For example, she endorsed the president's Clean Power Plan, backed paid sick leave and supported giving full government benefits to same-sex couples.
"I'm focused on being a strong independent voice to get things done for New Hampshire," she said. "So I understand that I'm going to take criticism from the extremes."
With the New Hampshire presidential primary behind us, the political focus has shifted elsewhere in the country. But soon enough it will return to New Hampshire, where the contest between a popular Republican senator and a popular Democratic governor could have a lot to say about which party ends up controlling the Senate.
This segment aired on April 5, 2016.