Finding Freedom In Dance: This Brazilian Troupe Breaks Down Socioeconomic Barriers
Sonia Destri Lie took her first ballet class at the age of 4. Simply following in her sister's footsteps, she did not realize that she would fall in love, but that's exactly what happened.
Her sister eventually grew tired of dancing, but Destri Lie never stopped. Today, she is one of Brazil's leading choreographers and the founder and artistic director of Companhia Urbana de Dança, a contemporary hip-hop troupe based in Rio de Janeiro. Established in 2005 with co-founder and dancer Tiago Sousa, the company showcases street dancers from the favelas, or slums, who had no prior training, but rather an innate affinity for movement.
The company's nine dancers, eight of whom are men, will make their Boston debut this weekend (April 15-16) at the Institute of Contemporary Art, performing "ID: Entidades" and "Na Pista." The show is presented by World Music/CRASHarts.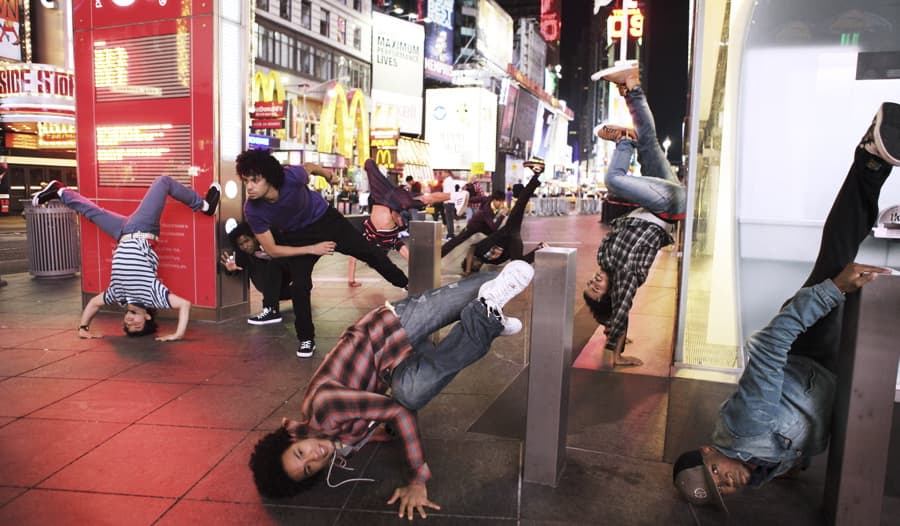 "For me, when my dancers get onstage, is for real," Destri Lie said in an email interview. "It is life or death." The company's future, she explained, depends on the "love, care and hope" the dancers lace into each performance.
Her choreographic style is a fusion of urban street-style dance, hip-hop, samba, capoeira, contemporary dance and Brazilian social dance — a new genre she created with an added dimension of spirituality. Her dancers ooze power, energy and most importantly, chemistry. There is an unspoken connection in their movement, a shared understanding in their interactions that yields near-seamless synchronicity.
Hip-hop, the company's uniting feature, began as a new challenge for Destri Lie, a sliver of hope that freed her from a creative slump she had been experiencing as a contemporary choreographer. After completing her degrees in ballet and psychology, she moved to Germany, where the American b-boy Marvin A. Smith introduced her to hip-hop. Upon moving back to Rio, she received invitations to choreograph the city's fashion week and "Maré, Nossa História de Amor," a romance film directed by Lúcia Murat.
One of the dancers she hired was Tiago Sousa. Born and raised in the Morro do Turano favela, Sousa said he remembers growing up with his sisters dancing "carioca funk," or "baile funk."
"My options were dancing or turning into a gangster, but I chose the dance," he said in an email interview. "I've learned everything I know about dance in the streets, friends' houses, backyards, slabs, supermarkets, parking and everywhere we could practice."
His favorite piece to perform, "ID: Entidades," is the company's signature work. Choreographed in 2009, the work represents a period of darkness within the troupe as the company members faced the illness of a fellow dancer.
"It gave them a chance to show how strong they are as a group," Destri Lie said of the emotional piece. The simplicity of the lights and the dark costumes against a black stage only magnifies the melancholic state and redirects the focus of the work to the solidarity of the company.
The dancers jump, flip, spin and roll, but the tricks do not overshadow the performance, not even in "Na Pista," an upbeat work choreographed in 2012. During this time, Destri Lie added a female dancer to the originally all-male company. "I thought that was time to have some fun," she said. "How can I have a party without a girl?"
With chairs as props and spotlights shining down in front of a red brick wall, the stage seems to lose its distinction and instead resembles the intimate nature of a club. The work, Sousa said, "alludes to a carioca slang 'estar na pista' that means that you are single, not committed with anyone and ready for anything."
Destri Lie and her dancers certainly seem ready for anything, as they continue to surpass audiences' expectations with every performance. Last month, their Los Angeles debut received a rave review from The Los Angeles Times.
"Not only has [Companhia Urbana] influenced my life as it is my life, [it] gave me discipline," Sousa said. "I'm a learned man. I met many places and people around the world. [It] gave me an identity, responsibility, and a goal. I feel fulfilled to be able to follow the career I've always dreamed of and a company that I can call mine."
Sousa said he is challenged daily both in the studio and behind the scenes, from developing technicality in his dancing to keeping the company financially afloat. But the moment he steps onstage, he said, "[It] is only pleasure and achievement. I can forget the rest."
As with any company, the work is a collaborative effort, but Destri Lie strives to provide her dancers with a platform from which to express their individual identities. "She gives us the direction where to go in the movement," Sousa said, "and we try to execute it as it was proposed, but in our own way."
The dancers' backgrounds and circumstances may differ, but their lives are forever intertwined because of the freedom they found in movement. Through dance, they discovered an outlet, a way to fight against social and cultural barriers. They found purpose.
Before she met her dancers, Destri Lie said she did not fully understand the struggles of poverty and racism. "With them, I could understand how is to [be] black in a racism society, how is to be poor in a society without opportunities," she said. "With them, I could understand how important art is. With them, I understood that I could help them to make the difference in this world or at least in their and my neighborhood."