'We're Gonna Die' At Oberon — The Grim Facts Of Life Have Never Been So Fun
Update: After an acclaimed run at Oberon last spring, the American Repertory Theater is bringing back Young Jean Lee's "We're Gonna Die" to Oberon Oct. 4-8. Here's Kilian Melloy's review from last spring.
---
CAMBRIDGE, Mass. — Young Jean Lee's "We're Gonna Die" — produced by Company One Theatre in association with the American Repertory Theater and running through April 29 at Oberon — doesn't break new ground, but it doesn't need to. Rather, the show claims half an acre of a well-trodden philosophical patch and more or less builds a fun park there.
With a handful of simple, universally accessible stories — and a half dozen mostly upbeat songs — the hour-long show takes a look at how suffering and loss are always part of life, with death the inevitable end. None of that is optional, as terrifying as it might sound, so why not make the best of it? The good news is that, yes, it's hard sometimes, but there's a shaft of light… or at least a sliver of comfort… to be gleaned.
Obehi Janice (who appeared a few months ago in Company One's "An Octoroon") takes the main role — part emcee, part stand-up comedian — and fronts the five-man band (Steve Sarro on keyboard, Thom Dunn on bass, Shahjehan Khan on guitar, and Ethan Selby on drums). Janice's character sketches out a life story that's familiar in its broad outlines, but striking in its particulars. From a horrifying discovery concerning a depressive uncle to the end of her first major relationship to her father's death and its aftermath, the unnamed character — she's referred to as "Singer" in the credits — skirts drama and self-pity while facing the issues head on.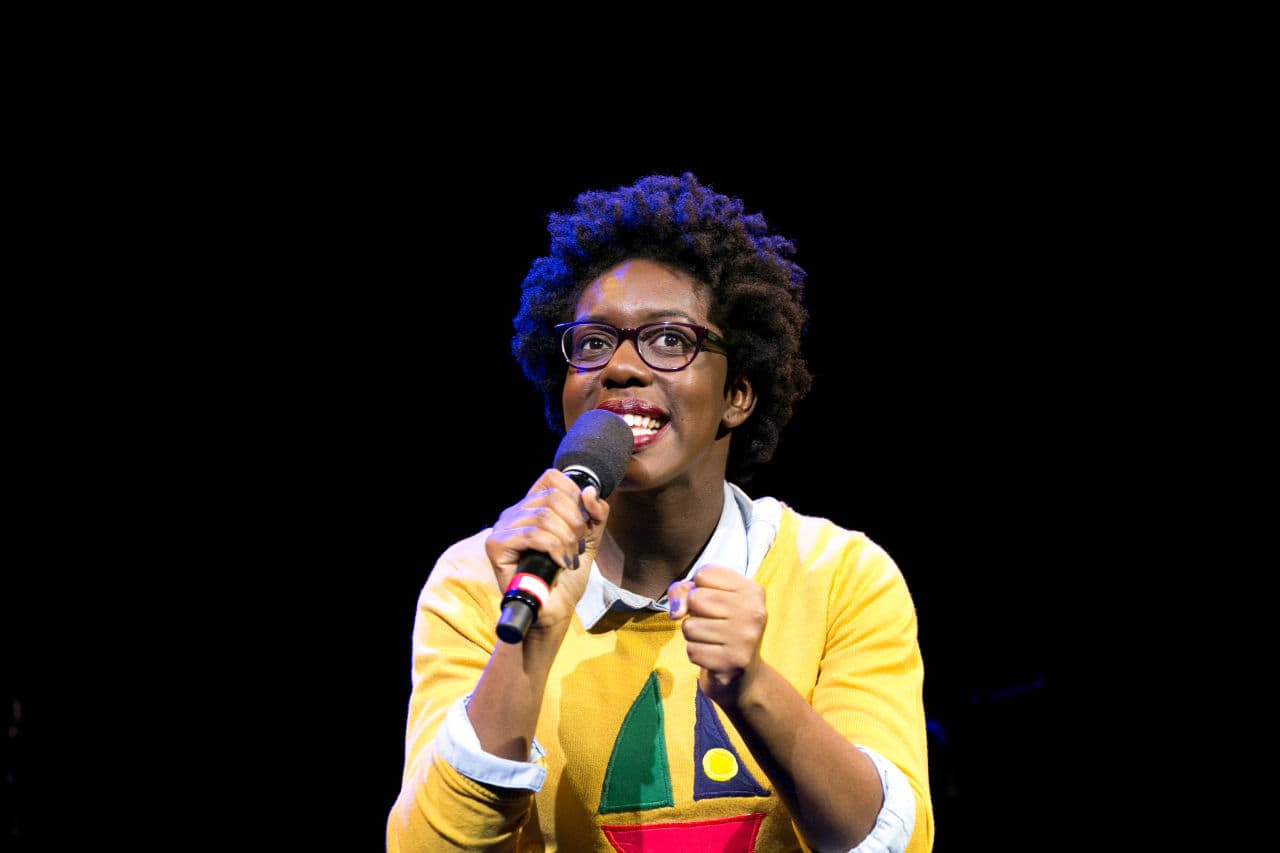 And what issues they are: Rejection by childhood friends, the discovery of the disconnect between sex and romance, and parental betrayal. Then there's the treachery of how human life is contoured. Singer nails the existential terror of mortality square on the head, taking note of how, in our early years, we amaze ourselves with our capacity to master new skills and successfully overcome fresh challenges. As the decades pass, though, we start to lose all of that: Strength slips away, mental acuity becomes blunted, and confidence is shattered.
Worse, growing up is a process of drawing in. Whereas a child can emotionally spill and seek comfort from parental arms pretty much any time, adults are expected to pull themselves together and put on a happy face, even when things are falling apart. Life gets lonelier the longer you live. What happens when you no longer move with youthful speed and grace through life's minefields? It's a chilling question. Especially frightening is the specter of age and mortality as glimpsed through a parent's decline and death. Is that what it all comes to? What's the point?
They say that grief for the passing of friends and relatives is, in part, grief for ourselves. It's this grief that forms the show's emotional backbone. Lee's script hopscotches through a truncated version of Kübler-Ross's seven stages of grief, buoyed by musical numbers written by Lee with a few of the members of her band Future Wife (Michael Hanf, Nick Jenkins and Benedict Kupstas) along with Tim Simmonds. That's not to say that Lee's script sugar coats anything — far from it, and that's what gives this show its kick. In an anecdote that forms the lyrics of the song "When You Get Old," Singer's mother recounts how her grandmother warned her that, "When you get old all your friends will die, and you will be a burden to the world."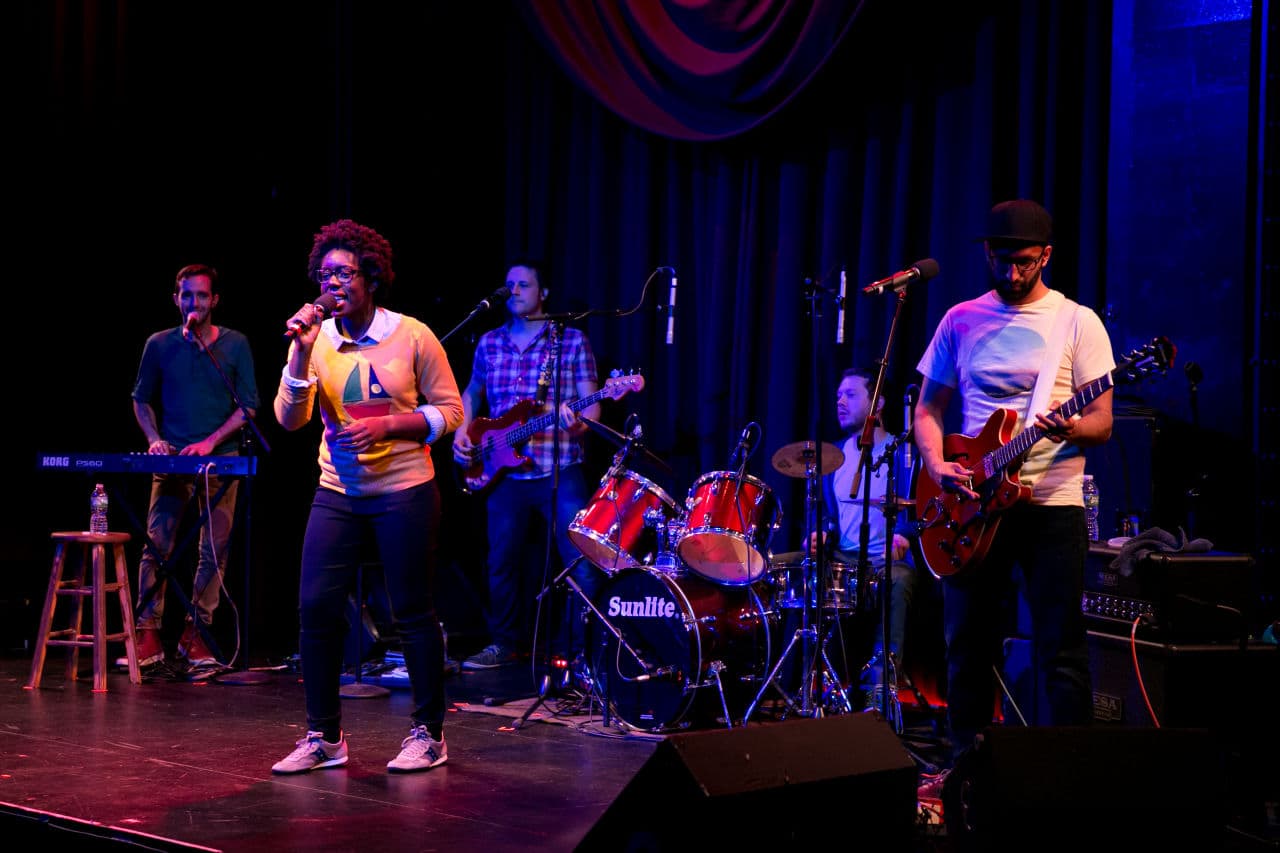 Later, after the death of Singer's father, a friend who's been through some terrible stuff of her own writes Singer a letter of condolence that serves as the lyric for a song called "Horrible Things Happen All the Time." "It's horrible what happened, and I'm sorry that you're suffering," the song begins, before presenting the crux of the matter: "Who do you think you are to be immune from tragedy? What makes you so special that you should go unscathed?" The words hit home with a series of shocks, but lighting designer Justin Paice — who washes the players with flickering purple light elsewhere — sparkles it up with a disco ball effect, and you just have to smile.
Instead of recoiling, Singer accepts the letter's philosophical inquisition for what it is: A way of looking uncomfortable facts in the face and taking charge of them rather than running away. The show finds the possibility of comfort in acceptance, realizing that a well-rounded life is one with arcs as deep and steep as the high arcs are high and soaring. "I believe," Singer muses, "that I deserve to be immune not only from loneliness and tragedy, but also from aging and sickness and death. But I'm not special; I'm a person."
Future Wife's album of the show includes readings from the text as well as the songs. The recording features talents like Adam Horovitz, David Byrne, and Laurie Anderson. Watching Obehi Janice perform, though, you forget all that. Janice brings plenty of star wattage to the stage and makes the material her own. Director Shawn LaCount doesn't try to push the show into any particular preconceived mold of theater or concert or performance art. Instead, he allows "We're Gonna Die" to be what it is: a conversational show, almost a one-woman play with musical benefits. At the end, the musicians join Janice in a long sequence of witty choreography (the work of Misha Shields), there's a sense of unification and completion. Who knew a show about the grim and poignant facts of life's tenacious, provisional nature could be so much fun?
"We're Gonna Die" continues at Oberon through April 29. For tickets and more information, visit Company One or the A.R.T.'s website.