To Beat Traffic, Legislator Calls For Expanding Transportation Options
Play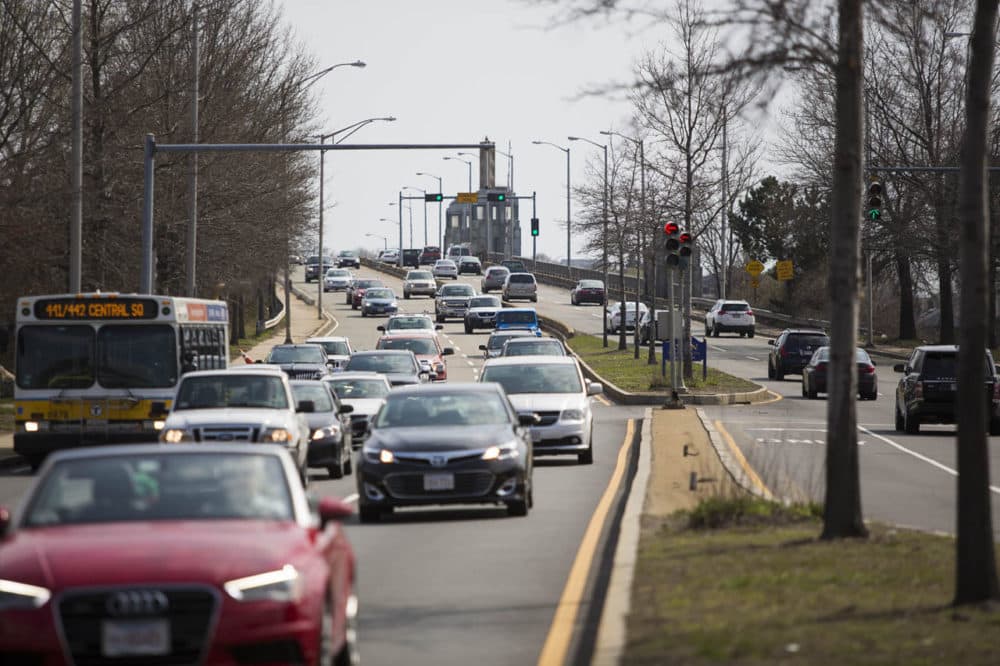 This article is more than 6 years old.
State Sen. Tom McGee buckles up for his 12-mile drive from his home in Lynn on the North Shore to his office at the State House.
"And as you can see, we're already in the traffic here. Tens of thousands of cars go this route to Boston every day," McGee explains.
At quarter past eight on a Wednesday morning, traffic along the Lynnway is intensifying, but still moving. The length of time for McGee's morning commute varies.
"It depends on the time. Usually it could be 40, 45 minutes," he says.
Since 2011, McGee, a Democrat, has served as Senate chair of the Legislature's Joint Committee on Transportation. In that role, he and the committee help shape the state's transportation policy. The Legislature also allocates state funding for transportation projects.
Hopes For Permanent Lynn-To-Boston Ferry 
Before heading out of Lynn Center, McGee detours to show me where a pilot ferry service has been operating between Lynn and downtown Boston for the past two summers.
"We started off with 13,000 riders the first year from May to September. Up over 15,000 last year, so there's definitely an interest," McGee says.
He'd like to see the ferry become permanent and run year-round, to give commuters on the North Shore another option for getting into town.
"We've got a state-of-the-art facility with two berths for ferry boats and other operations," McGee explains. "This is also land that's also part of the project. [It's] city-owned, for extra parking spots. Parking's free, with a building here as planned as a terminal and then a restaurant on the top. You can see how beautiful it is here."
McGee says the ferry terminal — located a short walk away from a commuter rail stop and parking garage in Lynn Center — could become a major transportation hub for the entire North Shore, especially if long-ago shelved plans to extend the MBTA Blue Line to Lynn were revived.
"It would be ... probably the only place where you would have right at one point, bus, rapid transit and commuter rail, with access to ferry boats within five-minute walking right across the road onto the harbor," he says.
That ferry, says McGee, would provide 30-minute service to the booming innovation district at the South Boston Seaport.
"I see that as another opportunity for outside-the-box thinking to get cars off the road and also the economic benefits that come from that," he says.

And while the Lynn Transportation Hub would directly benefit McGee's constituents, he's looking at transportation solutions all across the state.
"Our future economic health depends on having a vibrant transportation system that all of the citizens of the commonwealth can access ... without sitting on the road for hours on end every week to try and get where you need to be," he says.
The MBTA's Role In Alleviating Traffic
McGee points to the success of Route 128 -- the "Technology Highway" that helped spawn countless high-tech businesses. But, he cautions, the state cannot stagnate when it comes to transportation.
"What happened after that initial investment was that 128 now is gridlocked. If you need to go to Waltham from the North Shore you're talking about an hour-and-a-half commute," he says.
"So, it went from the 'Technology Highway' to bumper-to-bumper traffic every day: the 'Technology Parking Lot,' " he says, laughing.
Finding resources for transportation needs is always a challenge, says McGee, for Massachusetts and for other states. He says the U.S. lags behind other countries.
"We spend around 2 percent of our GDP in this country on transportation. And what you see in other countries is they're spending more money, and you see the results when you make those investments," he says.
"Our future economic health depends on having a vibrant transportation system that all of the citizens of the commonwealth can access ..."

State Sen. Tom McGee
Last winter's epic snowfall and shutdown of the commuter rail system show that failure to make adequate investments in our transportation system can result in chaos and ultimately, more cars on the road.
McGee hopes that crisis presents a chance to improve the system.
"You sit in traffic an hour and a half every day, you think of the time that everybody's sitting in there, how can we make that ride better? How can we bring down that time? How can we give other options that people are willing to take, and make it happen?" he says.
One of those options is to make public transit more frequent and reliable, so more people get off the roads and take the T and commuter rail.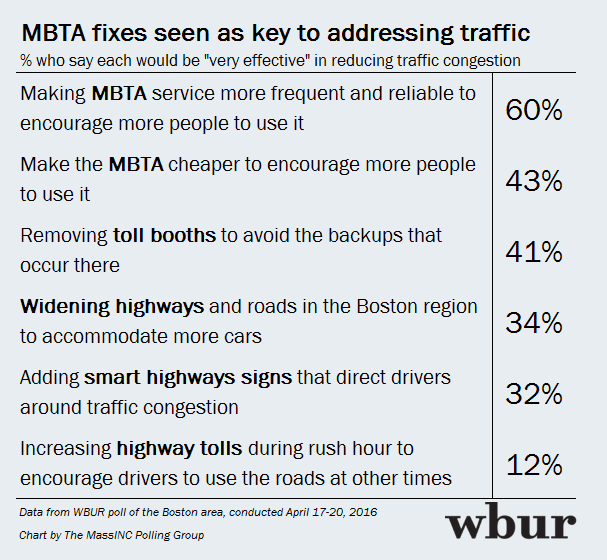 A WBUR poll out this week (topline, crosstabs) finds 60 percent of those polled in Greater Boston say improving frequency and reliability at the T is the No. 1 transportation priority.
MassINC pollster Steve Koczela says even motorists see more and better trains as a solution to gridlock on the roads.
"The No. 1 way they saw of improving traffic was focusing on the T, rather than widening highways or removing tollbooths or any of these other things. It was actually a focus on transit that people saw that as the way to reduce traffic," Koczela explains.
Seventy-nine percent of those polled agree both the MBTA and the state's roads should be major priorities. Koczela says that finding contradicts a popular narrative.
"Very often you hear, sort of, drivers against T riders and everybody's competing for the same resources. But in this poll, both drivers and T riders saw improving the T as the best way to reduce traffic," he says.
Back on the road, McGee pulls his Ford Focus into the legislators' parking lot and heads into the State House. It took him 45 minutes to drive 12 miles to work. This state transportation policymaker, like a majority of commuters we polled, favors investment in rail and roads — but also in ferries — to ease the traffic that's driving us crazy.
This segment aired on April 26, 2016.