MFA Conservators Lift Veils Of Varnish From 2 van Gogh Masterpieces
07:08
Play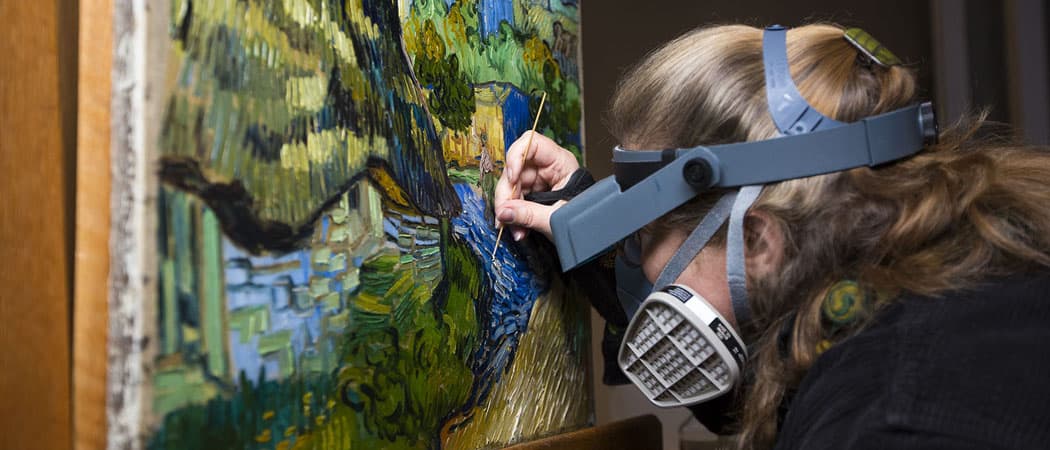 This article is more than 5 years old.
When the Museum of Fine Arts invited the people of Boston to vote on their favorite impressionist masterpieces a few years ago, Vincent van Gogh's "Houses at Auvers" came out on top, beating Monet, Degas and Cezanne.
Now that beloved painting and another van Gogh from the MFA's permanent collection have been removed from their usual spots on the gallery walls to undergo some much-needed conservation. The goal is to bring them closer to how the artist saw the paintings when he first rendered them to life more than a century ago.
Doing Justice To The Artist
The 19th century Dutch artist is famous for his mesmerizing, vibrantly textured night skies, landscapes, houses and sunflowers — but also for slicing off his own ear as depicted in films like Robert Altman's 1990 biopic, "Vincent and Theo."
In the scene the film seems to be building toward, actor Tim Roth grabs a sharp blade and screeches as he enacts the infamous bloody deed.
Katie Hanson, the MFA's assistant curator of European paintings, wishes pop culture's portrayals of van Gogh as a tortured artist were, well, a little more nuanced.
"People always want to ask me about the 'ear incident'," Hanson told me, "and also about this sense that he was unknown, or misunderstood or something in his lifetime."
Hanson says this as she stands between two paintings van Gogh made in the last year of his life, before dying at age 37.
"He was garnering a great reputation among his peers, and he was getting great critical press just before the time of his death," Hanson explained. "And I think that's a lesser known part of his career and one that I wish were better known about him."
Hanson marvels that van Gogh created about 900 paintings during his brief 10 years as an artist. The one in front of us — titled "Enclosed Field with Ploughman" — dates to the autumn of 1889. It captures the view from the artist's window at an asylum he checked himself into in southern France. Hanson says he painted the same field about a dozen times. This variation includes a man with his horses and plough.
"They're pulling it through a field of what he described as 'yellow stubble and violet-tinted earth,' " she said. "So we see this play between violet-tinted earth that's been plowed, and the stubble of the remaining crops."
But the field in the painting isn't as violet-tinted as it was in van Gogh's day, because it's been veiled in a layer of yellowing varnish. His other painting in the MFA's conservation lab has varnish issues too.
"We have actually wanted to work on these two paintings for a long time," said Rhona MacBeth, the museum's head of paintings conservation. "Partly because we have a small but wonderful collection of van Goghs, and everything else has been worked on in the last decade or so and looks really wonderful in the galleries, and then you would walk through and these didn't quite do justice to the artist."
'You Become The Person Who Knows It The Best'
The effort to rectify the state of the two paintings is being funded by Bank of America's art conservation grant program. MacBeth said it's enabling two staff members to take six months for research, analysis and the actual cleaning of these iconic works.
According to museum records, the varnish on van Gogh's adored "Houses at Auvers" was applied in the 1970s, in part to protect the work. But Hanson is relieved that soon it will be gone. She recalls when the MFA loaned "Houses at Auvers" to the Clark Museum in western Massachusetts for a van Gogh exhibition in 2015.
"It became even more abundantly clear to me how much the surface of this painting looked different than the surfaces of other paintings made in the same moment. It is more saturated and glossier than the other paintings," she said. "It will not be so saturated and glossy once we take this varnish, which is not original to it, away from the surface."
MFA conservator Lydia Vagts also saw the show out at the Clark this past summer and remembered: "Our painting, 'Houses at Auvers,' really stood out." Unfortunately, not in a good way.
Now it's Vagt's job to take a synthetic varnish off the masterwork. Her colleague, Irene Konefal, will be the one to remove a resin varnish from "Enclosed Field with Ploughman."
These two conservators get to say something not many people on this planet can claim -- even temporarily.
"This is my van Gogh," Vagts said of "Houses at Auvers," laughing.
"And this is my van Gogh, which I picked partly because of the nature of the cleaning," Konefal added. "It's a challenging cleaning to take the natural resin off a palette that's this diverse."
The "Enclosed Field" has incredible variations in color and texture. There are even spots where the artist left canvas exposed on purpose. Konefal shows me the small cotton swabs, tiny paintbrushes and solvents she uses to clean the work — but not over clean it.
"It's extraordinary when you work on something, because you become the person who knows it the best," Konefal marveled. "And it's just always a surprise. The intelligent decisions that were made — some of which were deliberate, and others that just happened — because that's van Gogh."
Hanson, the curator, is pleased with the difference she already sees in the small areas that Konefal has freed-up from the coating of varnish. She believes the cleaned-up work will evoke new emotional responses in viewers.
"I know it does for me, even just seeing the test spaces," she said with a small but satisfied smile. "And keeping in mind that for Vincent van Gogh, making a work of art was not just about recreating what he saw out his window, but also his response, his feeling about what he saw outside his window. And that will be greatly enhanced by having the color play be closer to what it would have been."
For "Houses at Auvers," van Gogh relied more heavily on a technique known as impasto, applying thicker paint more in areas. Fans love to look for this topographical effect, but Vagts, the conservator, said the synthetic varnish changes the surface.
"I view these like mountain ranges in a way," she said, "so that you really appreciate the peaks and the valleys — and here it just feels flattened. And then you get the gloss."
Which Vagts said alters the effects of van Gogh's curling foliage and colorful dashes in the grooves in "Houses at Auvers." This is one more reason why the curator and conservators are excited about the painting's pending treatment.
"To be able to see all those strokes and think that was done possibly in one day," Vagts mused. "And the energy and the movement and the concentration and everything it would've taken to produce that is extraordinary."
The meticulous work the MFA conservators do usually takes place behind-the-scenes. But starting Monday, May 2, Vagts will be cleaning van Gogh's "Houses at Auvers" in front of visitors in the MFA's glass-enclosed "Conservation in Action" space.
"We don't want to be the stars of the thing, because we're not. Van Gogh is the star," Vagts said. "But we like to think we've done a little bit to help people appreciate these paintings more."
That's the hope.
Konefal will work on van Gogh's "Enclosed Field with Ploughman" in the space come June. The whole team hopes visitors will return to see the cleaned works after they go back to the gallery. They have faith the revived paintings will teach us more about how the famous, sensitive artist imagined his world.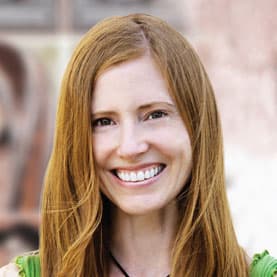 Andrea Shea Senior Arts Reporter
Andrea Shea is WBUR's arts reporter.