Forecast: Sunshine Returns Bringing Pleasant Temperatures
The long period of clouds, mist and some rain finally broke yesterday with the return of sunshine and a drier westerly wind.
Weather across the United States is still in a blocking pattern. This means whatever weather you see today will likely hang around for at least three to five more days.
Blocking patterns can temporarily open up and shift enough so the area of rain and the area of sunshine in the block move from one area to another.
Last week, New England was on the cloudy cool and damp side of the block. This week — at least through Thursday — we should be on the sunny and drier side of the block.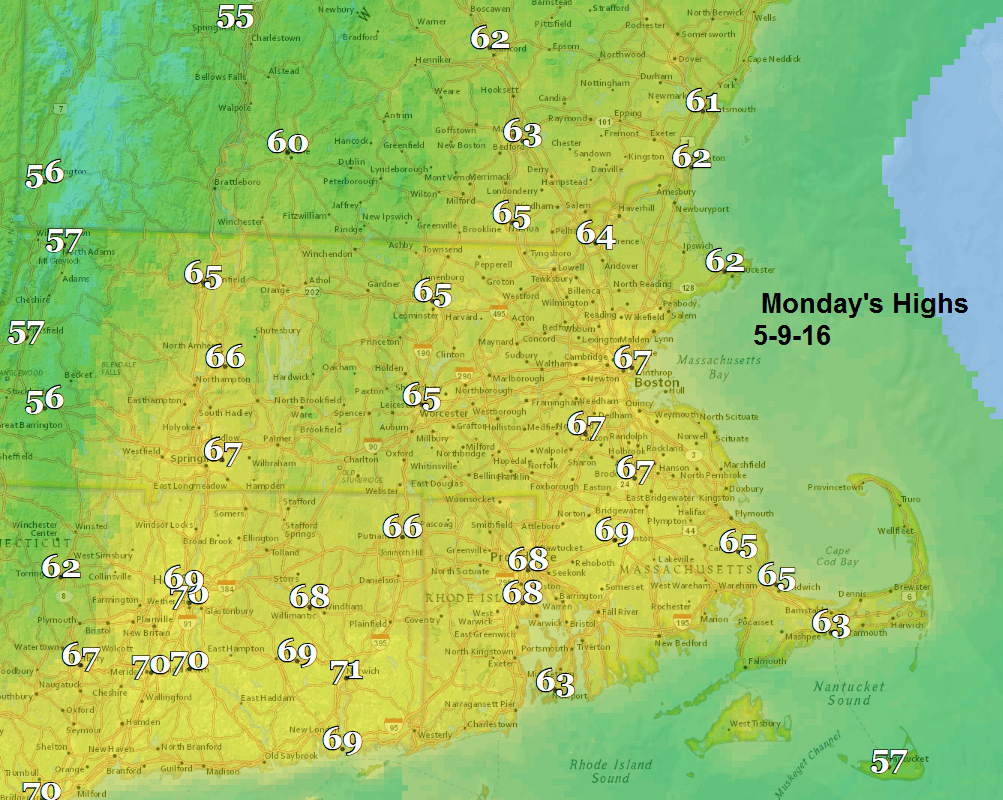 With the sunshine nearly at the same strength it is in July, temperatures will respond quite nicely. This means some readings, especially inland, will be in the upper 60s to lower 70s this week.
Winds will be gusty today. With the trees growing rapidly, I expect a big spike in the pollen count.  If you have spring allergies they will likely be quite noticeable for the next several days.
Later this week the block in the jet stream becomes configured a bit differently, bringing a return to cooler and wetter weather for the weekend.
It's way too early to know how long this lasts or if the timing changes. However, I would say enjoy the sunshine and pleasant May readings now, because it may be relatively short-lived.
You can follow David's weather updates on Twitter at @growingwisdom.
---
Monday: Partly to mostly sunny and pleasant. Highs 61-68. Warmest inland.
Tonight: Mainly clear and cool. Lows 38-48. Coolest inland.
Tuesday: Lighter wind with sunshine. Highs in the 60s to lower 70s.
Wednesday: Lots of sunshine. Highs near 70. Cooler at at the coast.
Thursday: Sunny and mild. Highs 65-72.
Friday: More clouds with a chance of showers. Highs 59-64.