Stoneham Theatre Noir: 'Laura,' You Used To Be More Fun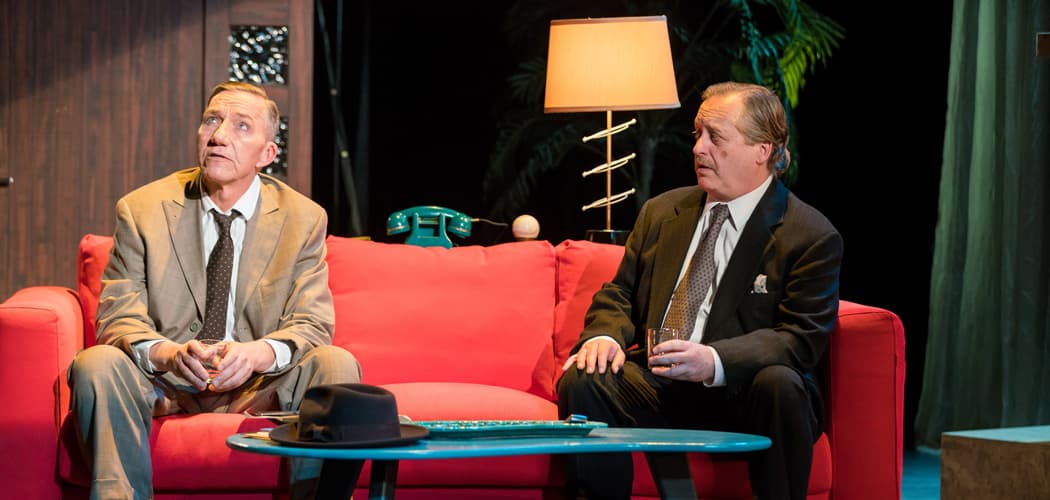 This article is more than 5 years old.
Everything is freighted with meaning and everyone is suspect in the stage version of "Laura," playing through May 22 at Stoneham Theatre.
In classic (if somewhat contrived) style, the entire cast of characters gathers at the apartment of a murder victim. Laura was a well-paid, successful advertising executive —  an unusual accomplishment for a woman in the 1940s  — and all the men in her life seemed to love her with a helpless devotion, chief among them newspaper columnist Waldo Lydecker (Steven Barkhimer). Other men in, and on the margins of, Laura's life include her fiancé, Shelby (Alexander Molina); Danny (Elliott Purcell), the teenage son of the manager for the building where Laura lived; and now, after the grisly discovery of a shotgun-blast mutilated corpse in Laura's swanky apartment, New York City police detective Mark McPherson (Alexander Cook), who gazes up at Laura's portrait with impossible longing.
That portrait is represented here by an empty picture frame that hangs suspended over the set, suggesting the theatrical fourth wall. As characters enter and exit the story — including the devoted and none-too-bright housekeeper, Bessie (Molly Kimmerling); Danny's resentful mother, Mrs. Dorgan (Liana Asim); and a compelling character credited only as "A Girl" (Jasmine Rush) —  lighting designer Deb Sullivan's busy lighting scheme pours illumination through the empty frame onto an antique vase on the mantle, like sunlight breaking through clouds. (Similar effects spotlight various characters as they deliver noirish dialogue.) There are other props vying for our attention, too, such as a bottle of bourbon — not Laura's usual brand — found in her liquor cabinet, and a box of jazz records that boasts rarities like a hard-to-find Jelly Roll Morton album. Such telegraphing is like a big wink to the audience: Look! Here's a clue! But are they clues? Or are we being teased with red herrings?
None of the people coming into Laura's apartment like pilgrims to a shrine have airtight alibis. Shelby and Danny supposedly — and separately — were at a concert on the night of the murder … or were they? The two offer differing accounts of what composer's music was on the program. The fussy, sharp-tongued Lydecker claims to have been soaking in the tub with a book in hand.  As for Shelby, he might have been keeping company with another woman on the night in question — or even in the victim's apartment, drinking from one of the two glasses found next to Laura's bed.
There are plenty of suspects, but what motive would any of them have? Danny might envy Laura her records, but would he kill to get them? What about Danny's mother, who feels that Laura ruined her son's promising career as a classical pianist by letting him listen to jazz? Then there's Lydecker, who is clearly coded as gay. Anyone who's seen many movies from the 1940s knows that in the old days movies treated gay characters as either villains or neutered buffoons. Lydecker, with his mix of malice and catty wit, falls right in the middle.
McPherson works doggedly to solve the mystery, but his investigation is complicated by a new development: He finds himself, like so many other men before him, coming under Laura's spell.
Otto Preminger's well-regarded 1944  film was an adaptation of a novel by Vera Caspary. The stage adaptation is by George Sklar, and does not credit screenwriters Jay Dratler, Samuel Hoffenstein and Betty Reinhardt, which suggests that Sklar drew directly from Caspary's novel in writing his script, which differs in a number of ways from the film version. In some respects, the stage version is streamlined; in other ways, however, it's less economical and lean than the film, which clocks in at an hour and a half. It takes almost that long for the play's first act to unfold.
That would be fine, if this production didn't feel so anemic. Part of the problem is the material itself, which has not aged gracefully. For all the buzz of people swarming around this particular queen bee's hive, a sagging, soggy feel holds sway; even a sudden outburst of violence, when one character is prodded too far and takes a swing at another, is flat and unconvincing.
Casting and design choices enter into it also. The characterizations and dialogue call for a cast that can master the rhythm and affect of people from the 1940s silver screen, but no one in this ensemble manages the trick. The most comfortable and fluent actors are Cook and Barkhimer, and even their  interpretations are problematic. Cook's McPherson is more crotchety than hard boiled, while Barkhimer's Lydecker leans on the trope of the effete snob so hard he seems to be celebrating the cliché rather than challenging it. That said, Barkhimer is one of the few actors who seems to be having fun with the play's deliberately pulpy undercurrents. Kimmerling, too, relishes her role, and she makes the ditzy Bessie a bright spot that director Sarah Gazdowicz effectively deploys for comic relief. Rush's "Girl" plays counter to many of these stereotypes; she's a crucial character, as it turns out, assured and hard to intimidate, and she seems like a bright streak of modernity against the fusty backdrop formed by the others. Saying she's a standout is both praise, and not; she seems to belong not just in some other play, but in some other genre.
The lighting design mentioned earlier has a similarly disconcerting quality.  It hits some notes with striking clarity, but too often it's busy and intrusive, almost nudging the characters from one's attention rather than illuminating them. Muddy sound plagues the production, but even when sound designer Chris Larson's work is audible it doesn't always work. A fitting rumble of thunder sounds garbled; the music often fails to fit the mood or narrative thrusts of the scenes it accompanies, though perhaps the score would work better if it could be heard more clearly.
Costumer Erica Desautels does a fine job balancing the production's pulp with its intimations of progress. McPherson's clothing is pure period, and suitably  rumpled; other characters sport sharper wardrobes, which seem a little fashion forward. James Tolman's scenic design follows that same pattern, with Laura's apartment sporting some classic deco touches (a pair of prominently located sconces, a lamp that looks like it came from a '50s sci-fi movie) but relying more on bold color and design that seems to anticipate the 1960s — a kidney-shaped coffee table, for example, and a pair of low, brightly upholstered chairs with matching sofa.
If you've seen the film you know who done it. You also know about the surprises I've not spoiled here. That doesn't mean you know how this play wraps things up; all I'll say on that score is that the final scenes are highly theatrical and, unlike most of the rest of the play, suspenseful. This production does have some clever ideas, not the least of which was to save the best for last.
"Laura" continues through May 22 at the Stoneham Theatre. For tickets and more information, go to their website.
Kilian Melloy Theater Critic
Kilian Melloy is a contributor to WBUR's The ARTery.