Chris Thile, Punch Brothers And Their 'Super-Genre' Of Great Music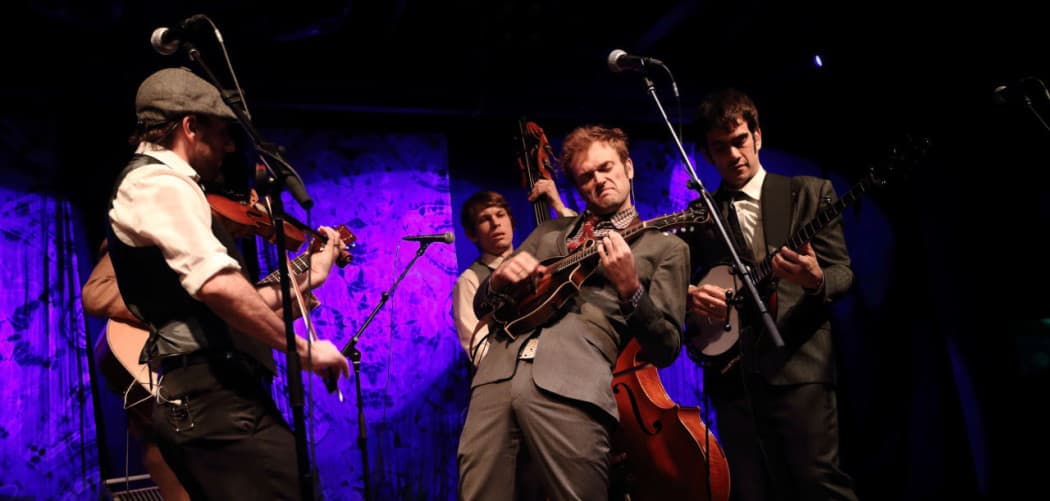 This article is more than 5 years old.
What do Claude Debussy, Radiohead and The Strokes have in common? They've all been covered by Punch Brothers, who perform for a sold-out crowd at Sanders Theater Tuesday night.
But Punch Brothers' virtuosic mandolinist, lead singer and ardent Nutella fan Chris Thile would probably say they have something else in common — they've all written great music.
Described most often as a "progressive bluegrass" band, Punch Brothers consists of five players — fiddler Gabe Witcher, bassist Paul Kowert, banjoist Noam Pikelny, guitarist Chris Eldridge and Thile. Each is a master of his craft capable of jaw-dropping dexterity on his respective strings.
Seeing bluegrass musicians cover Radiohead's "Kid A" or The Cars' "Just What I Needed" inspires descriptions of Thile as "a mandolin virtuoso who defies musical boundaries" (PBS News Hour) and a "genre hopper" (Wall Street Journal). But to categorize such broad musical tastes as genre hopping is, to Thile, entirely missing the point.
To describe Punch Brothers as boundary-defying implies that the musicians are musical astronauts, a select few traversing great lengths to reach a foreign planet. But to Thile, all the songs he plays really aren't that different. Here's Thile in an interview with GRAMMY Pro last fall:
Great instances of music ... share more core values than they do with other instances of lesser music in the same genre. So the greatest examples of any given genre ... rise to the top of that genre and enter into a super-genre of good music. And those musics ... are actually fairly similar in a lot of ways and just aesthetically they're different.
Thile wasn't always just exploring music in his so-called "super-genre." Raised on bluegrass, Thile released his first solo album at 13 while touring the country with his first band, the pop-folk group Nickel Creek, which formed when he was 8.
Thile came of age between 2004 and 2007, a time during which Nickel Creek amicably disbanded and his first marriage ended. The impetus for the formation of Punch Brothers in 2006 was a project of Thile's -- a through-composed string quintet for bluegrass instrumentation. Titled "The Blind Leaving the Blind," the quintet was the highlight of the group's first album release, "Punch."
The quintet is a 40-minute piece that sits somewhere near the intersection of the Romantic and Modern era, sharing similarities with the music of Debussy and Mahler, but is of a distinctly bluegrass flavoring. The first movement is a toe-tapper, a flurry of notes with Thile's tenor voice, a half-sanded slab of oak, gliding on top. Despite the movement's velocity and multitude of notes, it possesses a delicate grace, like dandelions in the wind.
The second movement begins like a Schoenberg piano piece — atonal, disjointed and rhythmically dizzying. But the tension soon melts into a simple, lilting ballad with heavenly three part harmonies.
The range of possibilities hinted at in these two excerpts were only explored further in the group's future albums, the most recent of which are "The Phosphorescent Blues" and subsequent EP "The Wireless." Together, the two are a warning about the ways our screens inhibit meaningful social interaction. "The Phosphorescent Blues" opens with "Familiarity," a ten-and-a-half minute epic about connecting with someone over a song you both know. When I first heard the album, I thought to myself, "there's no way they could ever perform 'Familiarity' live." Here is a video of the band performing "Familiarity" live:
The most overt references to technology appear in "Sleek White Baby," a caustic ode to the iPhone. The song plays like a jazz swing number with "Mister Sandman"-esque three part harmonies. The brilliant lyrics are credited to Gabriel Kahane, and Ed Helms of "The Office" fame provides narration.
Punch Brothers will amplify Tuesday's performance with a single Neumann U-89 microphone. It's a bold choice for a band that has been performing shows with an increasing number of bells and whistles, as can be seen in their House of Blues "Familiarity" performance. But the quintet maneuvers the stage with ease, bringing different voices to the foreground simply by easing in turn towards and away from the microphone, a five-person waltz. I saw the one microphone concert in Reading, Pennsylvania, and the sound was balanced better than that of any other amplified show I have attended. Plus, there's nothing more exciting than seeing the band lean in and brush elbows as they land on a downbeat as one.
This summer's conclusion of the current tour brings uncertainty for fans. Thile will expand his creative horizons this October when he takes over for Garrison Keillor as host of "A Prarie Home Companion." Regular listeners have an idea of the direction the show will take, as Thile has guest-hosted several times. While we'll have heard our last of "The News From Lake Wobegon", there's the possibility that "A Prarie Home Companion" will become the best musical variety show in town. Thile was joined on stage this spring by Paul Simon, Andrew Bird, Ben Folds, Sarah Jarosz and his brothers Punch.
Even though he's garnered four Grammys and a Genius Grant, Thile continues to inhale new inspiration like a high-powered vacuum cleaner. Of Punch Brothers' residency at Oberlin College a few years back, Thile said, "To be able to rub shoulders with kids who have spent their entire lives studying the classics ... that's something I need to improve my overview." Thile recorded an album of Bach violin sonatas and partitas on mandolin three years ago.
"You need to put yourself in the way of the music that stood the test of time," he said. "You're doing yourself an incredible disservice not be interested in the width and breadth of it."
Will Sullivan is an ARTery intern. He studies music and math and runs on the cross country and track and field teams at Swarthmore College.