Video Debut: 'Hands Up' Live — Mind-Boggling Art Rock From Boston's Bent Knee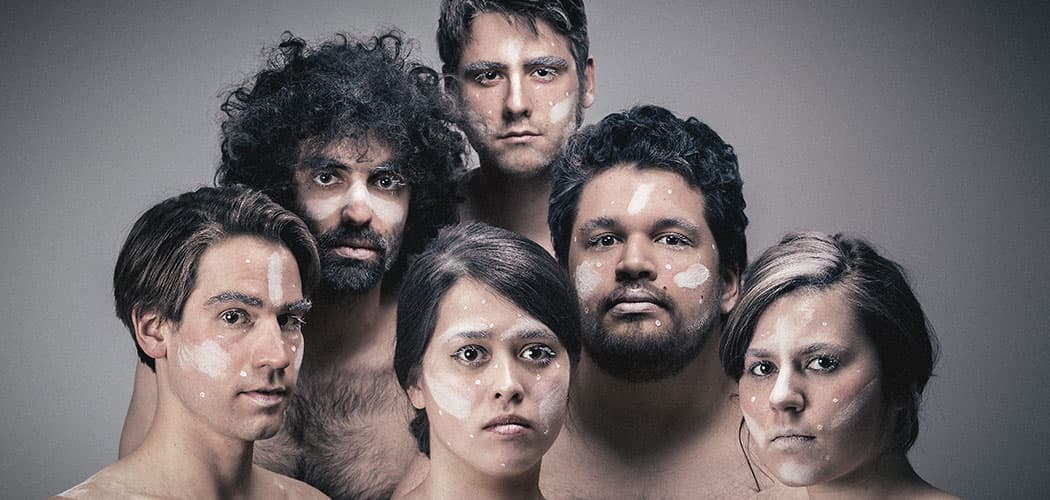 This article is more than 5 years old.
The biggest challenge for a band like Bent Knee is having too many ideas.
For the forthcoming "Say So," the Boston band's third album and its first on avant-garde label Cuneiform Records, Bent Knee wrote and recorded a full album's worth of string and brass parts — only to have sound designer Vince Welch whittle it all down to a collection of brief textural flourishes, whiffs of grandeur in an insistently restrained milieu.
"There's a ton of stuff we didn't use," says Chris Baum, Bent Knee's violinist. "We could probably make a whole other record with [it]."
Bent Knee landed on the strategy partly as a cost-saving measure, Baum and vocalist Courtney Swain explained recently over drinks and a frittata at Trident Booksellers in Boston, a few weeks prior to their record release show on May 19 at Once in Somerville. They couldn't afford to tinker with ideas in the studio, so they just recorded as much material as they could in the few days that they had.
"Basically the process of recording this album was: Let's record way too much, and then we'll have this giant block of stuff that's just overwhelmingly large, and Vince takes a chisel, and he creates a sculpture out of it," Baum says.
But the tactic also speaks to one of Bent Knee's central philosophies: Just as the grandest, most expansive ideas are on the table, so, too are the subtlest and most compact.
Video premiere: Bent Knee's live version of "Hands Up" off of the album "Say So," which debuts May 20.
The result is a dark, furiously dynamic album punctuated by moments of maddening virtuosity. Bent Knee's music writhes with internal suspense; listening, you get the sense that its members are holding themselves barely in check, unleashing considerable technical skill with laser-like focus. "We want this music to be accessible and progressive and kind of presenting something new in a palatable form, but I don't think anyone in the band has this need to show off everything they can do all at once," says Baum.
Variously described as "experimental" and "somewhat progressive" — the band prefers the term "art-rock" — Bent Knee is fronted by Swain but operates democratically, with songs crowdsourced from various members and arranged by the group. Prone as Bent Knee is to rhythmic complexities, abrupt shifts in tempo and long, multifaceted forms, the group has garnered a significant prog-rock fan base. "It's weird because I don't associate with that genre, but I totally understand how we can fit in," says Baum. "And I'm also not offended by it, because I think when you get to the core of the definition of 'progressive rock,' I think it's a really genuine and beautiful mission."
Indeed, there are many ways in which Bent Knee might be considered forward-thinking or cutting-edge. Baum ushers the violin into fresh sonic territory with the help of a laptop rig and a plethora of effects, and Welch, whose work would typically be consigned to the studio, actually performs onstage with the band, manipulating instruments and Swain's voice in real time.
Baum and Swain identify as inspiration an experimental breed of pop. "The Radioheads, the Bjorks, Dirty Projectors: everyone who fits into that vein," says Baum. Swain points to a growing cohort of likeminded contemporaries: indie-Latin-punk singer Xenia Rubinos, experimental pop artist Son Lux, avant-folk outfit Little Red Lung.
True to its detail-oriented process, Bent Knee labored exhaustively over the new album's title. "We would each come up with five or ten titles and throw them in a hat and people would pull it out and read them and we'd vote yay or nay," says Swain. They chose "Say So" because it felt like a statement of strength. "Speak up," says Swain. "Say so if that's what you're thinking."
It's a loose theme; "Say So" frequently strays into fantastical territory, and its narratives are up to interpretation. "EVE," which was composed by guitarist Ben Levin, tells the story of a mad suburban scientist who fashions a synthetic child in her (or his) basement at night. "I kiss its right angles/ And crackling joints/ You're sweeter than Sophie/ More caring than Lisa," Swain croons over a halting crescendo before the song explodes into a churning breakdown. Baum says Levin intended the song to be a meditation on the obsessive nature of creativity, but it could just as easily function as a sinister parable about parenthood.
The studio version of Bent Knee's song "Hands Up"
Then there are songs like "Hands Up," which meanders through a gentle prologue before swerving into pure electropop. Amid the cinematic sweep of "Say So," the song stands out. Is it a spoof? An homage? A genuine attempt at dance music?
"It's not sarcastic, and I don't think it's us going 'Hey, we can do this, too,'" says Baum of the song. "I just think it's satisfying another one of our interests."
Swain laughs. "We were talking about how we might put 'Hands Up' out as the first single, and then we were laughing that all our prog fans will be like, 'Oh, they sold out.'"
Just because you can play something doesn't mean you should — the members of Bent Knee know this better than most. But they also know that sometimes the wildest notions are also the best.