7 Things To Know About The Nation's First Penis Transplant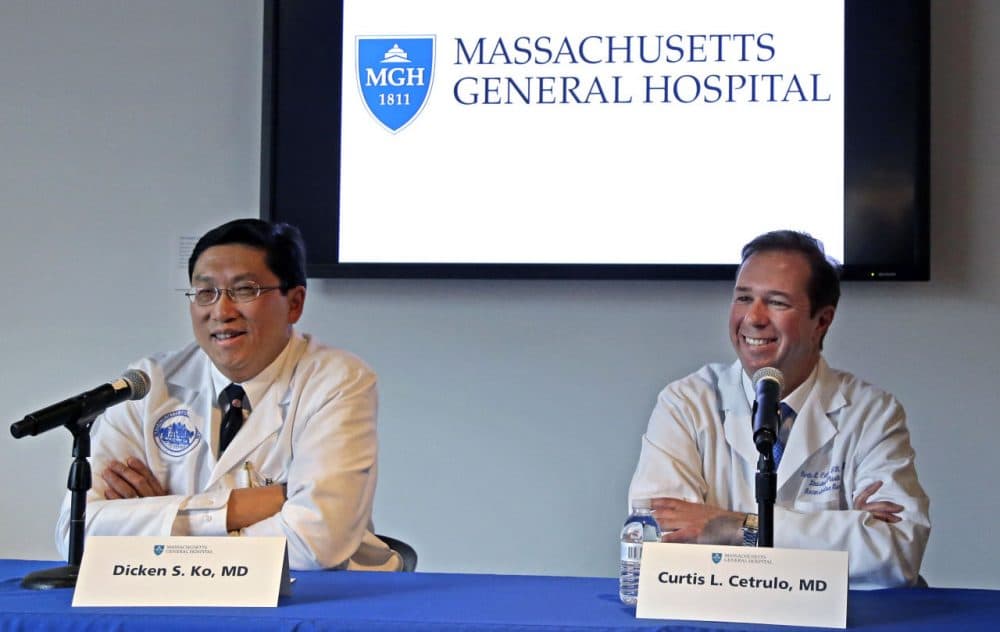 This article is more than 6 years old.
From The New York Times to cable TV to here at CommonHealth, the country's first penis transplant made major headlines Monday.
The patient, 64-year-old Thomas Manning, had part of his penis surgically removed four years ago after doctors found he had penile cancer. The news marked a step forward in transplant medicine, but as a resident physician and future primary care doctor, I wondered whether such an elaborate and expensive "proof-of-concept" operation would mean anything for my future patients.
The facts behind the big story:
What did the operation aim to accomplish?
The goals of this operation, according to Dr. Dicken Ko, who co-led the surgical team, were threefold: to reconstruct natural-appearing genitalia, to allow the patient to urinate normally and, hopefully, to help him regain sexual functioning.
They have achieved the first goal, and they are hopeful that Manning will be able to urinate normally in a few weeks. Finally, they did extensive reconstruction of the nerves as well, and are hopeful that he will have normal sexual function in the future.
How was this patient chosen?
For Manning, the motivation to volunteer for this experimental procedure was straightforward. "Because they cut off my penis. Very simple. Very, very simple," he said in a phone interview. Manning volunteered for the operation and underwent extensive psychological evaluation, according to his team.
The type of injury he had was also an important factor: Because part of his penis had been surgically removed — rather than injured in an explosion — the rest of the vessels and nerves were preserved, which facilitated the operation. This was important, Dr. Ko said, because they wanted to pick a patient who was very likely to have a successful outcome to be the first to receive the transplant.
How difficult was this operation?
The main technical difficulties of the operation had to do with the vascular reconstruction involved, which is when doctors sew together the small blood vessels of the patient to the donor's vessels.
Before the operation, they had only a vague idea if the vessels were big enough to connect. They also performed a vein graft, which is akin to a heart bypass and allows greater blood flow. That vein graft was the primary difference between the technical aspects of this operation and the first successful transplant, performed earlier this year in South Africa.
Who else could benefit from this surgery?
For now, the surgeons on this team are focusing on cancer and trauma patients, especially veterans returning with combat wounds from Iraq and Afghanistan.
The technical challenges for soldiers injured by explosions are likely to be more daunting, as the injuries are generally more extensive and their own vessels and nerves are less well-preserved. Nonetheless, the surgeons emphasized how motivated they were to work with veterans.
In a statement, Manning himself said he hoped the operation could soon be performed on "service members who put their lives on the line and suffer serious damage as a result."
When asked about the potential for use with transgender patients, Dr. Curtis Cetrulo, a plastic surgeon and the second team leader, said it could be possible in the future. The approach, however, would have to be completely different and would require "a whole new effort" to be successful, he said.
How expensive was this operation?

MGH estimated that this particular operation cost $50,000-$75,000, which does not include the salaries of the physicians, who donated their time. The hospital covered the cost.
For future transplant patients, this could be an important barrier. The drugs that patients will need to take for the rest of their lives to prevent rejection could be even more expensive. In hand transplants, for instance, the cost can be up to $2,000 a month and may not be covered by insurance.
What can we expect in the future?
The surgeons report that there are patients currently being screened for the operation at MGH, including a burn patient. Future operations, they said, will depend on the motivation of the patient and referrals from doctors, including primary care doctors, who right now may be unaware that this surgery is even possible.
This is one of the chief reasons that Manning stated that he had been so open about his operation with the press. In his statement, he said, "In sharing this success with all of you, it's my hope we can usher in a bright future for this type of transplantation."
What can the first transplant patients expect? 
Manning is reportedly doing well, but has not yet been discharged from the hospital. As Dr. Cetrulo clarified, "the surgical part has been successful," but complications could arise.
Like other transplant patients, he will need medications to suppress his immune system for the rest of his life. These meds leave him more vulnerable to infections, and even certain types of cancer; ironically, patients on immunosuppressants are at fourfold increased risk of penile cancer.
Reached in his hospital room, Manning said he did not volunteer for the operation blindly. "I know I'm taking dangerous drugs, drugs that can kill me," he said. "But what do I have to lose? I'm 64 years old, my life is pretty much gone, it's over. So hey, I'll take the shot. What, am I supposed to ask some kid who's got another 40 or 50 years to go, to take it? It's not worth it."