Boston's Debo Band Finds New Joy In Classic Ethiopian Funk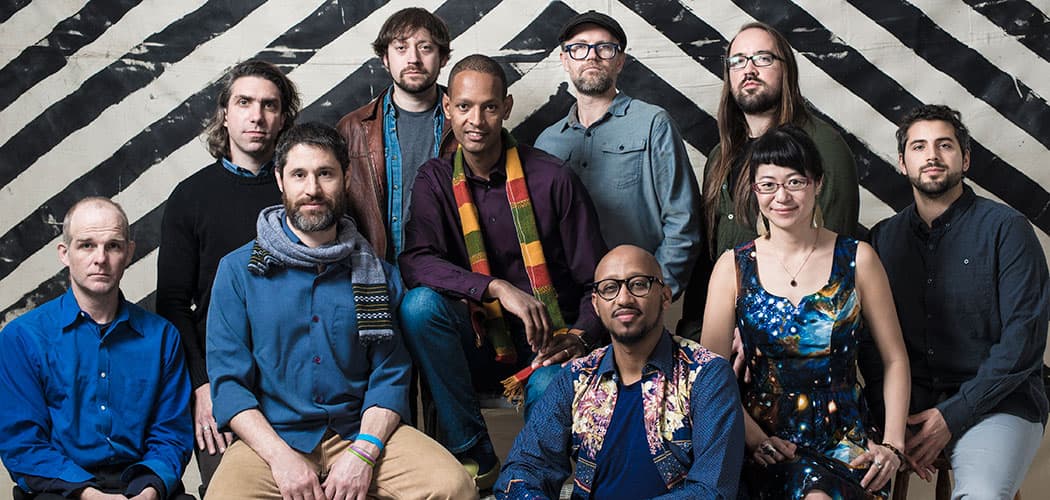 This article is more than 5 years old.
BOSTON—In a basement practice space in Jamaica Plain on the first Sunday in May, Danny Mekonnen gently pulled a shiny black LP out of its sleeve and held it in the yellow glow cast by a dangling lightbulb. He pointed to the smooth ring of dead wax between the label and the grooves. There, if you tilted the disc just right, words appeared, spidery and faint: "Call of the lionhearted."
The phrase is a loose translation of the album's title, "Ere Gobez," which in turn is an English transliteration of the original Amharic, one of the many languages spoken in Ethiopia. "Ere Gobez" is the sophomore effort from Debo Band, a Boston-based Ethiopian funk outfit who first gained national attention in 2012 with their self-titled debut on Sub Pop Records. Mekonnen, a saxophonist, is the band's ringleader. He wore a yellow beanie and a cardigan and bounded around the basement showing off the records to his bandmates, who trickled in to rehearse for their May 26 album release party at the Sinclair in Cambridge. Mekonnen was especially pleased that instead of shrink wrap the LPs were encased in thick plastic dustcovers. At least they could be reused instead of thrown in the trash.
Bassist PJ Goodwin and his spotted dog, Trousers, were among the first to arrive. "They're vinyl-y here," exclaimed Goodwin. Jonah Rapino, who plays electric violin in the band, stared down at the album cover. "My name is misspelled," he deadpanned, causing Mekonnen to yelp in despair. Rapino laughed. "You're so naïve."
Mekonnen's jitters were understandable. This moment had been a long time coming—four years, to be exact. After the rapturous critical reception of "Debo Band" in 2012, which was featured on NPR's list of favorite albums of the year, the band was dropped by Sub Pop, leaving them momentarily floundering. They regrouped, and in 2014 mounted a PledgeMusic campaign to fund the recording of "Ere Gobez." They shopped it around to labels and eventually signed with FPE Records, a small indie label out of Chicago.
The evening's rehearsal started a little late thanks to the arrival of the LPs and a decadent Napoleon cake someone had brought in honor of Ethiopian Easter, which happened to be that day. All told, there were eight musicians: Mekonnen, Goodwin, Rapino, singer Bruck Tesfaye, accordionist Marié Abe, sousaphone player Arik Grier, drummer Adam Clark, and guitarist Brendon Wood. Not present were the rest of the horn section—trumpet player Danilo Henriquez and tenor saxophonist Gabriel Birnbaum—and five-string fiddler Kaethe Hostetter, who lives in Ethiopia.
The band started by running "Mariye," a contemporary Ethiopian pop song that loosely translates to "My Honey." It loped along to a quick, syncopated triple-time rhythm. Wood kicked off a kinetic guitar riff, and one by one other instruments entered: sax, violin, accordion, individual voices making up a vast, rhythmic roar.
After rehearsal, the rest of the band drifted off while Mekonnen stuck around to chat. A seemingly simple question—how did the group choose the material on "Ere Gobez"?—yielded a rabbit hole of answers, not unlike the labyrinthian journey initiated by the first innocent clicks on a Google search for "Ethiopian funk."
"Ere Gobez" contains multitudes. There are four original compositions, a medley of Ethiopian folksongs, a reimagining of the Duke Ellington tune "Blue Pepper," several '70s Ethiopian funk covers, and an Ethiopian-ized version of a popular Japanese folksong.
Mekonnen, the son of Ethiopian immigrants, grew up listening to his parents' records from back home. But like many Americans his education really began when he discovered "Éthiopiques," a compilation series showcasing Ethiopian funk from the '60s and '70s, a period widely known as the Golden Age of Ethiopian popular music. ("Éthiopiques" was featured heavily in the Jim Jarmusch film "Broken Flowers.") The series, the first of now 29 volumes of which was released in 1998, has become such a phenomenon that it essentially comprises a genre unto itself: "That 'Éthiopiques' music."
Lots of American artists, says Mekonnen, have been influenced by "Éthiopiques"—Dr. John on his latest album, for example, or the self-described Afro-soul group The Budos Band. But "oftentimes the Ethiopian influence is only mentioned as an aside, or not even at all."
Listening to "Éthiopiques," "you would think that all Ethiopian music is these diminished, these darker modes. But there's also Ethiopian music that's in a major key," says Mekonnen. "There's still a lot of work to be done. And because it's a rich period, there's tons of source material to be uncovered, lots of these standards to explore and to try to reinterpret."
It is almost nine o'clock, and Mekonnen looks tired, but it is clear that we have barely scratched the slick vinyl surface of "Ere Gobez." Like secret inscriptions on dead wax, its songs contain hidden messages, unseen dimensions.
"I feel like it's our responsibility, my personal responsibility, to play this music," says Makennon. Yet he admits that there have been times when he wondered if there was any point to playing music at all. Like when he was about to graduate from college in 2003. "I just remember being so distraught around the time of the second Iraq war. Just like, why are we doing this? What purpose—why did I just spend the last four years of my life in music school?"
Thus the title, "Ere Gobez:" "Call of the lionhearted." It is a motto of sorts, a reminder that there is strength to be found in demonstrations of joy.
"That's a part of our humanity, that celebratory thing, that we need to live," says Mekonnen. "So somehow this idea of 'the lionhearted' is also just about community and togetherness and playing this music with so much passion that we rally ourselves."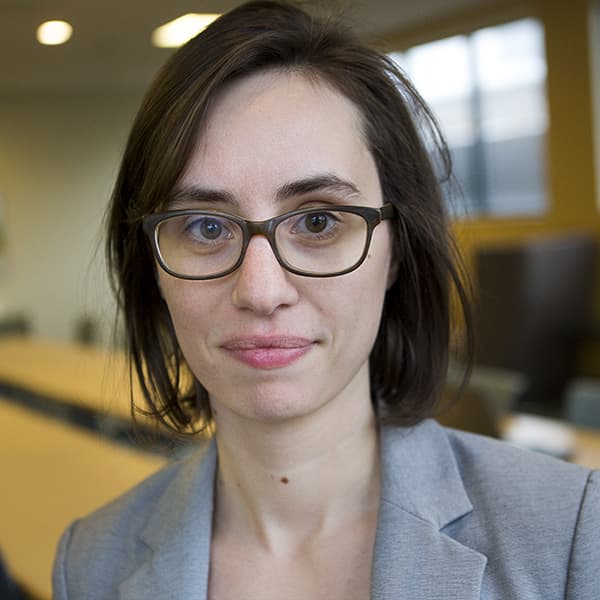 Amelia Mason Arts And Culture Reporter
Amelia Mason is an arts and culture reporter and critic for WBUR.