Boston Tourism Director Is Charged With Union-Related Extortion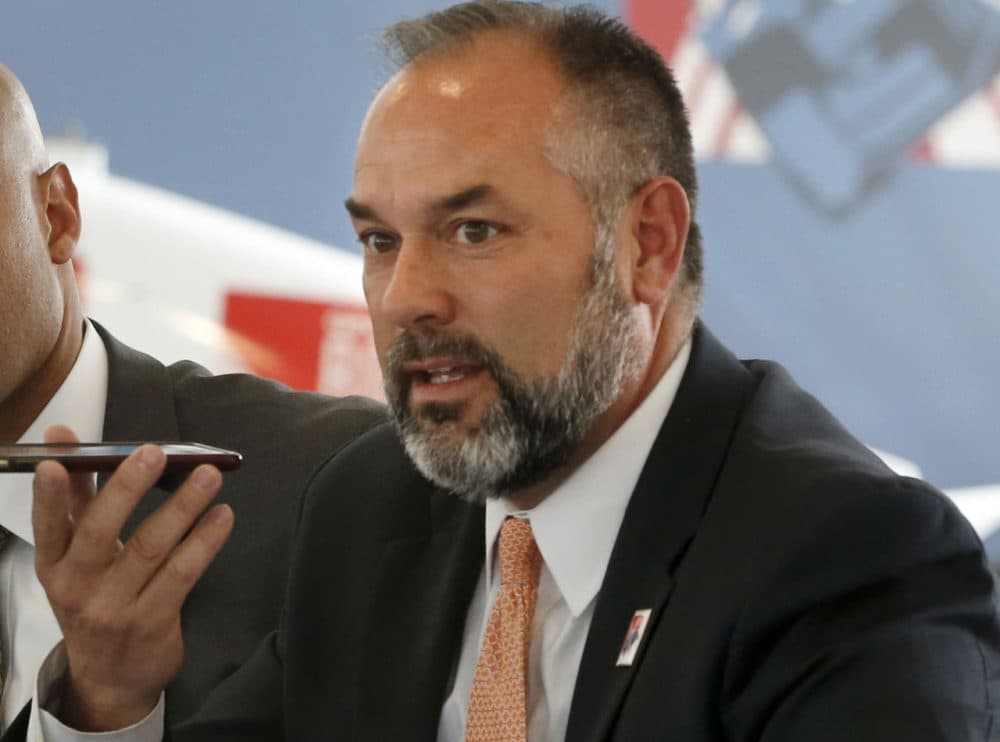 This article is more than 6 years old.
A city of Boston official has been charged by a federal grand jury with extortion for allegedly withholding permits and demanding that a music festival production company hire union labor.
The U.S. attorney's office in Boston announced Thursday that Kenneth Brissette, 52, of Boston, director of the city's Office of Tourism, Sports and Entertainment, was indicted for extortion. (Read the indictment.)
Mayor Marty Walsh, a former labor leader, said in a statement he's "deeply concerned" by the charges.
Brissette, who's now on paid administrative leave, was arrested Thursday morning. He pleaded not guilty at Boston federal court on Thursday afternoon and was to be released on a $25,000 unsecured bond.
The charges against Brissette carry a penalty of up to 20 years in prison.
"The Indictment returned against me today is factually and legally flawed," Brissette said in a statement, released by attorney William Kettlewell, before the court appearance on Thursday. "I intend to fight these false charges with everything at my disposal. I look forward to my ultimate vindication in the United States District Court."
According to a press release from the U.S. attorney, the production company — which was not named because it is considered a victim — "had already contracted with a non-union company to provide workers for a September 2014 festival" when the alleged extortion occurred.
The indictment alleges that between July and September 2014, Brissette repeatedly advised the production company, which was waiting on certain city permits, to hire members of the International Alliance of Theatrical Stage Employees (IATSE), Local, 11 to work at the upcoming festival.
According to the press release:
As a result of Brissette's demands three days before the music festival the company entered into a contract with Local 11 for eight additional laborers and one foreman. Shortly thereafter, the City of Boston issued the necessary permits.
The indictment does not name the twice-yearly music festival. Boston Calling is a twice-yearly music festival held on Boston's City Hall Plaza.
In a statement, Christopher Welling, president of the IATSE Local 11, said it has "fully cooperated with the inquiry surrounding the Boston Calling music festival [and they] are unaware of any alleged illegal activity that may have been committed by any Boston city official."
The U.S. attorney's office also cited "closely related activity" in the summer of 2014, when Brissette was allegedly involved in pressuring a non-union production company filming a reality television show in Boston to hire union workers. According to the U.S attorney's office, another city official and the head of the Massachusetts State Film Office told Brissette it was not legal to withhold permits based on a company's labor status.
Despite the warnings, Brissette, according to the indictment, told a representative of a company shooting a promotion for the television production company that the filming had to be "in a union environment."
Five Teamster union members were arrested in 2015 on extortion charges for allegedly intimidating and harassing staff from the show "Top Chef."
The Teamsters Local 25 president called the allegations "fiction at best."
In a statement Thursday, Laura Oggeri, the city's chief communications officer, said Walsh "asked Attorney Brian Kelly to review the city's interactions with Top Chef last year and he produced a report that concluded no city employee was involved in any illegal activities. Attorney Kelly has also been reviewing Boston Calling and he is conducting a comprehensive review of the Office of Tourism, Sports and Entertainment to ensure that the proper policies and procedures are in place."
In a statement,  Walsh said he's "deeply concerned about today's news."
Walsh added: "Everyone who knows Ken knows him to be a good and hardworking person. We will continue to work with the U.S. Attorney's Office to get to the bottom of this. Everyone in my administration should know that there is only one way to do things and that is the right way."
At a groundbreaking event in East Boston Thursday afternoon, Walsh told reporters he's not concerned that he himself might eventually be indicted.
"I know I've done nothing wrong in any of my doings as mayor of the city of Boston. I'm very confident of that," Walsh said.
With reporting by WBUR's David Boeri and Steve Brown
This article was originally published on May 19, 2016.