Entrepreneurs 'Dovetail' East And West In Waltham To Open State's First Sake Brewery
08:02
Play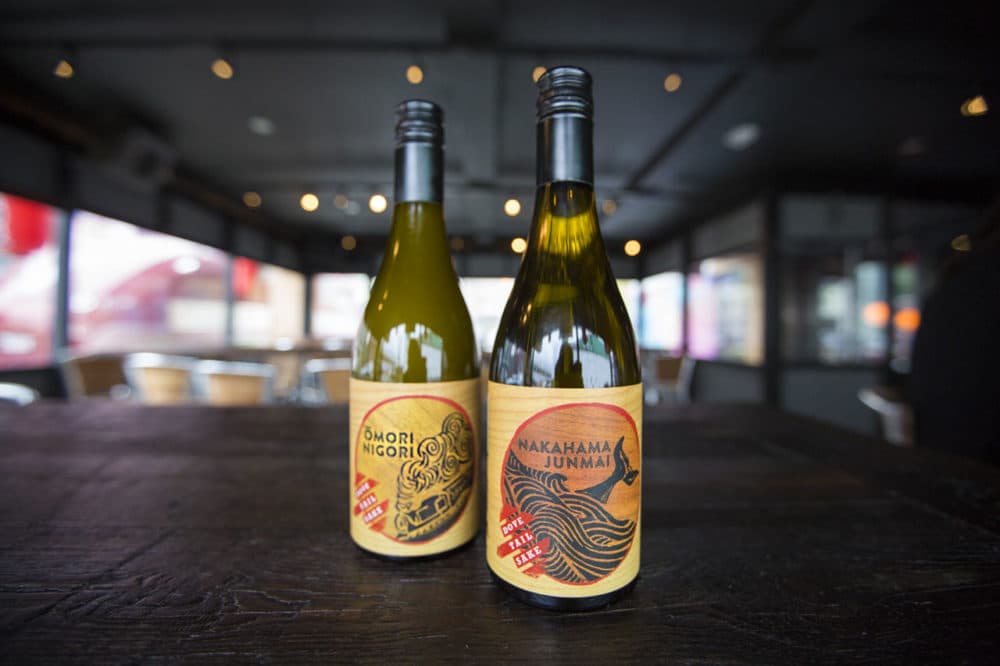 This article is more than 5 years old.
East meets West in Waltham. Here, on a recent afternoon, the music of funk Japanese rock band, Theater Brook — singing in both English and Japanese — filled the space of what was not too long ago a storage garage.
Today, it's Massachusetts' first sake brewery, Dovetail Sake, where two Massachusetts businessmen are hoping to foment a "revolution in fermentation" with a New England take on the ancient beverage.
"Opening a sake brewery in New England is like opening a craft beer brewery when the entire market has only had Budweiser," said Todd Bellomy.
Bellomy should know the difficulty of cultivating a taste for a new craft beverage. He worked for Sam Adams brewery in Boston when it was just starting out. Now Bellomy is the "toji," or head brewer, at Dovetail Sake.
"Dovetail is the joint used in woodworking, but it also means two things to harmoniously come together," he explained, "the sort of dovetailing of the new and old or New England and Japan, those kinds of connections."
Or the connection Bellomy, who is originally from rural Maine, had the good fortune to make with Dan Krupp, of Newton. Krupp went to culinary school, had a successful career in commercial real estate, an expertise in sake and a desire to bring it to Boston.
"We're just a brand-new-to-the-market, high-quality beverage, local-made, extremely fresh and a real unique opportunity to taste something that you would have to fly to Japan to get — and that's three-day-old sake," Krupp said.
The Dovetail Sake duo met after Bellomy returned after a three-year stay in Japan. He had gone to a rural village to master the ancient Japanese art of sword-making, but there he also learned to appreciate "nihonshu" — the Japanese national drink.
"And it was really amazing, really complex with layers of melon and cucumber and a little bit of a pepper note, and I thought it was some special sake, because the sake I had before was not very good," he said.
From Grain To Grass, Inside Dovetail Brewery
Krupp owns Dovetail. He bankrolled the brewery. It's filled with gleaming stainless steel fermentation tanks, sanitized tubes and pipes. A giant 500-pound sack of Ginjo-grade rice — grown in Arkansas by the only farmer in North America to raise the special sake grain — hangs from the ceiling. And there's a state-of-the-art water filtration system.
"It's not a whole lot more complicated than beer in that you have grain, and you need to get that sugar out of it then turn that sugar into booze," said Krupp.
And the booze into a business.
The heart and soul of sake is something you don't find in beer: koji. It's a fungus used in the first phase of fermentation before yeast is added. In Japan, centuries-old brewers guard their strains of koji like trade secrets. At Dovetail, Bellomy and Krupp have been building their premium sake business from the ground up.
"I was just mopping the floor, it's the morning," said Bellomy. "Breweries have a lot of jobs to do."
And the pair have to do them all.
"At a brewery with two people, you have to wear a lot of hats," Bellomy said. "We make it and we bottle it and we sell it and we deliver it. We are the HR people and the PR people and everything else. And then all of those bottles that you see right there are clean and sterile, and I'm going to fill them all with sake."
Soon Krupp rolled a heavy cylinder of nitrogen gas to the bottling area to flush the bottles of oxygen that could kill the precious sake and began handing empties in a continuous flow to Bellomy.
"So first we gas the bottles to remove any ambient air, fill it with nitrogen, so that it'll be nice and happy in there," Bellomy said.
And like that, there was the first batch of Dovetail Sake to go into bottles. It takes 50 days to go from grain to glass.
Taste Testing Sake For Journalism's Sake
I got one of the first bottles off the assembly line and headed to Hojoko — right behind Fenway Park — to put it to the toughest taste test I could find.
Nancy Cushman, who owns the critically acclaimed O Ya restaurant in downtown Boston, turned the former HoJo (Howard Johnson motel) into a funky tavern featuring 20 sakes.
Cushman and Alyssa DiPasquale, the restaurant's sake sommelier, are both Level II Advanced Sake Professionals, a distinction awarded in Japan and shared with just 400 people in the world.
"Sake is probably the most food-friendly beverage," Cushman said. "It's flavors are subtle and very complementary. And so we'll pair sake with tacos or Italian food."
"Or Thai," added DiPasquale. "Thai was good," Cushman replied.
DiPasquale then dispensed the sake in small glasses, but we dispensed with the Japanese custom of holding them in two hands — but kept the clicking of glasses.
"First we say 'kanpai,' " DiPasquale said, "which is 'cheers' in Japanese, essentially. Then we take in — just like a wine or beer or whatever you're enjoying, you might want to look at color and see what the color is, take in the aroma."
The sake was straw-colored. We sniffed our cups; my new drinking partners remarked on how great the liquid smells.
"This is really smooth and delicious and balanced," Cushman said. "There is that nice sweetness to it."
"Yeah, it's super crisp too," DiPasquale said. "It's got that nice acidity too."
"I would give it a 100, I'm giving it 100. I'm going all the way," Cushman said, laughing.
"Really? It's that good? Honestly?" I asked.
"It really is that good," they both said.
Back To Business
"One thing we're really pitching is 'hey, don't drink it, because it's sake," said Krupp. "Drink it, because it's a unique local beverage. You'll like it. We promise."
Dovetail makes two sakes: a cloudy sweet one and the one I tried: Nakahama Junmai.
Nakahama Junmai is named after Manjirō Nakahama, a Japanese sailor rescued at sea by a Massachusetts whaler. Nakahama took up residence in Fairhaven, Mass., becoming the first Japanese-American. He later returned to his homeland where he introduced U.S. technology and fashion, including the first necktie, to the emperor.
These days in Japan, sake sales are plummeting. Bellomy said beer, wine and locally made premium scotch are in demand there.
"Sake is considered, 'oh my dad, my uncle drink it,' that kind of thing," he said.
Forty years ago in Japan there were 4,000 sake breweries. Today there are just 1,500. Dovetail wants to reverse that trend.
"Dan and I, one of the things we talked about early on that would be really great as an aspirational goal, is that we help grow a really vibrant sake market in America, and it actually has the affect on Japan where sake becomes more popular in Japan," Bellomy said.
Sake as a cultural exchange, with a twist.
"One of the things we're kicking around is the idea of an omiyage, which is basically Japanese people are guilt-shamed into bringing gifts to their friends and family when they go on vacation," explained Krupp. "So if we could have a little gift box to put in the duty-free at Logan I think they'd fly out the door there. But first and foremost, we're focusing on the Boston market. We only have so much product, and we really feel folks in Greater Boston, Massachusetts area deserve first crack at it."
Dovetail Sake, mass-produced in small batches, is already sold in more than two dozen retail outlets.
Kanpai!
This article was originally published on May 19, 2016.
This segment aired on May 19, 2016.