Market Basket Saga Unfolds In 2 Spirited, But Not Quite Triumphant, Documentaries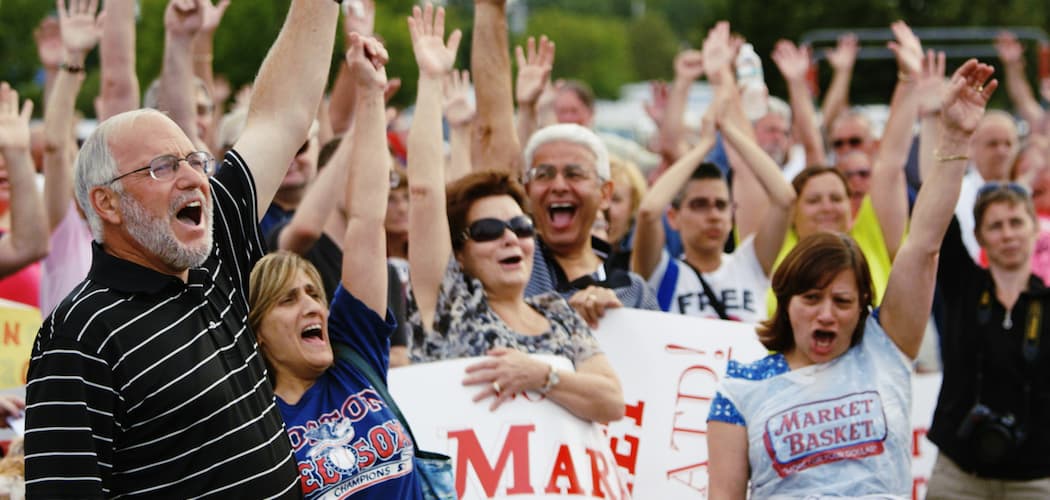 This article is more than 6 years old.
A family empire divided. A widow shifts allegiance and her brother-in-law gets fired. Thousands demand — and eventually secure — his return to the top.
The Market Basket drama started with a single Lowell storefront in 1917, heated up with the Demoulas family feuding and legal battles in the 1990s, and came to a head in July 2014 when Market Basket CEO Arthur T. Demoulas was fired by a board that included his cousin Arthur S. Demoulas.
For six grueling weeks, workers and customers throughout New England banded together on behalf of Arthur "Artie" T. "Bring Back ATD," they shouted. It worked.
It makes sense, then, that more than one documentary team seized the storytelling opportunity. With all the media attention given to the strike, "We The People: The Market Basket Effect" and "Food Fight: Inside the Battle for Market Basket" will not, and should not, be the last word on this riveting epic. (It's already been the subject of a well-received book and is ripe for a television serial starring Oscar Isaac as Artie T.)
Both of the independently-produced films focus on the protest and flashback to the turbulent Demoulas family history. ("We The People" spends more time on family relationships, lawsuits and the board's shifting allegiances.) Both interview scholars, journalists and politicians (some of whom overlap) as well as managers and active protesters. Both cut over and over to the same headshot of Arthur S. since he declined to participate in either film.
Artie T. speaks to the crew in passing at the end of "We The People" but he, too, is otherwise only seen in public situations. Bottom line, neither crew gained access to the top dogs. And neither film questions the collective allegiance to Artie T. Far from it, they celebrate the profit-sharing corporation for paying workers above market rate and instilling loyalty that employees literally wear on their lapels ("Matt Matson, 41 years").
Taken at face value, this pair of films makes a compelling case of Artie T. for president.
And taken together — because, why not? — they expand the library of recent films documenting a values clash that smacks uniquely New England. There's Concord's water bottle ban ("Divide in Concord"), the Cape and Islands wind farm dispute ("Cape Spin! An American Power Struggle") and the restriction of home size on Martha's Vineyard ("One Big Home"), to name a few.
While "We The People" forefronts commentary by high-ranking politicians, MIT professors and leading thinkers on management strategy, "Food Fight" homes in on the ring of eight managers who orchestrated the protest, not knowing if their plan might backfire with drastic results.
In "Food Fight," the managers speak at length about the methods they deployed to slow down or disrupt business as usual. It wasn't their idea for customers to rally alongside associates ("I wish," says Jim Fantini, "because it was brilliant"), and they didn't set out with a three-ring binder full of plays. Rather they acted and reacted one nerve-racking day at a time, often shielding their communication to prevent false or dashed hopes. And they did so in concert with associates at all levels of Market Basket's operations.
In this way, "Food Fight" gets inside the emotional turmoil of risking one's livelihood and gives voice to those who had everything at stake by a possible corporate sale. Its scenes of massive protests-turned-potlucks held on the grounds of the Tewksbury headquarters reveal the familial glue that so many people talk about on camera but can be difficult for outsiders to comprehend. Footage of the endless sea of people draped in Artie T. gear in one parking lot rally speaks for itself.
"Food Fight" doesn't shy from showing the ugly side of corporate disputes, either. There are picket line scenes with name-calling and hostile gestures. One forklift operator describes the awkwardness between workers who walked off and those who kept punching the clock to pay the bills. For its part, "We The People" doesn't address the machinations of the strike; it sticks to what the victory represents.
Still, both films could've downplayed their distracting soundtracks and more thoroughly rendered the personal stories of at least a couple of stakeholders. The films didn't pay enough attention to the chain's devoted low-income shoppers, for example. And neither had real-time footage of the announcement of Artie T.'s reinstatement. That's tough footage to get but it's the bread and butter of an on-the-ground documentary.
"We The People" and "Food Fight" will help us revisit the protest but it may be in the hands of cable television to recreate the high-five elation of winning one for the little guy.
---
"We The People," directed by Tommy Reid, is available on multiple Video On Demand (VOD) platforms on May 20. The next stops for "Food Fight," directed by Portsmouth-based Jay B. Childs, are Starlite Cinema in Rochester, New Hampshire, on May 20 and Cape Ann Cinema in Gloucester on May 24.