Commentary: Donald Trump Is He Whose Name Must Not Be Spoken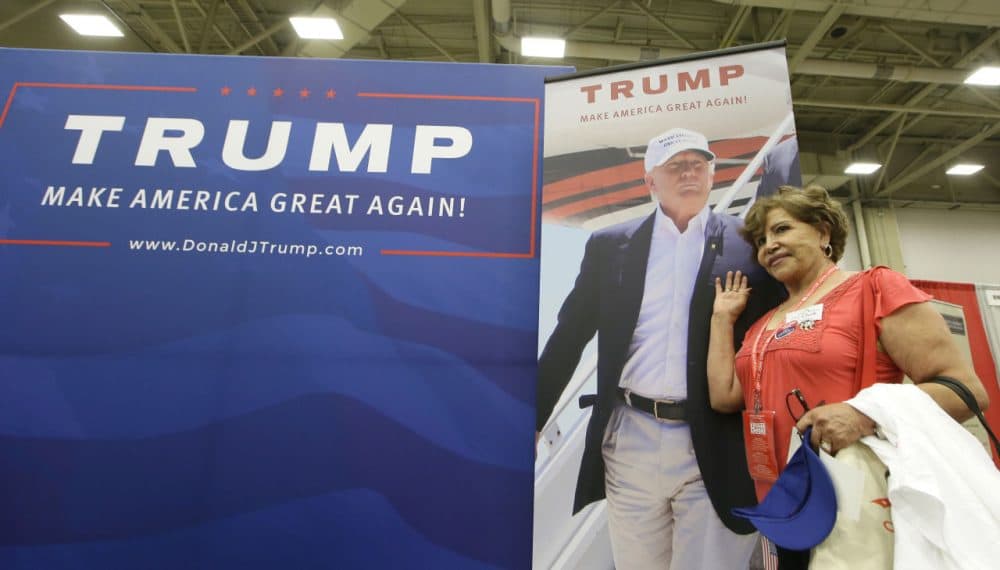 This article is more than 5 years old.
"Speak of the devil and he shall appear," is an old saying that seems to be alive and well among 2016 Republicans. It usually refers to a situation in which the subject of a conversation suddenly appears.
But in the current context of the presidential campaign, Republican officeholders across America fear that if they say Donald Trump's name, he may appear, perhaps standing next to them in person or more likely in Democratic TV commercials. Fearful that their words might be used against them at a later (or sooner) date, Republicans refuse to say, "I support Donald Trump." Instead they say things like, "I will support the likely nominee."
Among those who won't say "Donald Trump" when asked whom they support is New Hampshire Sen. Kelly Ayotte, who's in a difficult re-election race this fall. She left it up to a press aide to say she supports "the nominee" but would not endorse him -- a distinction without a difference.
A new WBUR/MassINC poll shows Ayotte trailing Democratic Gov. Maggie Hassan by 2 percentage points, while The Man She Will Not Name trails Hillary Clinton by 2 points.
Nevada Gov. Brian Sandoval prefers "the presumptive nominee."
Kansas Sen. Pat Roberts, never at a loss for words, emphatically declared: "I intend to support the [nameless] nominee."
South Carolina Gov. Nikki Haley, refusing to consider being DJT's vice presidential candidate, strode to the microphone and boldly said she'd back "the Republican nominee for president."
South Carolina Sen. Tim Scott, the only African-American Republican in the Senate, who previously endorsed Marco Rubio, gave it the old college try with: "I've always said I would support the nominee, and nothing has changed." He too is up for re-election in November.
Ohio Sen. Rob Portman, also on the fall ballot, punted to his campaign manager who firmly stated Portman "intends to support the Republican nominee." The closer one is to running oneself, the less likely the politician is to back T****.  A spokeswoman for Portman's Democratic opponent Ted Strickland pounced: "Senator Portman has finally confirmed what we've known all along: He's backing one of the most divisive, toxic and offensive presidential candidates in modern history." Could that be Trump?
To be sure, there are those in the Never Trump movement who are happy to call the devil by name. In a long Facebook post, conservative Republican Sen. Jim Sasse of Nebraska declared back in February, "I cannot support Donald Trump." Among his many reasons: Trump's refusal to denounce the KKK; calling Russian President Vladimir Putin "a great leader;" Trump's desire to curtail the First Amendment so that "people will be sued like never before." No wild-eyed liberal, Sasse, by his votes, is the fourth most conservative senator in Washington.
Even Trump himself doesn't like to use his own name from time to time, calling reporters back in the 1980s masquerading as "John Miller" or "John Barron" to brag about his own business successes and his magnetic appeal to famous women, like Madonna. While Trump denies it's his voice, news people who dealt with him during that period say he often made these calls without not using his real name.
Regardless of what a Republican calls Trump, the nominee or the top of the ticket or the party's standard bearer, the name Donald J. Trump will be on every ballot for federal office -- plus some governors' offices -- in America. As former world heavyweight boxer Joe Lewis once predicted of an opponent whom he outweighed: He can run but he can't hide.
Dan Payne is a Democratic political analyst and a regular contributor to WBUR Politicker.