Developed For The Visually Impaired, App Aims To Get You Closer To The Bus Stop
Play
This article is more than 7 years old.
When Google Maps tells you, "You have arrived," how often is it true? Are you right at the door, or 50 feet away?
For most, it's not a big challenge to overcome.
Now imagine that you're blind. Those extra 50 feet could leave you stranded.
That's the problem that the Perkins School for the Blind in Watertown wants to solve with a new smartphone app — and it's looking for help from the public.
Pinning Down A Location
Joann Becker works for Perkins Solutions, a program at the school that develops new technology to help people who are visually impaired. She has been blind since birth, so she knows firsthand why a more precise location app is needed. She's working on the new app for Perkins. Google recently gave a grant of $750,000 toward its development.
Becker uses voice technology to operate smartphone apps that can see what she can't. One app takes a picture with her phone's camera, for example, then tells her what's in the picture.
She tries it on me.
"Picture 1 is woman in green floral-colored long-sleeve shirt with black headphones," the phone tells her.
"Now I know what you're wearing," Becker says, with a laugh. "Isn't that fabulous?"
What she doesn't know is the precise location of her bus stop in Watertown.
She looked it up in Google Maps. Then she found her way across several intersections. Now she stops and stands at a busy corner.
"I know from using this app," Becker says, "that there is a bus stop on Arsenal and Beechwood."
But the bus stop still lies about 50 feet ahead. That's far enough away for the bus to pass her by — and she says buses often do.
With the new app, Becker says, "I'm going to have clues that will actually take me to the bus stop and give me details about how I'm most likely going to find that bus stop."
For example, she says, "as I'm walking along, I may find a step and a pole. And to the left of that is where I'm going to find the bus stop."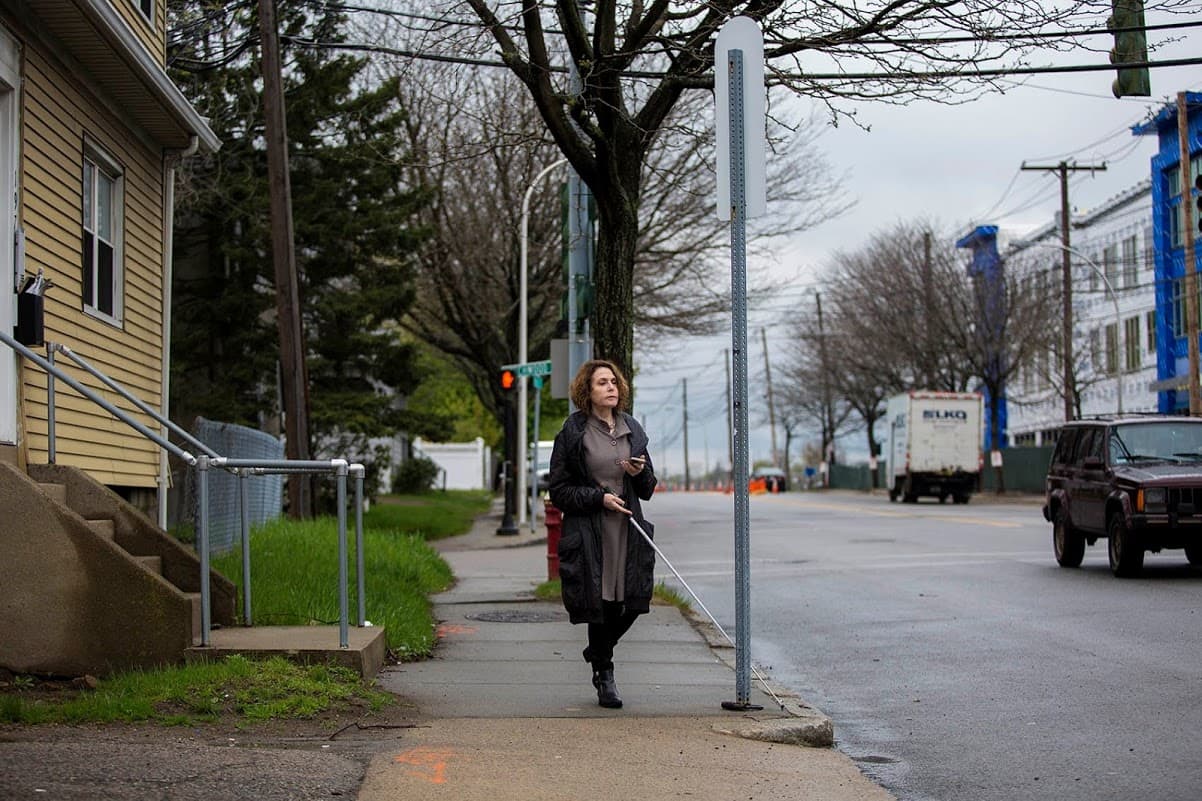 'Walking Around In Circles'
Nick Bonatsakis leads the iOS team at Raizlabs, the Boston-based app developer that Perkins chose to work on its mobile application. Bonatsakis, who is legally blind, remembers a moment last summer when he could really have used the app's help downtown.
"I was just walking around in circles," he recalls. "And had I had something where somebody just said, 'Look, you know, the entrance to this place is past this mailbox and before this entrance to this other shop,' that would have been immensely helpful."
Past the mailbox, before the shop — easy clues to give. And that's what Raizlabs hopes people who can see those landmarks will do.
When you're at a bus stop, you could look around and find a clue: a step, a mailbox, a pole. Then you'd log it into the app.
It's a good deed. And Raizlabs may also make it a game, with prizes.
Beyond that, the app might help everybody, not just people who can't see. Raizlabs founder and CEO Greg Raiz says it could make local navigation more precise.
"My hope is that not only does this help build this specific Perkins app," Raiz says, "but it improves the infrastructure in Boston for the MBTA and beyond for how we get around."
The app is still in initial development. Perkins hopes to make it public by early next year. Meanwhile, you can start to look for clues.
Correction: An earlier version of this story said Raiz hopes to make the app public by next year; it is Perkins that hopes to make it public. We regret the error.
This article was originally published on May 23, 2016.
This segment aired on May 23, 2016.