Cirque Du Soleil's 'Kurios' Brings Steampunk Storyline To The Big Top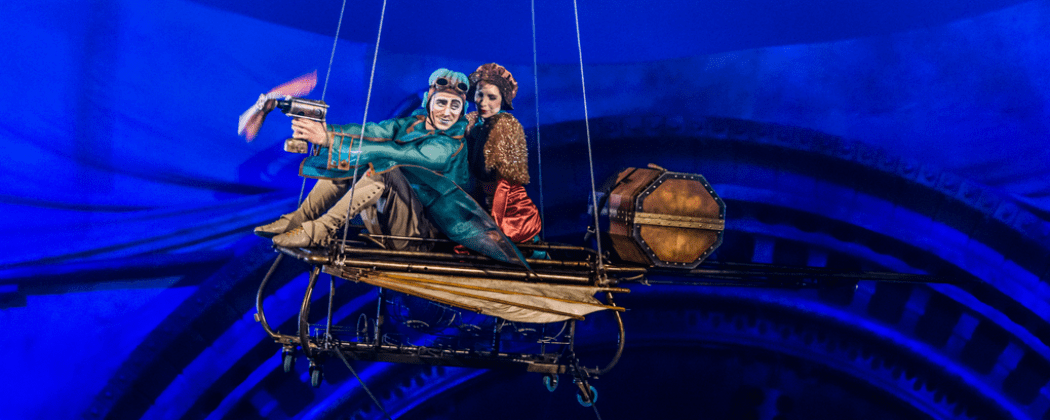 This article is more than 5 years old.
The surreal, yet not exactly unfamiliar world of Cirque du Soleil has been dazzling and delighting audiences and critics for three decades, with 18 shows currently up and running.
The dazzle and delight part — that's all good. It's that familiarity part that first-time writer/director Michel Laprise was wrestling with when it came to creating Cirque du Soleil's latest touring production "Kurios: Cabinet of Curiosities." For Laprise — who spent five years as a Cirque talent scout and in 2012, directed Madonna's MDNA tour — this was his opportunity to shake things up a bit at the Montreal-based company that has come to redefine the modern circus.
"It's a very great company and it comes with a huge responsibility, so the bar was high," Laprise says on the phone ahead of the Boston string of performances at Suffolk Downs May 26-July 10. "Like [it was during] the first year of Cirque du Soleil, we want to have fun, we want to be a bit rebellious and do things differently. And it's harder now to do things differently because we not only have to reinvent the circus, but to reinvent Cirque du Soleil."
Laprise had heard the rumblings of discontent: "There [were] a couple of people who were starting to say we were becoming a little bit predictable." And that put him in this mindset: "I wanted to do something different and I wanted to surprise people. I made a list of things we often do at Cirque, and I asked 'Do we do it out of habit and comfort? Or out of creative necessity?' If it was out of habit and comfort, I would just cross it out."
The result might prompt thoughts of Fritz Lang's "Metropolis" or Lewis Carroll's "Through the Looking-Glass." "Kurios" features the largest cast in Cirque's history (46 members), the lowest stage — Laprise says "It brings the artists in closer proximity to the audience" — and is a fanciful dive into the subculture of steampunk. The acrobatics will play out on a retro-futurist setting, part mid 19th century to the early 20th century, and part dreamscape/fantasy land.
"We had already been playing with a lot of inventions and contraptions," Laprise says, "but we had not put the word on it and the set designer [Stephane Roy] said 'You know what, we're doing steampunk and we should do it more.' I said, 'You're so right, let's do it.'"
To that end, the space will have two structures called "cabinets," one exploring the top of sound and the other electricity. It's the age of industrialization, albeit one skewed a la Cirque. Expect to see a wonderland of props, some quite over-sized, others under-sized and many hybridized: A giant chair, a 750-pound mechanical hand, a massive model railway with an ancient locomotive, a dinner party on the stage with a descending mirror-image dinner party dropping from the ceiling.
"I wanted to have big set elements more than any other touring shows," Laprise says and, indeed, there are 426 of them. "'Kurios' is a world where everything is possible and we play with perceptions a lot. And with the use of language, I didn't want to go with the gibberish language [often prevalent in Cirque shows], so that's why sometimes you hear a bit of Russian, a bit of French, a bit of English and it's important for me to do that."
Steampunk is about invention and reinvention -- taking things that we know but combining them in a different way.

Michel Laprise
"Steampunk is about invention and reinvention — taking things that we know but combining them in a different way, and it has this humor attached to it," Laprise continues. "You will see in the set, some props that are a combination of recycled things. They're beautiful and the different components came with their own story. When they get together, they create a new story, and to me it's a metaphor for the Cirque du Soleil show — people coming from their own backgrounds and existences, and then when they get together to make a show, they create something that's more than the addition of what they are. It's a very stimulating style."
Your guide to this exotic world of "Kurios" is The Seeker (Eligiusz Skoczylas), who has built the two cabinets over time. He believes in an invisible world and grand dreams, and he encounters various fantastical half-human/half-machine characters.
Let's consider one, Mr. Microcosmos, a creature who sports a huge boiler pot belly.
"I'm one of the characters that comes from the other [invisible] world," explains Karl L'Écuyer, the actor-acrobat who portrays Mr. Microcosmos, in a separate phone interview. "I wear this huge costume, and inside my costume, somebody lives."
That would be painter-poetess Mini Lili, played by the 3-foot-2-inch, 39-pound Antanina Satsura, reportedly one of the 10 smallest people in the world. "Throughout the show, you see her popping in and out of the costume and also my character," L'Écuyer says. "I'm walking around, bossing everyone around. I'm the bipolar one — being grumpy, being happy. About half the time, I'll be on stage trying to direct the story."
As an acrobat, he's featured in an act called the Acro Net, where the net covers the entire stage and the acrobats portray underwater creatures, fish and fishermen who sometimes fly, with a slingshot effect, near the top of the tent.
It's a dimension where anything can happen, I really want it to be a world of freedom and exuberance.

Michel Laprise
"It's this huge trampoline act," L'Écuyer says, "You're going to see me fly from zero feet to 45 feet in a few seconds on the big net. That's my athletic part of the show."
Laprise adds "It's a dimension where anything can happen, I really want it to be a world of freedom and exuberance."
Many of the Cirque concepts have been rethought, but rest assured, "Kurios" will not lack for acrobatics, aerial strap acts, contortionists, yo-yo acts and balancing acts.
If you've been unable to — or really haven't wanted to — follow Cirque du Soleil plots, you're not alone. "Kurios," Laprise says, doesn't guarantee linearity, but says it is structured so you might follow a storyline.
"It feels like there is a plot because there is one for us," he says. "I come from theater so I wrote an 80-page script. Everything was decided. Then, I started to stage it and I changed things with the artists' contributions. Sometimes, the audience will feel 'Oh my god, there is a story!' You have to have something to say to the audience so they will be able to connect with you."
Laprise says the level of input from the various artists was high. He wanted to make sure the artists, actors and acrobats considered it their show, something that sprung from his work in casting.
"I was very close to the artists, doing everything I can to allow this potential to really glow so I would not over direct," he says. "I would more encourage and stimulate, do some guidance, and I'd want them to co-write the character with me in some cases."
It was very important to make a show that was very joyful, that would give to the audience a great sensation of possibility.

Michel Laprise
The intent of the music, as always, will be to uplift. "It's a world where everything is possible," says Laprise. "And to me, it was very important to make a show that was very joyful, that would give to the audience a great sensation of possibility."
But Laprise and composers Raphaël Beau in collaboration with Bob and Bill (otherwise known as Guy Dubuc and Marc Lessard) have shaken things up a bit here, too, moving a few steps away from the usual world music gumbo.
"In the past there are lots of layers of computers and sequencers and stuff," Laprise says, "and we have sequencers, but when we started [doing this] we said it's important that we hear the piano, the accordion, the violin, the cello. We usually tend to go with world beat of this country, that country. And in this case, we said let's go electro-swing, but in our own way."
Laprise does have a promise about what the second song of the opening act will engender in the audience, recalling what happened the very first time he heard it.
"I was at home, on a Sunday. I listened to it and it was insane, it was so good," he says. "I started to dance in my living room. After eight times, I called him and said, 'This is a masterpiece; it makes me feel so alive listening to it.'
"If you're depressed and you go to the show, after you've seen that opening act, there's no way you can be depressed. It's almost a cure. Every city that we go to, the audience is just so enthusiastic. Sometimes you give energy and don't get energy back, but in this case the energy is always circulating and it's a blessing. Life is good sometimes."
For more information on tickets and showtimes, visit Cirque du Soleil's website.
This article was originally published on May 24, 2016.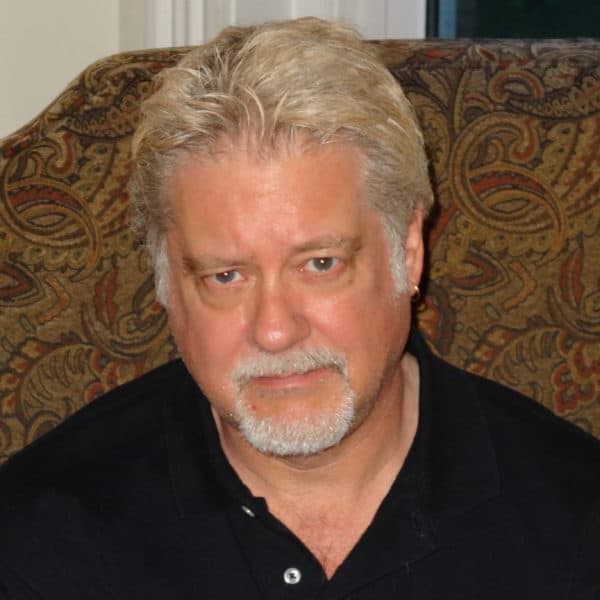 Jim Sullivan Music Writer
Jim Sullivan writes about rock 'n' roll and other music for WBUR.