From Pirates To Pan, 'Peter And The Starcatcher' Gets Whimsical At Lyric Stage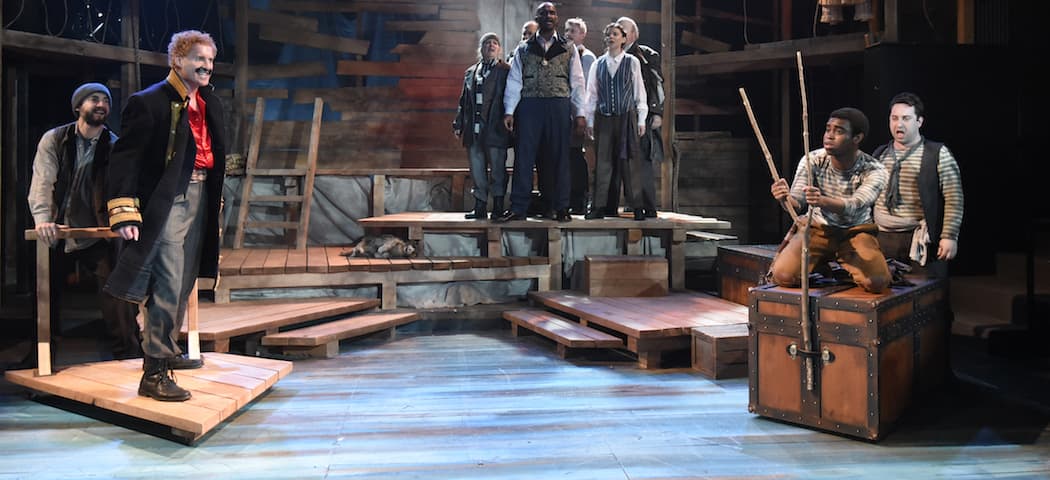 This article is more than 5 years old.
Accepting the Elliot Norton Award for Sustained Excellence on Monday night, Steven Maler talked about the "power of presence," as evidenced by notable audience reactions to 20 years of productions by his Commonwealth Shakespeare Company.
As digital outlets for consuming entertainment continue to proliferate, he said, the visceral impact of sitting in the same room — or standing on the same Boston Common — and breathing the same air as the onstage performers cannot be replicated on a smartphone or HDTV.
"Peter and the Starcatcher," that wicked whimsical play with more than its share of Shakespearean allusions, speaks loudly to this point.
It opens with an ensemble introduction that echoes the prologue to the Bard's "Henry V," calling on audience members to put their imaginations to work and fill out the show's spare scenic design. "Use your thoughts to deck our sails," the intro to "Peter" implores.
The production now onstage at Lyric Stage Company of Boston more than holds up its end of that agreement. The material has some issues, chiefly in the way the plot unravels in the late going, but the Spiro Veloudos-directed production is delightfully inventive, whether vividly creating the impression of the cramped cabin of a ship or enacting a tumble down a cavernous pit with little more than the bodies of the ensemble and a length of rope. Janie E. Howland's scenic design acts as a static, subtle frame for fanciful transformations evoked by the actors.
"Peter and the Starcatcher," adapted by Rick Elice from the children's book series written by Dave Barry and Ridley Pearson, offers a prelude to the story of Peter Pan, that beguiling character created by J. M. Barrie. As tipped by its opening appeal to the audience's imagination, it is written to be performed without the special effects increasingly common in fantasy fare on Broadway. But going by reviews of the show's series of successful New York productions, Veloudos' staging is even more spartan than those that came before.
So cheers to him and to his excellent ensemble. These 12 actors are nearly always on the go, fluidly moving as if appendages of the same body. It's one delightful moment after another. Scenes flow in quick succession, echoing the episodic, action-packed source material. Transitions often remind of those in a film, even with only a few basic props and set pieces in the mix.
The story is split between shipboard action in the first act and the goings-on at a mysterious island in the second. Various adventures are afoot, above-and-below-deck of a pirate ship and of a merchant vessel that's transporting a trio of boy orphans who don't know they're pegged to become snake food for an evil king across the water. There's a lot of concern with a misplaced steamer trunk packed with magically potent "star stuff," the relationship between stoic Lord Aster (Damon Singletary) and his adventurous daughter Molly (Erica Spyres), and the cult of personality surrounding a verbally bumbling but still-evil pirate captain named, in honor of his prodigious facial hair, Black Stache (Ed Hoopman).
Spyres, Hoopman and Singletary all stand out; though Marc Pierre struggles for a while to enrich an unnamed (but very important) orphan's brooding, the chemistry later on with Spyres' Molly is compelling.
Deliberate anachronisms abound, with pop culture call-outs (including a name check of Donald Trump and a quip about Philip Glass) haphazardly sprinkled alongside those Shakespeare references — from sly quotations from "Antony and Cleopatra" and "Macbeth" to the most oft-cited opening line of a sonnet — and an out-of-nowhere borrowing from the Gospels.
Though they threaten to detract from the whimsically enchanted mood the show otherwise tries so hard to evoke, these asides deliberately call attention to the artifice of the staged proceedings. (At one point, Black Stache protests that the story can't take all night to wrap up because audience members have to pay for parking and babysitters.) One wonders, though, if the device is employed mainly for the sake of its own cleverness, and it sometimes has a cheap feel to it — an easy reference to a well-known advertising campaign smacks more of an amateur skit than a transporting theatrical experience.
Maybe it's just to keep the grown-ups in the audience interested, though the story has some very dark undertones and never really threatens to turn saccharine. (It's notable that Disney was among the show's first producers.) There's enough irony here to sufficiently inoculate the earnestness-adverse in the house.
As experienced with this fine production, "Peter and the Starcatcher" is one of those entertainments that can genuinely please audiences of many ages. And it just wouldn't be the same on Netflix.