Former Mass. Gov. Bill Weld Chosen As Libertarian VP Candidate
04:38
Play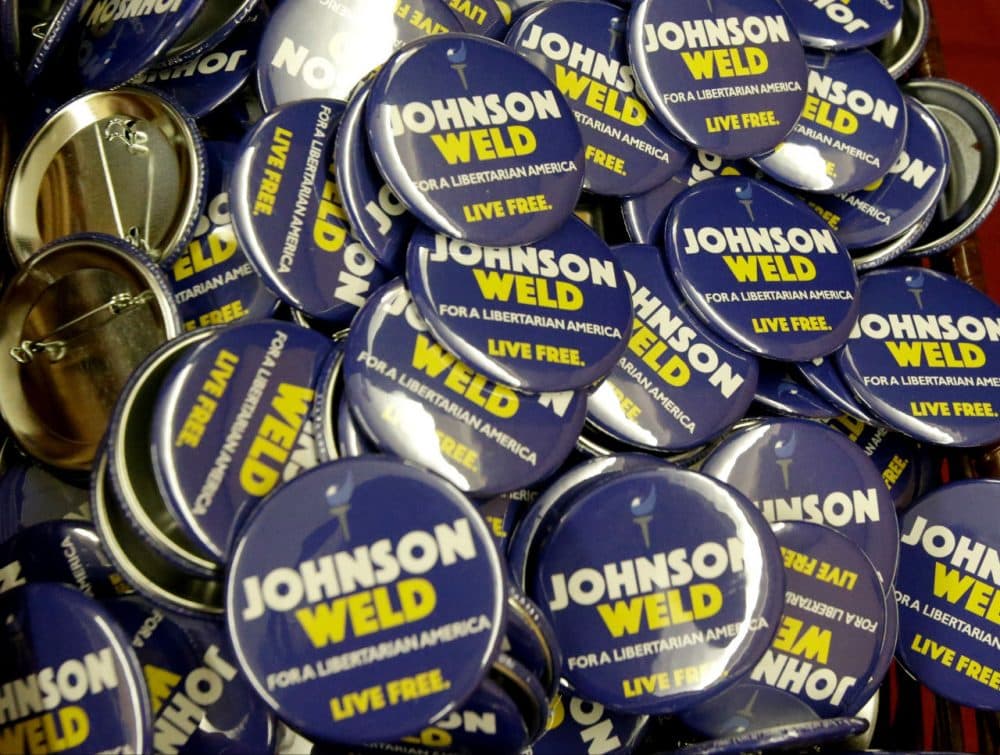 This article is more than 5 years old.
Former Massachusetts Gov. Bill Weld was without doubt the most controversial person at the Libertarian Convention in Orlando, Florida, this weekend.
He was, until a few weeks ago, a Republican. But now, he is the vice presidential candidate joining Gary Johnson, former Republican governor of New Mexico, on the Libertarian Party ticket.
Weld won the nomination after a long day at the convention. Many delegates, including David Stewart, of Oklahoma, say Weld is not one of them.
"He hasn't been in the Libertarian Party for more than about a month. He hasn't read the platform. He came out yesterday in favor of standardized testing in the schools, which is not a Libertarian position," Stewart said. "We're against those kinds of mandates. And at one point yesterday, also in the same Q&A — now, I understand he might have been trying to be facetious, but if he was, it did not go over properly — he said, when asked about free trade, 'Gary, am I allowed to be a free trader?' "
Libertarians may have to get used to Weld's wry humor. For his part, the former Massachusetts governor says he's now committed to the Libertarian cause.
"Well, I read the platform yesterday, so now I know all the issues," Weld told me. "It's actually a pretty good platform."
Libertarians elect their candidates for president and vice president separately. They picked Gary Johnson, the former governor of New Mexico to lead their ticket.
Before they picked Weld as his running mate, many delegates needed convincing. So in his acceptance of the presidential nomination, Johnson made a plea for the man he wanted as his VP.
"I just want you to know if it's not Bill Weld, I don't think we have the opportunity of being elected president of the United States," Johnson said. "Since Bill Weld announced that he is seeking the vice presidential nomination, I would say, at a minimum, he has made 25 national media appearances."
When Johnson ran for president as a Libertarian in 2012, he won just 1 percent of the vote, but Johnson says Weld can improve the Libertarian Party's chances this November. He pointed out that Weld has raised a quarter billion dollars over the course of his political career. He promised delegates that if they elected Weld as their vice presidential nominee, at a minimum they could reach the presidential debates. And he told reporters, if the delegates didn't pick Weld as his running mate, Johnson might have to drop out of the race.
But Johnson's entreaty went against the purist instincts of the longtime Libertarian faithful. Defeated presidential candidate Darryl Perry took to the stage to urge delegates to vote against Weld.
"If we nominate two Republican governors as our ticket and we compromise what we believe, this party will die!" Perry told the crowd emphatically.
When Weld took the stage, he was booed. People shouted "Get off stage!" and "Drop out!"
But Weld tried to assure them that his conversion from Republican to Libertarian was based on long-held core beliefs.
"Frankly, it's a relief not to have to carry the Republican Party's anti-choice, anti-marriage equality, and anti-social freedom positions around on my back, as I've had to do for the last 30 years," Weld said.
Responding to concerns that he might betray Libertarians, Weld pledged not to return to the Republican Party.
Even so, he failed to get a majority of votes in the first round, but in the second round, he squeaked by.
"We can offer something meaningful and realistic to the country, to the entire country, and that will be a third way, for want of a better word," Weld said, accepting his nomination.
After their victory, Weld and Johnson told reporters their goal now is to raise money and convince pollsters to include them in the polls so that they can reach the 15 percent threshold required to be included in the presidential debates.
This article was originally published on May 30, 2016.
This segment aired on May 30, 2016.