Good Lookin' Out: Baby Hawk Spotted, Saved By Good Samaritans And Trooper In Andover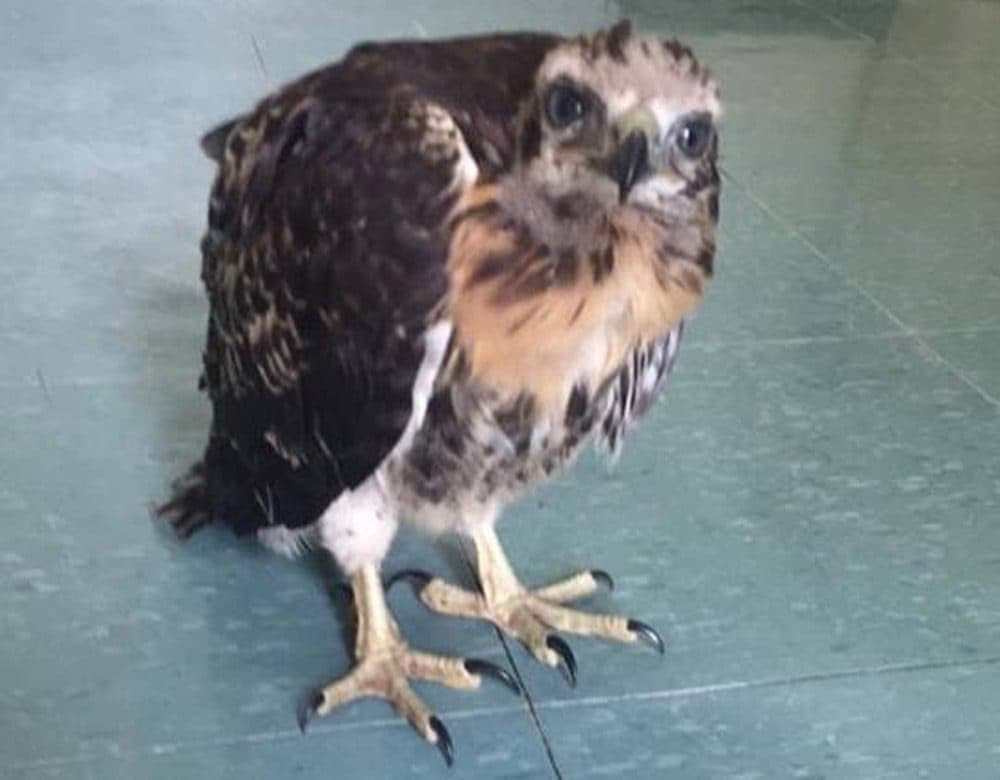 This article is more than 4 years old.
UPDATE — On Tuesday afternoon, rumors were circling that the baby red-tailed hawk had died — but, fear not, the feathery little guy is thankfully still alive and in recovery.
State police spokesman David Procopio said that although the hawk had "experienced some serious medical distress" Tuesday, he was happy to report that the bird had rebounded.
---
Our Original Post:
If it weren't for the eagle eyes of a couple of good Samaritans and a Massachusetts State Police trooper, it may have been bye, bye, birdie for a baby hawk.
On Monday, two people stopped onto the breakdown lane on Route 125 in Andover after seeing the red-tailed male hawk in the middle of the road, State Police said in a Facebook post. The bird, which looked emaciated, appeared to have fallen out of his nest.
Instead of flying by, State Police Trooper Leigha Genduso stopped, the post said, and helped the pair of bird watchers guide the baby hawk toward the edge of the woods.
To stop him from flying the coop again, Genduso scooped him up and took him back to Andover Barracks, where he was then taken in by rescue falconer Diane Welch, who will be nursing him back to good health.
Here is an (adorable) photo of the hawk with one of his rescuers: 
This article was originally published on June 14, 2016.