Orlando Aftermath: Calls To Change Rule On Gay Men Donating Blood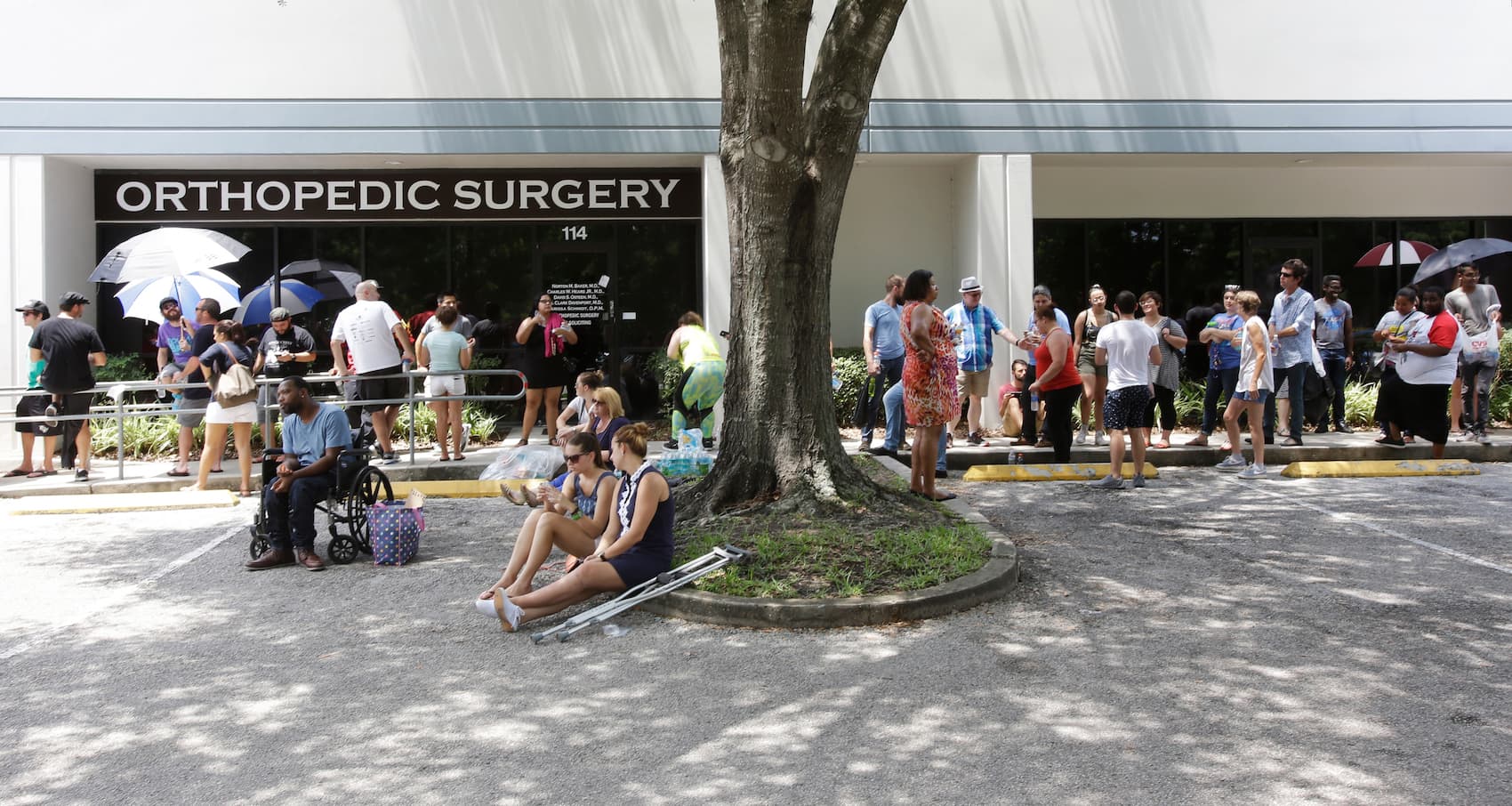 This article is more than 6 years old.
In the wake of mass shootings, we're often told to take a page from Mr. Rogers and "look for the helpers." But in the aftermath of Sunday's shooting in Orlando, many gay men who wanted to donate blood were not allowed to help, blocked by a federal ban.
"We must overturn the morally bankrupt/dangerous ban on gay people giving blood. Absurd someone can't even donate blood to their own husband?" tweeted Colorado U.S. Rep. Jared Polis. An NPR report cited another tweet: "Gay. Men. In. Orlando. Can't. Give. Blood. To. Their. Bleeding. Battered. Community. Dear @US_FDA, CHANGE THAT NOW."
Monday evening, a group of Democrats in Congress began circulating a letter calling on the Food and Drug Administration, which regulates the blood supply, to change its rules on gay donors.
"We have lines of people out the blood donation center door and half those people are being turned away because they can't actually give blood."

Jay Franzone, National Gay Blood Drive
Regulations from the early years of the AIDS epidemic barred gay men from ever giving blood, amid concerns about the spread of HIV. In December, federal guidelines eased that ban, saying gay and bisexual men may donate blood — but only after abstaining from sex with other men for a year.
Gay rights advocates argue that the celibacy rule is discriminatory and based on outdated science. They had been calling for change in relative obscurity — but the wave of grief and outrage after the Orlando shooting has brought the issue to the fore.
"When gay men can't give blood, we lose 2 to 4 percent of the potential blood supply, and that means we can't save as many lives," says Jay Franzone, spokesman for the National Gay Blood Drive, which has been pushing to lift the ban since 2013.
"So we have lines of people out the blood donation center door and half those people are being turned away because they can't actually give blood," says Franzone, a senior at Lasell College, of the Orlando scene.
There has been enough blood for the victims of the Orlando shooting, authorities say, though they're encouraging more donations in the days to come to replenish the supply.
The FDA said in a statement Monday afternoon that "the scientific evidence is not available to support an alternative to the current deferral policy.
"We empathize with those who might wish to donate, but reiterate that at this time no one who needs blood is doing without it," it continued. "That being said, the FDA is committed to continuing to reevaluate its blood donor deferral policies as new scientific information becomes available."
The FDA may cite insufficient evidence for changing its policy, but overall the science of protecting the blood supply has indisputably advanced since the donation ban began in the mid-1980s.
In particular, HIV can be detected more quickly, and the technology of neutralizing viruses has improved, says Sean Cahill, director of health policy research at The Fenway Institute, which studies LGBT health issues, including HIV/AIDS.
"There's a nucleic acid test that is used to screen blood after it's been donated, and that can typically detect the presence of HIV now in just about nine to 11 days after infection," Cahill says. "So that window period between when you're infected and when it's detectable has shrunk significantly over the last 30 years. That greatly decreases the risk that HIV-infected blood will escape detection."
The other big technological breakthrough, he says, involves "pathogen inactivation technologies" that provide another layer of blood-supply protection by neutralizing a wide array of viruses.
Cahill also points out that because the current FDA policy applies to all gay and bisexual men, it fails to distinguish between very different levels of risk.
"Let's say you're a gay man who's in a monogamous relationship with your partner, you're both HIV-negative, you both get tested once a year at your physical. You're not allowed to donate," Cahill says, even though "the vast majority of gay men are HIV-negative.
"About 85 percent of us are HIV-negative, and about 15 percent of us have HIV," he says. "So it's a complex issue, because we have a really heavy burden of HIV in our community. But the policy the FDA has right now doesn't distinguish between very low-risk gay men and very high-risk gay men."
It also overlooks high-risk heterosexual activity, such as having unprotected sex with multiple partners, he notes.
The Fenway Institute submitted a comment to the FDA last year arguing that a better policy would be to screen all donors for high-risk behavior through a questionnaire, and then defer high-risk donors based on known window periods.
"Maybe one positive thing that could come out of this horrible terrorist attack is that people will look at this policy," Cahill says. In Orlando, "there were plenty of people who were HIV-negative who could have donated and they just weren't allowed to donate."