Gov. Baker Names 3 Judges To State's Supreme Judicial Court
04:44
Play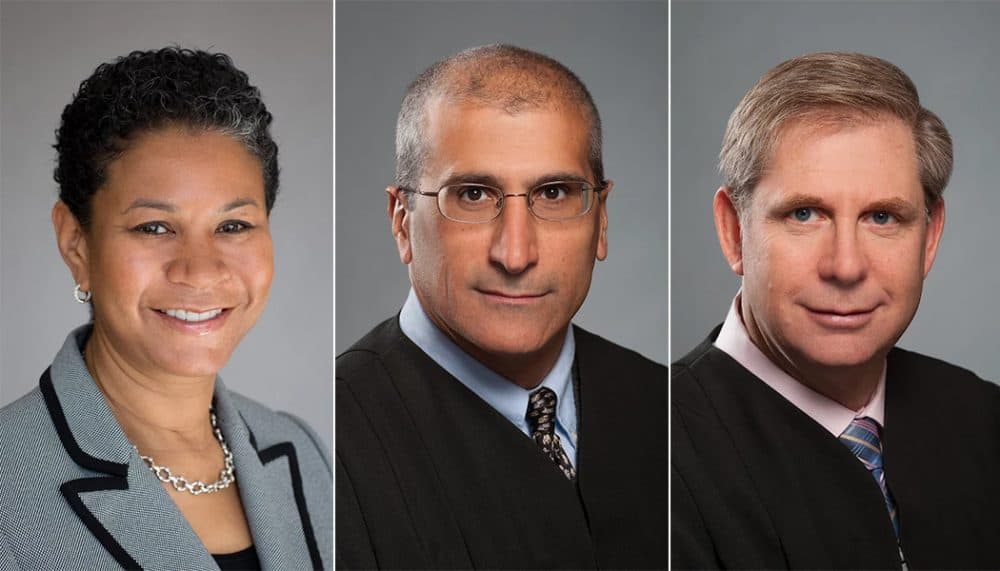 This article is more than 4 years old.
Gov. Charlie Baker has taken his first steps toward shaping the future of the state's highest court. The governor has named three Superior Court judges to positions on the Supreme Judicial Court.
Baker calls Judges Kimberly Budd, Frank Gaziano and David Lowy "extremely distinguished and experienced jurists."
The governor selected the three from a pool of roughly 40 applicants to fill seats that will be vacated this summer by Justices Robert Cordy, Francis Spina and Fernande Duffly. With two more vacancies expected next year, the governor will have appointed a majority of the seven SJC members a little more than midway through his first term.
"Our nominees, Judges Budd, Gaziano and Lowy, have all demonstrated measured and fair temperament and outstanding legal knowledge and skills throughout their careers," Baker said. "In presiding over the most complicated civil and criminal matters for the commonwealth's citizens in the Superior Courts, they have demonstrated every day that they are judges of the highest caliber and character," he added.
Budd was appointed to the Superior Court in 2009 by former Democratic Gov. Deval Patrick. The daughter of former U.S. Attorney Wayne Budd graduated from Harvard Law School in 1991. She has served as an attorney with a prestigious Boston law firm, as well as in the U.S. attorney's office.
"I look forward to appearing before the Governor's Council and I hope that they see fit to confirm my nomination," Budd said. "If confirmed, the people of the commonwealth can be assured that I shall work very hard to carry out and fulfill my duties and responsibilities as an associate justice of the Supreme Judicial Court."
As a prosecutor, Gaziano was a member of the legal team that obtained a death sentence for killer Gary Lee Sampson. That sentence was ultimately overturned. As Superior Court judge since 2004, Gaziano presided over high profile trials including one for Christian Karl Gerhartsreiter, a con man who operated under the name Clark Rockefeller, and was convicted of kidnapping his own daughter.
Gaziano said he was honored to be selected for the state's highest court.
"It is truly humbling to be nominated to a court whose mission is to preserve everybody's individual liberties in this state," Gaziano said. "To promote fairness, among our citizens. To make sure that litigants have impartial trials and to accommodate the rule of law."
Lowy has been a judge for 19 years, first in district court, and since 2001, Superior Court. Before being elevated to the bench, Lowy was an assistant district attorney and also served as a deputy legal counsel to former Gov. William Weld. Lowy said all four of his grandparents came to this country seeking opportunity and freedom from oppression and prejudice.
"I am keenly aware of how few people have been provided the opportunities that I have had since birth. Empathy, humility and reverence for the law will guide me everyday if I am confirmed," Lowy said.
The appointments are being praised by some members of the legal community.
"All three of them have stellar backgrounds and they're known as moderate, fair judges and and very intellectually based judges," Martin Healy, chief legal counsel for the Massachusetts Bar Association, said. "I think the governor set a high standard for his future appointments and I think that particularly the legal community — knowing these three individuals — is very excited by having them elevated to the highest court."
Healy went on to say Baker's picks will move the court toward a more centrist position.
"I know over the last 15 to 20 years or so, when I began in legal practice, it was a very conservative court and it drifted more leftward over the past two decades. I see these three individuals as being moderates," Healy said. "They're not partisans by any means, and they don't display any partisanship, but just in their previous actions as judges and their decisions and the way they've conducted themselves, shows me, and I think the bar [association] generally, that they're going to be moderate to, you know, leaning more to the right than to the left."
The three nominees must be confirmed by the elected eight member Governor's Council before they can assume their new posts. All three have faced nomination hearings in the past, and barring anything unforeseen, will likely be confirmed and seated by the time the new court term begins in September.
This segment aired on June 15, 2016.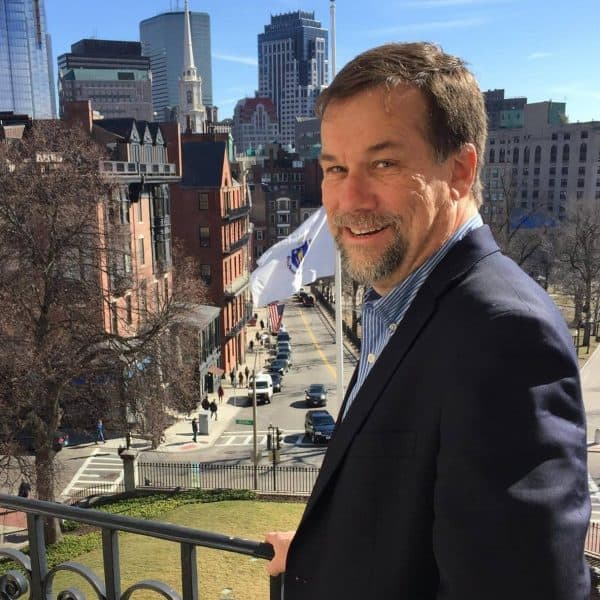 Steve Brown Senior Reporter/Anchor
Steve Brown is a veteran broadcast journalist who serves as WBUR's senior State House reporter.