You Can Vote On Where Boston's Inaugural Early Voting Locations Should Be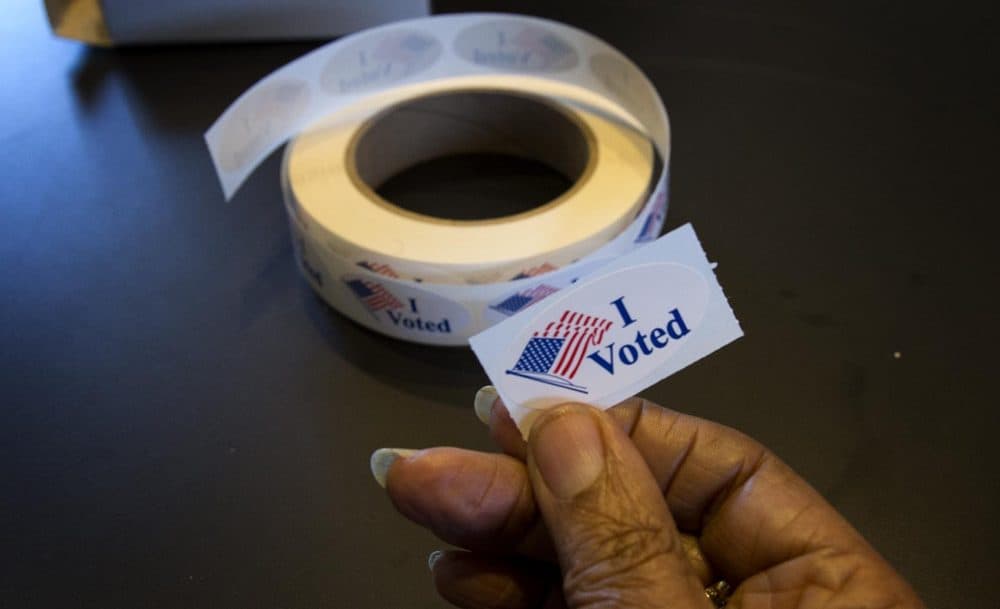 This article is more than 6 years old.
Early voting comes to Massachusetts for the first time this fall, and Boston residents can have a say in where the city's polling locations should be.
On a normal Election Day, you go to your assigned polling place based on your address. But with early voting — which this year in Massachusetts takes place from Oct. 24 through Nov. 4 — you can visit whatever polling place -- or places -- your city or town has set up. (You can also vote early by mail.)
So the city of Boston is soliciting feedback on its proposed locations. From now through Thursday at 5 p.m. (that's tomorrow), you can visit earlyvoting.boston.gov and pick a preferred location and a day and time period that's most convenient for you. You select on a map view that looks like this:
"A democracy is only strong and vibrant when all residents are able to participate and make their voices heard," Boston Mayor Marty Walsh said in a statement announcing the early voting feedback plan.
Walsh's office had previously announced that the city will open nine early voting sites — one in each City Council district — far exceeding the minimum of state law, which requires municipalities to have at least one site open during business hours (with extended hours if they want).
Of course, Boston is not the only Massachusetts community grappling with establishing a system for the state's first experiment with early voting.
As State House News Service reported last week, Secretary of State William Galvin's office has posted regulations governing the early voting process. The regulations, SHNS reported, "outline areas where communities have options, like how many early voting locations they set up, whether the sites are open on evenings and weekends and if police officers are stationed there."
Galvin told SHNS that the law grants "a great deal of autonomy for the cities and towns. They do have to have the 10-day period, but for instance the issue of multiple sites is left to their discretion."
Early voting is one of a series of reforms enacted with a 2014 law. Proponents say early voting makes it easier to vote, thereby boosting turnout.
But some research has found that's not the case.
Back in 2014, Barry Burden, a political science professor at the University of Wisconsin Madison, told WBUR that the people who take advantage of early voting are people who would vote anyway, and that early voting may actually depress turnout because, he theorizes, it curtails the excitement around Election Day, with all its attendant social pressure to cast a ballot.
Early voting may also bring extra challenges to election officials. Here's SHNS again:
[Galvin] said large cities like Boston with several sites would probably require "some kind of electronic polling book," giving each location a consistent record of who voted at any polling place so that the same person cannot cast multiple ballots.
Election Day — the traditional one, with your regular polling places — is Nov. 8 this year.