Commentary: Hillary Clinton Has Everything She Needs — Except A Message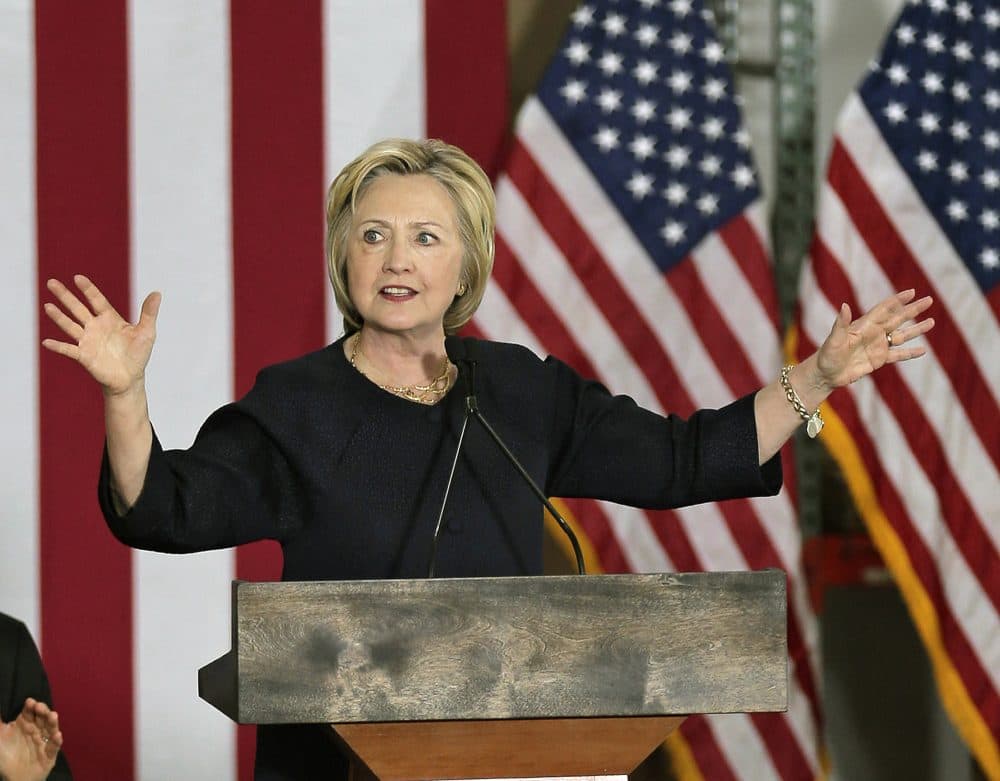 This article is more than 6 years old.
There's an old marketing saw, "Don't tell me about your grass seed, tell me about my lawn."
Talk about the benefits. Donald Trump promises to "Make America Great Again." Hillary Clinton is "Fighting For You," an amorphous slogan about her.
The former secretary of state has many assets: the backing of President Obama, Massachusetts Sen. Elizabeth Warren, Vice President Joseph Biden and a cast of elected officials that could fill Noah's Ark. She has the Obama campaign's top operatives and their sophisticated get-out-the-vote system that beat her in 2008, John McCain that same year, Mitt Romney four years later and Vermont Sen. Bernie Sanders this year.
She starts with an Electoral College map that gives her a structural advantage that currently yields 347 of the 270 electoral votes needed to win. Trump starts with 191.
She enjoys a huuuge financial advantage, with $76.7 million on hand compared to $2.7 million for Trump.
She has a well-financed super PAC run by Paul Begala, a veteran of Bill Clinton's campaigns, a wise and witty presence on CNN and highly quotable in the national press.
She has solid support from the African-American community, which rescued her in state after state in this year's primaries. In the 11 states that voted on Super Tuesday, she won the black vote by 68 percent, allowing her to crush Sanders at a crucial time. Black women are a large and loyal source of Clinton votes, activity and enthusiasm.
She remains popular with the ever-growing Latino vote, leading Trump by 62 to 23 percent, according to a poll for Fox News in mid-May. And that was before Trump created a firestorm by attacking a federal judge, Gonzalo Curiel, born and raised in Indiana, whose parents were Mexican. Clinton will likely only gain more support when she will likely choose a Hispanic figure as her vice presidential candidate.
Clinton enjoys the support of women, who have little use for Trump — especially women of her cohort: suburban and educated women. In a March 24 CNN poll, 74 percent of female voters had unfavorable views of Trump, who preposterously brags, "Nobody respects women more than I do." Clinton fails to excite younger women, but show her the target and she will hit it nine times out of 10.
She has Ron Klain as her debate maestro; her debate performances, once believed to be a weakness, were very strong against Sanders, whose debate style became angrier and more negative, but never caused her to lose her cool.  In fact, keeping her cool under pressure is a strong asset against a campaign that has already become nasty thanks to Trump's single-minded attack on her and her husband, former President Bill Clinton.
She has experience. Few people have had to deal with as many scandals and lawsuits and investigations as Clinton, having handled these situations while she was First Lady of Arkansas and in the White House and as secretary of state.  She and her husband have been dealing with attacks for decades.  They have thick hides and don't wilt under pressure.
Her relations with the news media are a soft spot, but unlike Trump she has never publicly attacked reporters, individually or collectively, as Trump did at his so-called veterans press conference.
But still, Clinton has no overarching and enduring message. "Fighting For You," lacks what strategists call tension.  If she wins, who loses?  How is she fighting, and most important, who is she fighting for and on which issues?
The Donald promises, in code, to return to a time when white men ruled the roost, when blue-collar jobs were plentiful, when civility was unnecessary and "political correctness" didn't require treating people of all colors, religions, physical challenges and sexual identities with respect.  You may hate his slogan, but it's understandable.
For a campaign that has undoubtedly conducted many focus groups, the absence of an overarching Clinton message is baffling. "Fighting For You" may test well, but it's lazy and lacks a sense of direction and purpose.  She needs to fix it, and there's no better time than the Democratic Convention in late July.
Dan Payne is a Democratic political analyst and a regular contributor to WBUR Politicker. He tweets @payneco.