Boston-Born Guerilla Toss Brings Conservatory Focus To Electro-Punk Chaos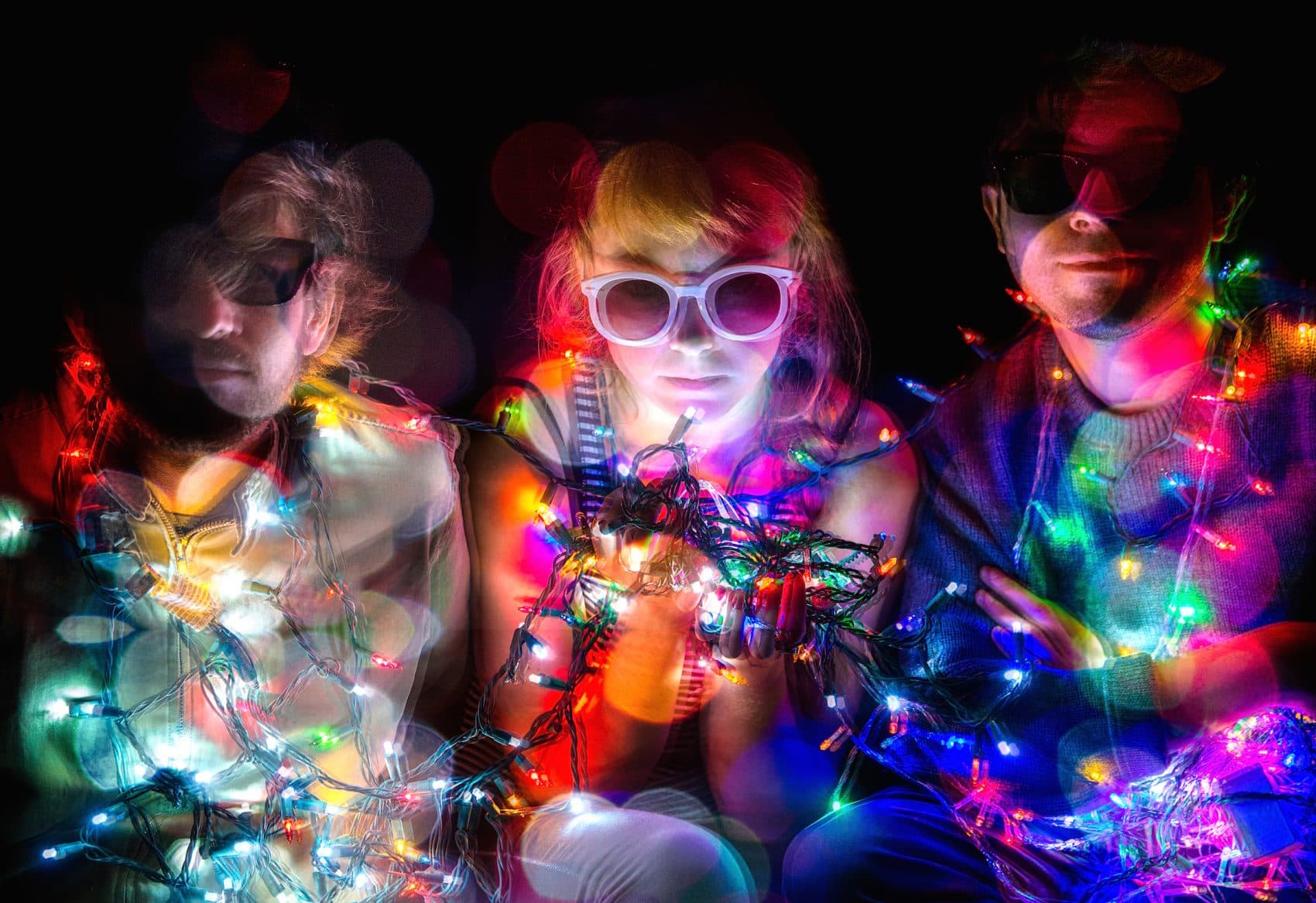 This article is more than 6 years old.
At first listen, the electro-punk outfit Guerilla Toss is an appealing jumble of contradictions: tumult underpinned by precision, stormy guitar buoyed by zany percussion. Frontwoman Kassie Carlson delivers spoken-word-like verses in the elastic holler of a funkier Kathleen Hanna, while the rest of the band zigzags beneath her with madcap gusto. The group seems at once allergic to hooks and utterly intent on being remembered.
Guerilla Toss is based in New York City, but the band was born in Boston. (Guerilla Toss will headline a two-day mini-fest at the Middle East Upstairs in Cambridge on June 23 and 24.) Drummer Peter Negroponte and guitarist Arian Shafiee, along with the group's original bassist Simon Hanes, teamed up while students at the New England Conservatory of Music; they met Carlson on a shared bill at a house show in Allston. (Ian Kovac, the band's original synth player, has since departed. The current lineup includes Sam Lisabeth on keys and Greg Albert on bass.) Since the band's 2013 EP "GTOSS," Guerilla Toss has released new material at an impressive clip, churning out a mounting collection of singles and EPs which recently culminated in the band's second full-length album, "Eraser Stargazer."
On "Eraser Stargazer," Guerilla Toss' internal chaos curls into tight focus. Carlson says this is largely a product of a time-tested strategy — practice, and lots of it. The album was written and recorded in 2015 at a cabin in the Catskills belonging to Negroponte's family. "We took a few weeks off from work and life completely," Carlson says. "We would practice eight to 10 hours a day and just work on these songs."
Carlson, who hails from Cape Cod, grew up playing the violin and started singing in punk bands in high school. The singer says she brings a penchant for raw, heavy sounds to the group. Guerilla Toss' other members call on a variety of influences: Negroponte is a fan of jam band idols Phish and the Grateful Dead, while Shafiee — a jazz-trained guitarist — loves black metal.
But they all share a fondness for the experimental and unexpected, for dissonance that undercuts a more straightforward, punk-adjacent mayhem. A lot of the songs are difficult to execute at first. "I think we always just really want to challenge ourselves, and challenge the audience as well," Carlson says. "We want to be true to ourselves, but also make something that's different than anything else and work really hard on it."
The band's work ethic may be a result of their conservatory training, but Carlson says there is more to it. "It's also a life theory," she explains. "Transcending and putting your best foot forward and trying as hard as you can in life."
The fledgling Guerilla Toss — that is, the Guerilla Toss of three years ago — was noisier and more angular than the Guerilla Toss of today, apt to shift tempo and time with startling abruptness. These days, a funk-inflected grooviness pervades, but the band's core eccentricity remains. It is a sound, Carlson says, that is achieved through trial and error and collaboration. Carlson writes the lyrics, but the group works out arrangements together. "It's all about communication," she says. "It's great. I really feel like an equal in the band, and they're super supportive. We're a family. A lot of people don't have that, especially being a woman. I didn't want to just be the girl at the front who sings in the band."
Carlson's singing may in fact be the group's most salient feature. She chants and hollers and chirps, an impish figure darting nimbly through dark, churning clouds. Carlson says that when she writes, she thinks "more about the texture of the sound rather than just the singing." Songs like "Perfume" hinge as much on Carlson's sense of rhythm as the imagery in her lyrics.
"It could be like, it could be like a perfume/ After an idea is/ Absent/ You could find it, you could find it laz-i-ly/ Like an aura that has stayed/ Too long," Carlson sing-chants with syncopated deliberateness on "Perfume," before breaking into a series of wordless, birdlike coos.
Early Guerilla Toss recordings buried Carlson's voice, but over time her presence has become more pronounced. On "Eraser Stargazer," Carlson says, "a lot of the lyrics are about dealing with stuff in the past that's sort of dark, but transcending it — looking at it under a microscope and seeing the beauty in even the smallest thing."
For all of their dedication to the recorded medium, the members of Guerilla Toss are live performers at heart. Carlson says that performances require a "meditative" state of mind. "I don't really look at the audience," she says. "I just hope they're moving by the time I open my eyes."
At the same time, she adds, "I want to share the experience with them and not just have it be 'One, two, three, four!' and then everyone's moshing. Which has its place, too. But you've got to listen."