Meet Some Of The Musicians Traversing Cape Cod On Foot And Playing Music Along The Way
Resume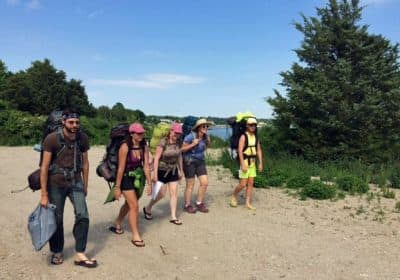 A band of travelling musicians are traversing Cape Cod and southeastern Massachusetts right now. They are intrepid, ambitious, and have very sore feet.
The musicians include Raianne Richards and Mark Mandeville, who are based in Webster. They started making this trek back in 2010. It's called the Massachusetts Walking Tour.
Richards and Mandeville are travelling the hard way, backpacking, with clothes, food and instruments strapped to their backs. Richards can count her blisters. From a pit stop in Fairhaven Friday afternoon, she recounted their steps for WBUR's All Things Considered.
This segment aired on June 24, 2016.