Commentary: It's Time To Merge Art And Audience In Quest For Social Change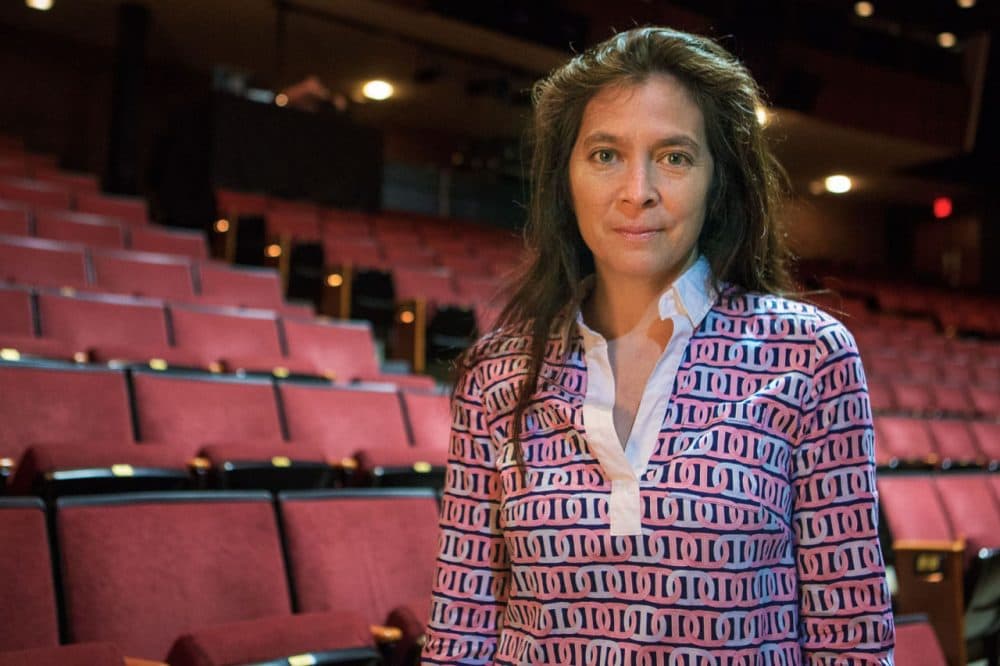 This article is more than 6 years old.
American Repertory Theater artistic director Diane Paulus addressed the Americans for the Arts convention in Boston shortly after the murders in Orlando. Paulus spoke about the relationship between art and the world beyond the stage. These are her remarks.
---
I am honored to be here with you today, and to be participating in the Americans for the Arts annual convention. For several weeks now, I had been planning my speech in my head, but that all changed last Sunday. As I faced committing words to paper over the last few days, I found it hard to consider speaking to you about anything related to "America" without reflecting on the tragedy in Orlando. So I will begin by sharing questions — questions that my colleague at Harvard University, Professor Timothy McCarthy, who is the director of the Sexuality, Gender and Human Rights Program at the Carr Center for Human Rights Policy at the John F. Kennedy School of Government, recently articulated in the wake of last weekend's massacre:
"Why does it feel like we've been here before? And why does it feel like it's getting worse?

Will people even care that so many queer people were murdered?

Do people realize that this is the same week as the one-year anniversary of the Mother Emanuel massacre in Charleston?

Did the shooter know it's Pride Month?

Does anyone care that President Obama has to deliver yet another speech — the 18th of his presidency, I think — about mass shootings?

Will any of our elected officials — or presidential candidates — risk or stake their political careers on comprehensive (not just "common sense") gun control legislation?

Will anyone connect the dots between the transphobia sweeping the nation, the backlash against LGBTQ rights, the assault on black lives, the anti-immigrant and anti-Muslim rhetoric of Donald Trump and this massacre on Latino Night at a queer club?"
And finally:
"Why is it so easy to blame everything on 'Islamic extremism' (and by ghastly extension, all Muslims) as a convenient divide-and-conquer strategy to avoid holding all Americans accountable for the things we need urgently to confront: homophobia and transphobia, toxic masculinity, racism, violence against women, s---ty parenting, gun addiction, cowardly politicians, media ineptitude, mental health, U.S. imperialism, the NRA, public health failures and all religious bigotry? After all, Omar Mateen was one of us, born and raised."
I make theater because it is a forum to ask questions. To live inside questions. To push boundaries with questions. To provoke with questions. To challenge with questions. I always tell young directors you do not need to have the answers. Your job is to ask the questions. And if the theater you create is banal, it is most likely because you have not asked a big enough question.
I also make theater because it can take us to places we've never been before. To worlds that are not familiar, to perspectives and stories that are not our own. Through the use of narrative and character, we can achieve empathy — which can lead us to identify with a point of view that is not our own. Living in the world at this very moment, I cannot imagine an action more vital to our survival — other than love — than empathy. Empathy, the ability to understand and share the feelings of another. To experience from within another person's frame of reference. To get inside their skin.
We live in an age of information overload. Within seconds of any event in our world, we have immediate access to images, facts, eyewitness accounts, videos that replay events over and over until they became emblazoned in our memories. And then what happens? All too often, we become numb from this constant barrage of information. We actually turn off, because we do not know how to process all this information, especially when it is bleak and horrifying. Drew Faust, president of Harvard, in making her "Case for College," said "College teaches students to slow down, to convert information to insight and knowing to understanding."
When I read these words, I thought to myself that this is exactly what the arts are on the planet to do. We do not just deliver information. The arts are on the planet to catalyze a deeper discussion than what we hear every hour on our news programs. The arts seek to transform our audiences. We do this by making people think and feel in complicated, messy and human ways. When working at our best, we stimulate dialogues that can actually lead to the possibility of change, and to building a sense of community that brings with it the power to heal.
What has fueled my work over the last eight years as artistic director at the American Repertory Theater is the investigation of how the theater can be a catalyst for a larger civic engagement with the world around us. Don't get me wrong — making the art takes a lot of time, care and resources. That alone is a full-time job. But the A.R.T. has become a vibrant and vital epicenter for our audiences, artists and staff because we do not focus solely on the "two hours traffic of our stage." We have experienced that the work we do has the most transformative impact when we have redefined the theatrical event to include what happens before, during and after the performance itself.
For several seasons now, A.R.T.'s series of curated discussions Act II has invited audience members to connect the work onstage to the wider world. We purposefully use the term "Act II" because we view this event as an essential part of the theatrical performance. When it is called "Act II", the ushers and production staff do not view this time as "extra." They do not look at their watches and clock this post-show time as an addition to what they are normally asked to do. Our Act IIs are directed as if they are part of the show; A.R.T.'s stage becomes a public forum for audiences, artists, activists and scholars, who work together, in dialogue, to connect the themes of each production to contemporary conversations in politics, science and beyond.
This program began after our world premiere production of "Prometheus Bound," written by Steven Sater and featuring music composed by Serj Tankian, System of a Down's lead singer and songwriter. The play leveraged the ancient myth of Prometheus against modern representations of tyranny. Act II placed audience members in dialogue with representatives from Amnesty International, who raised awareness and invited audiences to take action on behalf of modern prisoners of conscience.
Inspired by these discussions, we continued to search for new ways to make these conversations around the work even more central to our programming.
For our 2014 production of "Witness Uganda," audiences engaged in Act II conversations with individuals from diverse backgrounds and occupations, including UNICEF, Mass General Hospital and scholars from Harvard University, Boston University and other schools. As we built this show and planned these conversations, the parliament of Uganda was writing, considering and passing the now notorious "Uganda Anti-Homosexuality Act" which proposed the death penalty — later amended to life in prison — as a punishment for homosexuality.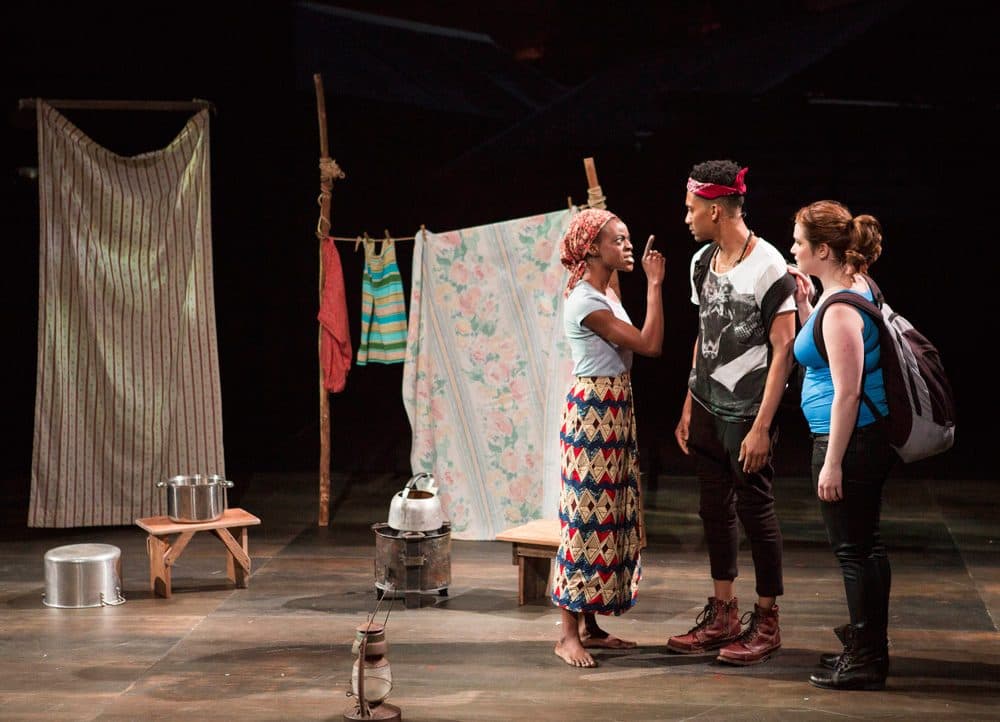 Our first preview was on Feb. 4, 2014. This bill was signed into law by the president of Uganda on Feb. 24. Our conversations around this piece showed me how quickly and how forcefully connections can arise if given the space. And I don't just mean that American audiences became aware of this issue in Uganda. There were Ugandans seeking political asylum at performances of the show. And though this particular bill was later overturned, our staff became dramatically aware of just how powerful a forum the theater can be. Our discussions emphasized connections between the Ugandan bill and lasting anti-gay policies both abroad and here in the U.S. — connections and conversations that continued into future seasons. And through community-building events throughout the rehearsal process, including a concert-style performance at a church, A.R.T. formed lasting connections with the Ugandan community in Waltham, Massachusetts, which is the largest such community in the U.S. — a fact no one at our theater was aware of until this production took place.
We repeated this fully integrated discussion model most recently in the production I directed of Eve Ensler's "In the Body of the World," an adaptation of her critically acclaimed 2013 memoir of the same name. As an activist and artist, Ensler has spent her life speaking out about the female body and fighting for an end to violence against women and girls. A solo piece performed by Eve herself, the show followed her journey through the diagnosis, treatment and healing from uterine cancer, as well as her work with City of Joy in the Congo, an education center for victims of sexual violence in that country's ongoing civil war. Our Act II conversations for "In the Body of the World" brought audiences literally onto the stage to explore a garden installation, and then to sit on pillows on the stage and join in conversation with an incredible range of guests: surgeons from the Mayo Clinic, Congolese activists, doctors from the Harvard Medical School, trauma specialists and scientists and other experts on the environment.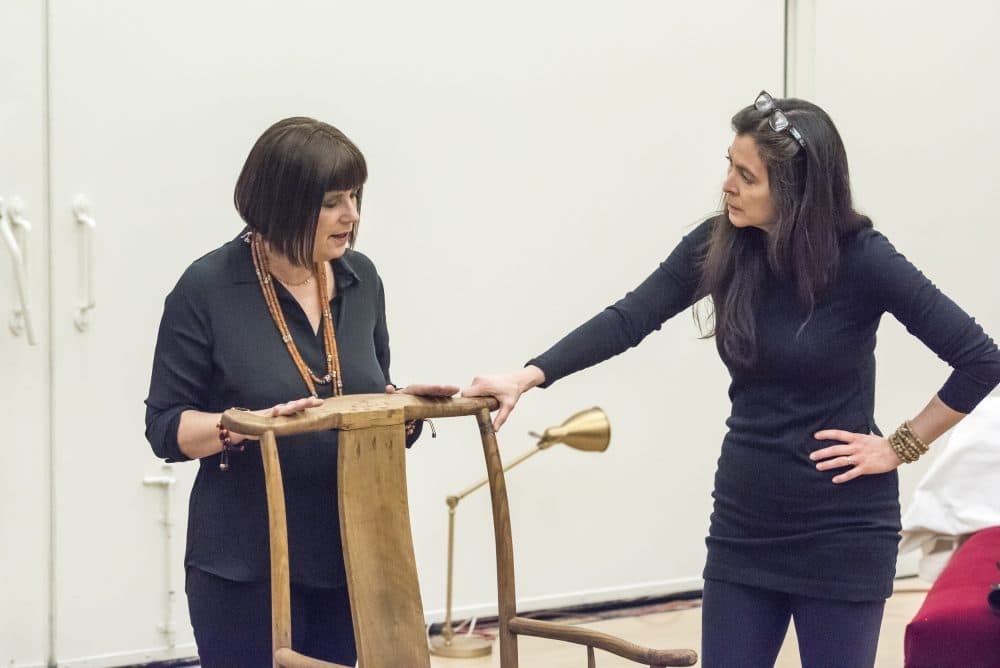 Post-performance talkbacks have been part of our theatrical landscape in America for years. But what I believe makes our conversations powerful and different is the deep integration of these conversations with the "artistic" work. While a challenge to produce and publicize — this was something new for our staff, our artists and our audiences — I have experienced how these conversations reach a depth I had not heard in a theater discussion before. As we try to exercise our mission to expand the boundaries of theater, we are constantly looking for ways to harness the tremendous collective energy generated by a once-in-a-lifetime performance, to use that energy to fuel collective examination, education and confrontation. The visceral experience of a performance, or any other work of art, activates people's passions and experiences in totally unique ways.
Climate change activist and author Naomi Klein, who has twice been a member of an Act II conversation at A.R.T., has argued that as a society, we currently "lack the collective spaces" in which to discuss current challenges related to environmental catastrophe, human rights and significant political change. By offering the theater as a space where deep conversation is integrated with a deep artistic experience, by placing our audiences in contact with diverse ensembles not only of performers, but also of researchers, writers, and change-makers from a variety of disciplines, we envision the arts filling this need for these collective spaces of conversation and confrontation.
Cross-disciplinary, multi-dimensional partnerships are crucial to this mission. In 2014, the A.R.T. and the Carr Center for Human Rights Policy launched the A.R.T. of Human Rights to foster a new model for community education, civic engagement and creative expression.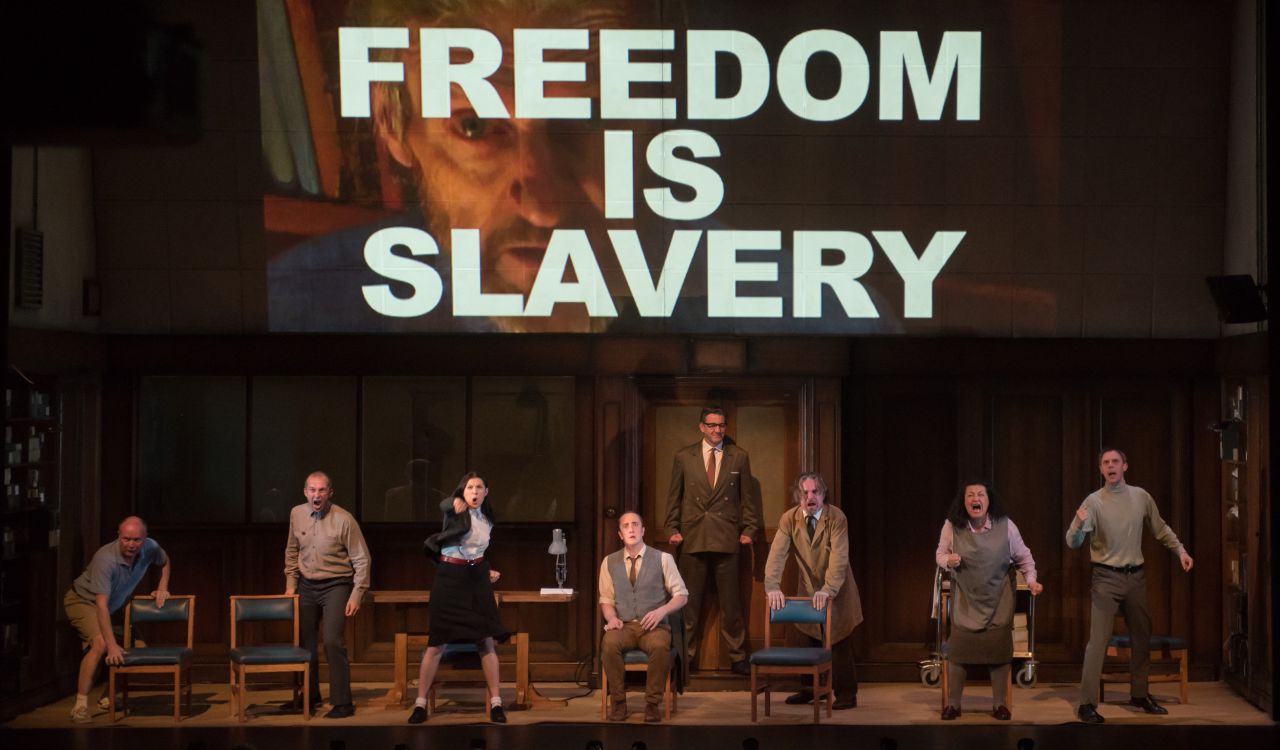 Directed and hosted by Prof. McCarthy, whose passionate questions I cited earlier, the A.R.T. of Human Rights series works in multiple ways. In some cases, it works in tandem with the Act II model. For a recent theatrical adaptation of "1984," conversations with Alberto Mora, former General Counsel of the Navy, and Juliette Kayyem, a national leader in America's homeland security efforts, engaged the audience in a discussion that connected the onstage portrayal of George Orwell's dark vision with contemporary U.S. policies of detention, interrogation and homeland security.
Another unique aspect of this program is that our commitment to integrating other disciplines into our artistic practice has, in turn, enabled our collaborators from other fields at Harvard and beyond to incorporate art-making in their own work.
In April, the Harvard Law School co-produced an evening of performance and discussion called "Plays That Don't Play: The Drama of Lynching." This event featured staged readings of three seldom-produced plays written by black women depicting the lasting impact of lynching on victims' communities. These performances served as the catalyst for an interdisciplinary discussion between legal scholars, contemporary playwrights and the performers themselves.
The A.R.T. of Human Rights' collaboration with Harvard's Center for African Studies paved the way to bring the critically acclaimed Nigerian production "Hear Word: Naija Woman Talk True" from Lagos to Cambridge. A powerful piece of performance art that combined artistry, social commentary and true-life stories of inequality and transformation, "Hear Word" bravely examined the cultural and societal norms that oppress and limit African women, and sought to empower women around the world to break taboos of silence and unite to challenge the status quo. It has also supported educational programs such as the Proclamation Project, an eight-week after-school writing and performance lab for rising high school juniors and seniors from Boston and Cambridge, inspired by Prof. McCarthy's "The Radical Reader."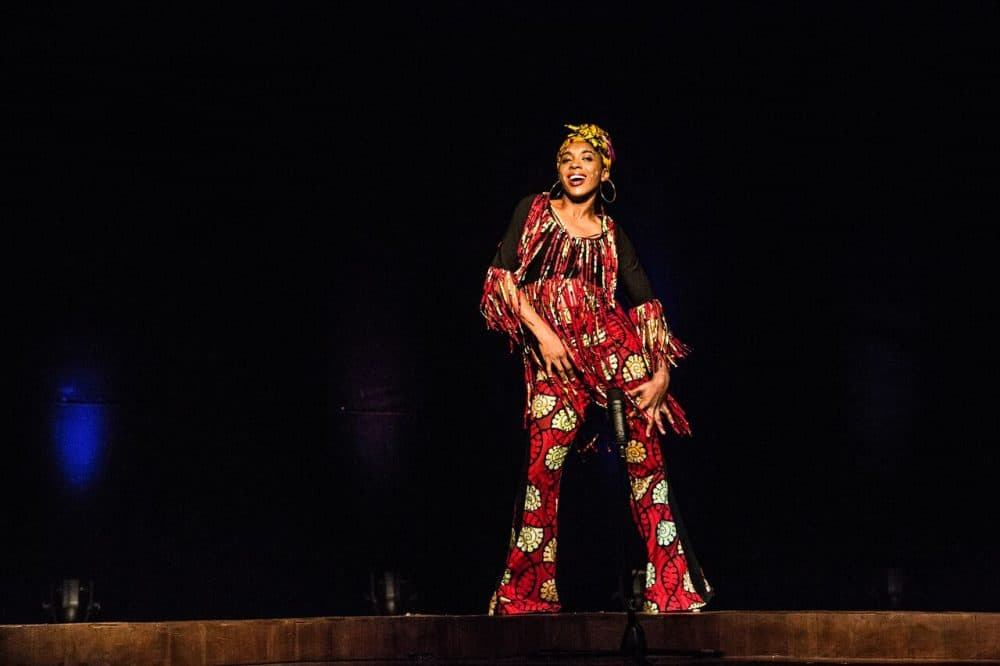 These cross-pollinations are coming full circle in next season's production of "Trans Scripts." A verbatim stage play centered on the lives of six trans women, "Trans Scripts" was initially presented as a joint reading and conversation. In a discussion following the reading, the performers, audience members, and moderators agreed that this increased diversity of stories was crucial as contemporary conversations around gender and identity continue to evolve. This reading event led directly to the decision to continue this conversation and program the play as a mainstage production in our 2016-2017 season.
My comments today have endeavored to give you concrete examples of the ways in which the A.R.T. has sought to use the arts to engage with our audiences as citizens of the world, not just arts lovers — raising and amplifying the issues of the time as a central component of the art we produce. As your speaker today, I was also asked to address the question of how the arts can fuel revolution.
To attempt to answer this, I will close by quoting the words of Eve Ensler, who has, through her residence as an artist with us over the last two years, had the lasting impact of transforming and activating our theater. (It was thanks to Eve's play "O.P.C." which we produced in 2014, a play that cries out against the havoc that garbage wreaks on our planet, that we no longer sell plastic bottles of water at our lobby concession stands.) Eve graciously gave the commencement speech at the graduation of our M.F.A. students at the A.R.T. Institute just a few weeks ago. Hearing her advice to the next generation of theater artists made my heart pound. Here are her words:
"Theater is a method for birthing the way that is not of dominance but connection. You are the future that will birth that way. Your work is to blow our minds open, to rip our hearts into caring, to dance us back into our bodies. You have to be willing to lose everything. You will be risk takers like those we have never known and you will tell the stories we have never heard because we were afraid to hear them. And you will tell them in a way that opens portals to the possibility of how we will live in the new way.
You will be occupied from morning 'til night with the dilemma of revolution. Of changing an entire paradigm that has rested on exclusion, unkindness, profit, destruction, and cruelty. There is no time to be afraid or coy. If you have made a determination to be an artist you must give everything, you must give up your bodies to the altar of transformation, you must write words that shock, educate and awaken. You have to be that brave. Sudden inexplicable shifts in consciousness and action are wildly possible. We are still making or unmaking this world.
That's why you are here on this earth right now. That is the reason. Question everything. Probe deeper. Leave no lie unconfronted. Tell every truth you feel you cannot tell. Push every boundary. Disrupt everything expected. Demand inclusion of every story that needs to be told to enlighten our way. And stop worrying about what people think or what they will say or write or review. The gatekeepers will probably not like you. You are not here to be liked. You are here to evoke passion, to provoke memory, you are here to free your audiences into the depth and truth and the freedom of themselves."