Orca Spotted Off Chatham In Rare Visit To New England Waters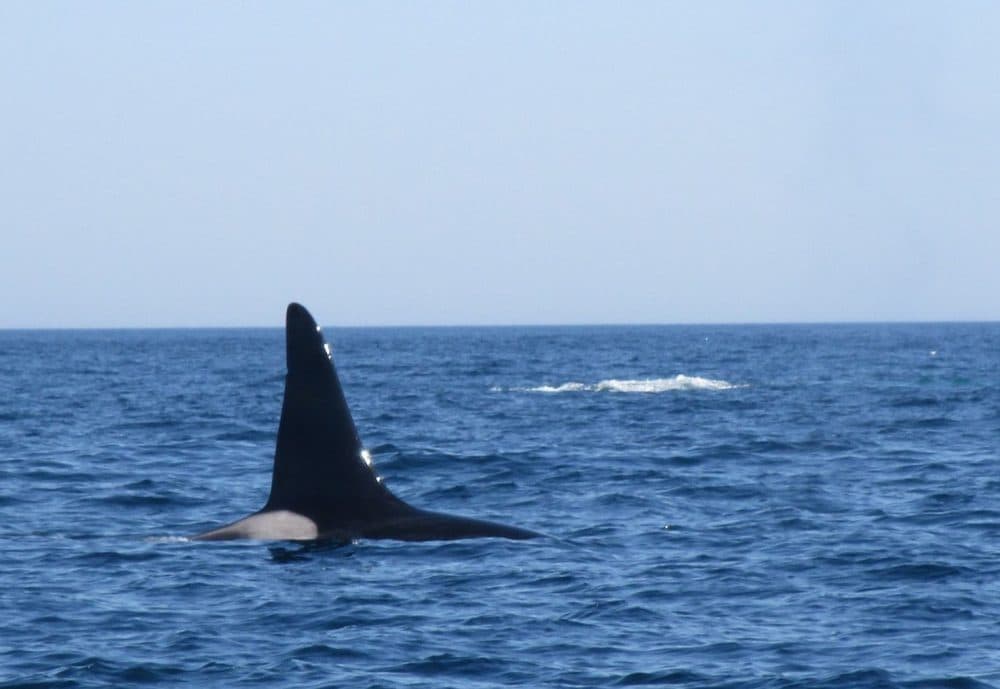 This article is more than 4 years old.
Captain Bruce Peters was having what he called an "uneventful" morning on his charter boat Monday until one of his passengers pointed out a rare visitor to the area.
Peters and his passengers were fishing 12 to 15 miles off the coast of Chatham when they spotted an orca — commonly referred to as a killer whale.
"I was in disbelief," Peters, who owns Capeshore Charters, told WBUR's Newscast Unit. "When I looked it was kind of upside down, rolling around, kind of lounging. Its belly fins were up in the air and then it turned right side up and I saw that big dorsal fin come out of the water and I was like, 'Holy cow, that is a killer whale.' "
A New England Aquarium spokesman says researchers believe the whale Peters saw is a solitary male named "Old Thom," previously spotted in the Bay of Fundy, off of northern Maine.
Here's a video from the aquarium of that encounter last year:
A "slight in-cut" on the edge of the orca's fin and the color pattern near its base helped New England Aquarium researcher Philip Hamilton be 90 percent certain of the whale's identity. And later, his assessment was confirmed by Jack Lawson, an orca specialist who works for Canada's Department of Fisheries and Oceans.
"We don't see many killer whales in this area. The population in the northwest Atlantic is pretty small," Hamilton said. "There's no good population estimates, but there's a catalog of identified individuals that is maintained by the Department of Fisheries and Oceans in Canada, by Jack Lawson."
And there's less than 100 orcas in that catalog.
Orcas are found in oceans around the world, but typically stick to colder waters like the Southern (Antarctic), Pacific and northern parts of the Atlantic Ocean. They rarely venture as far south as New England waters.
Strangely enough, Old Thom has only been seen in the Bay of Fundy, south of Nova Scotia and now off the coast of Chatham, NEA spokesman Tony LaCasse said in a statement.
This more than 25-foot whale also defies expectations as he appears to be a bit of a loner. North Atlantic orcas typically roam the ocean in small pods of around four whales, according to Lawson's research.
While Old Thom might not be alone, LaCasse said any companions have not been spotted.
Peters said this was the second time in his life — and first time in New England waters — he has seen an orca in the wild.
"You feel very small, very insignificant ... it's nature at its purest form," he said. "And it humbles you."
With reporting from WBUR's Newscast Unit
This article was originally published on July 05, 2016.