'The Last Schwartz' Is A Darkly Comic Look At Family And Religion
American playwrights have infiltrated about as many funerals as a United States vice president. But in "The Last Schwartz," currently seen in a stellar New England premiere by Gloucester Stage Company, dramatist Deborah Zoe Laufer adds an ecclesiastical twist to the hoary rite of adult siblings airing the laundry and squabbling over possessions in the wake of a parent's demise. The last of the Schwartzes are gathered in upstate New York not to bury dad but to say yahrzeit prayers for him a year after his passing. The playwright's grounding of the familial fireworks in the tradition of an ancient faith serves to tighten the Chekhovian tug that — amid the all the sibling skirmishing and surreal comedy on view — there is no one to carry said traditions on.
Laufer ingeniously conjoined an Ibsenesque feminist manifesto with a Craig Lucas fable in "Out of Sterno," which strode the Gloucester stage last summer, helmed with just the right light hand by local diva and director Paula Plum. Plum, again mistress of ceremonies, likewise balances disparate elements in "The Last Schwartz," which is less whimsical and more earthbound than "Sterno."
Conventionality notwithstanding, the new play proves to be a rueful consideration of tribal connection which is also laugh-out-loud funny. Moreover, its combination of big themes and quirky comedy is whipped into spume, then ladled onto a rustic-parlor set by Jon Savage behind whose slatted walls wink both an oversized moon and enough just-visible beds for Goldilocks' three bears.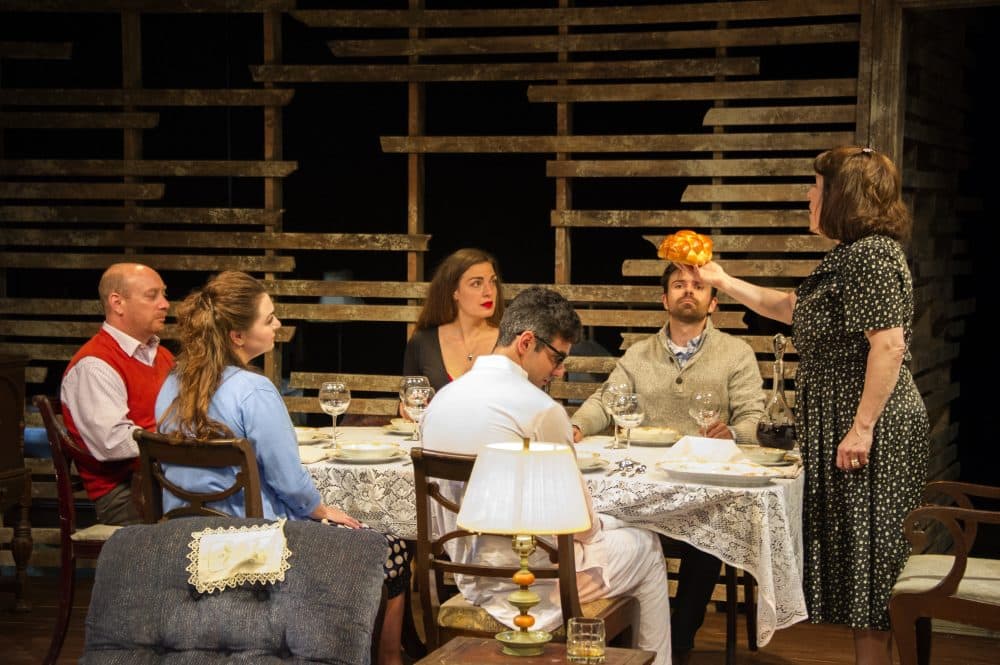 Domineering, self-righteous Norma is the eldest Schwartz, devoted to Mama and Papa's memory and to their Jewish faith. Divorced and estranged from her only child, she nonetheless opines that respecting one's history, from the old faith to the old furniture, is "what separates us from the animals."
The secular rest of the clan comprises oldest brother Herb, a frazzled financier wrapped in his Wall Street Journal as if to ward off the frequent bursts of his chatty tear-bomb of a wife, Bonnie; middle brother Simon, a near-blind, borderline-autistic astronomer glued to a telescope and swathed in Mickey Mouse-worthy white gloves; and youngest brother Gene, a callow producer of television commercials who is both catered to and cowed by his siblings.
Perhaps as a defensive move, Gene arrives late to the somber festivities, trailing along an aspiring, freewheeling starlet named Kia, whose body is poured into skimpy Spandex and whose attitude is anything-goes. Norma takes one look at the impossibly elastic young thing and turns into a Jewish Lady Bracknell, to whom the hedonistic interloper is happy to confide her core belief in "having a good time." Meanwhile, Kia's gushing pheromones and bubbling candor cast decided, if divergent, spells on the other Schwartzes — including the distraughtly childless Bonnie, whose reproductive history is like something out of "The Marriage of Bette and Boo."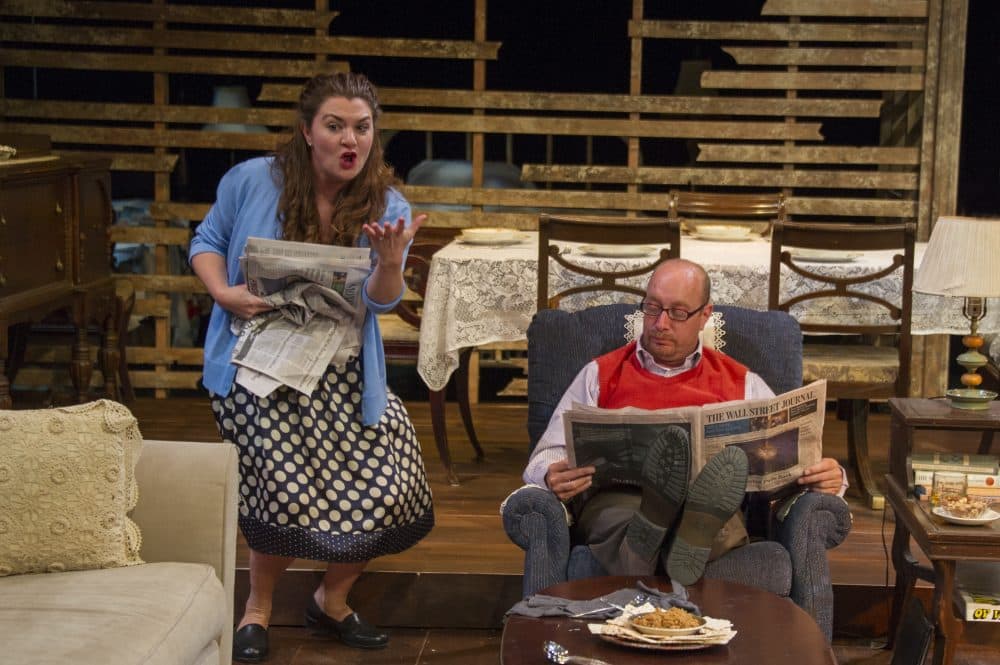 Like Christopher Durang's antic farce awash in dead babies, "The Last Schwartz" melds genuine feeling with dark comedy, all in consideration of what it means to be a family. Where the play strains a little is in tying up its most imaginative strings. These affix to the squinting, twitching character of Simon, more interested in contact with the cosmos than with humans, relatives included. And yet, glued to his telescope despite his compromised vision, he too is lost in the past, reimagining the constellations he first glimpsed, here in this living room, in his brilliant, insular youth.
Eccentric still, the polite if unreachable Simon nibbles crackers, pulls at a juice box, winces when touched, counts his steps to compensate for his failing vision, and scientifically, unemotionally opines that in 5,000 years there may be amoebas but probably no humans, therefore — sorry, Norma — no Jews and certainly no Schwartzes. Paul Melendy gives a humorous yet oddly poignant turn as this symbolic purveyor of mankind's smallness in the universe if not in the bosom of his family. And he commandeers the play's near-magical end, suggesting both Neil Armstrong and the moribund butler left behind in "The Cherry Orchard."
But where "The Last Schwartz" shines is not as philosophy or prophecy but as screwball clan comedy with a serious underlayment. And as such, it is done up to the Freudian, Feydeau-ian nines in Plum's staging, wherein Russ Swift's stylized lighting and Andrew Duncan Will's now-agitated, now-mournful sound add to the marriage of craziness and heft.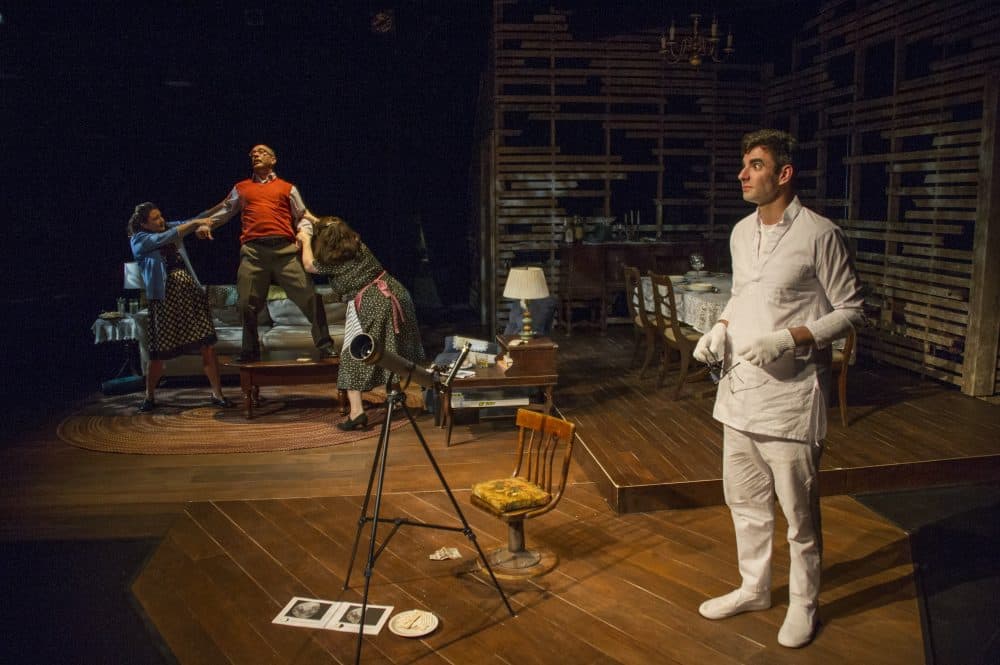 As Herb, whether driven to infantile rage by Norma, reduced to sexual silly putty by Kia or gathered, rolled eyeballs and all, into his wife's overwhelming sadness, Gabriel Kuttner is both ridiculous and touching. Brianne Beatrice, as Bonnie, manages her character's journey from frumpy, loose-canon daffiness to anguished revelation. Glen Moore mixes snarky cool with cowardice as Gene, while Veronica Anastasio Wiseman swirls rigidity and need as Norma. And as Kia, Andrea Goldman, whether sporting yellow rubber gloves or a cockeyed green yarmulke, folds innocence and hotness, ditziness and provocation, into one long, tall drink of — well, not water.
This may be "The Last Schwartz," but let's hope it's not the last we hear from the team of Laufer and Plum.
"The Last Schwartz" is at Gloucester Stage Company through July 30.