Jeff Zinn, New Gloucester Stage Managing Director, Joins Forces With Robert Walsh
This article is more than 7 years old.
COMMENTARY

Jeff Zinn, the former artistic director at the Wellfleet Harbor Actors Theater, will be joining Robert Walsh, the newly appointed artistic director at the Gloucester Stage Company, the organization announced Monday.
The news that Walsh and Zinn are going to team up as artistic director and managing director respectively, is great news for theatergoers. Particularly theatergoers looking for provocative theater.
The job of managing director varies from theater company to theater company. At some organizations they are mostly, even strictly, money people. At others, they are more active collaborators with the artistic director, who has final say in choosing the season.
Zinn figures to fall more into the second category, though makes it clear that Walsh is in charge: "I think it's fair to say there's a lot of collaboration. I know that in terms of the process of choosing seasons, Bob Walsh is absolutely at the top of the food chain of season selections, but he has expressed to me his interest in soliciting my input, that he respects my background as a theater person."
Walsh agrees. "The idea of having Jeff come in, given his track record with W.H.A.T … He couldn't be more right for our aesthetic at Gloucester, so having his collaboration and sensibility and training is a huge treat for me."
When I first started covering theater for The Boston Globe in the mid-'90s, local theater was something of a non-starter when it came to new and adventurous work. The Huntington Theatre Company championed Tom Stoppard and August Wilson while the American Repertory Theater would mix in the likes of David Mamet, Sam Shepard and Suzan-Lori Parks with their avant-garde takes on the classics.
That was about it. Before the blooming of the small and midsize theaters in the late '90s you literally had to get out of town to find more of an edge. On Cape Ann, Israel Horovitz was staging his plays and the works of other contemporary writers like Patrick Marber and Richard Vetere at the Gloucester Stage Company, the company he founded in 1979. And at the southern tip of the Cape, at the Wellfleet Harbor Actors Theater, Jeff Zinn was showcasing some of the bad boys (and occasional girls) of American and Anglo-Irish theater — Mac Wellman, Tracy Letts, Marber and Martin McDonagh.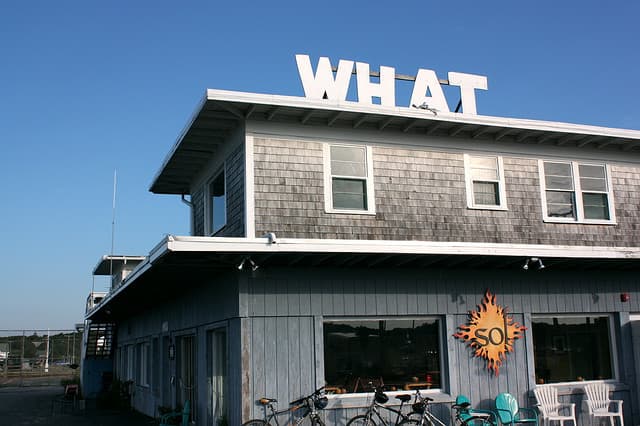 Zinn, who shared artistic director duties with playwright Gip Hoppe, even got Julie Harris — a member of the board — to star in a stellar production of McDonagh's "Beauty Queen of Leenane" with a superb supporting cast of local actors.
Both W.H.A.T. and Gloucester Stage veered away from that adventurous mission as W.H.A.T. expanded from its 99-seat harbor theater to a 210-seat theater on Route 6 in 2007 and the board started pressuring Zinn for more commercial fare and eventually they parted ways. Horovitz retired around the same time and while Gloucester Stage didn't abandon new plays, it also started booking Alan Ayckbourn, Neil Simon, "The Most Happy Fella" and "Driving Miss Daisy."
Many of the productions, under Eric Engel's leadership, were quite good. Both Gloucester Stage and W.H.A.T. on Route 6, for example, staged Oscar Wilde plays. As great as Wilde is, that didn't seem to be what Gloucester Stage and W.H.A.T. should be about. Now that Walsh and Zinn have teamed, the theater should be back on its edgier track.
In fact, it already is.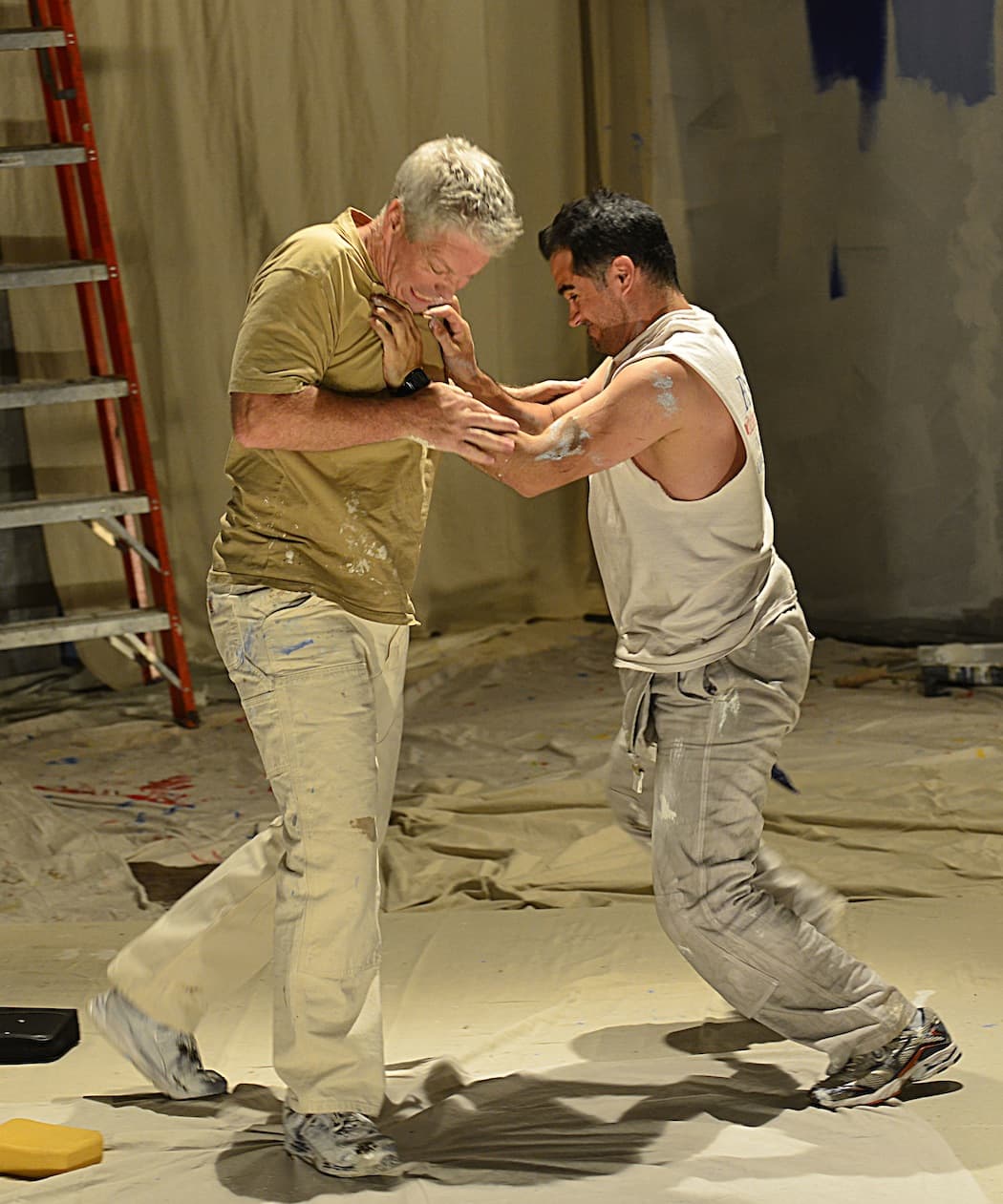 Walsh has done a brilliant job this year with a season-full of highly-acclaimed productions, all relatively new plays, like Annie Baker's "The Flick," and they're expanding further into the year than they had. Walsh and Horovitz teamed up for the playwright's enjoyable black comedy, "Gloucester Blue," drawing on the clash of the classes in the Cape Ann city. There's a real grit to both their aesthetics — Walsh as an actor, director and fight director. That grittiness fits with the sense of Gloucester, which is not the theme park that neighboring Rockport can often seem to be.
Walsh hopes to continue the tradition of mixing in comedies and musicals, like "Jacques Brel Is Alive and Well and Living in Paris." Not everything this past season was a big financial success. "A comedy like 'Out of Sterno,' goes down nice and easy," says Walsh. "Then it leaves the opportunity to try and commit to doing world premieres, continuing the legacy of theater, also area premieres from New York and Washington. There was a wonderful response in terms of the press, and audience response as well. People felt there was solid acting, nice production values, they liked the look of the lobby and theater. It moved the needle a bit. In terms of big box office success, 'New Electric Ballroom' and 'The Flick' were not huge box office. So 'Sterno' and 'Gloucester Blue' had nice full houses. There were solid houses for 'Ballroom and 'The Flick,' but when you'd go on a Wednesday, there'd be 50-90 people.' "
Horovitz, Walsh and Zinn have all been interested in new plays, but Zinn adds, "Beyond the new plays it sort of goes to that aesthetic that Israel has had of being interested in everyday issues of working class, ordinary people. That's the piece of it that feels simpatico to me. Not that that was all that we did by any means. "Out of Sterno" is almost like a Gip Hoppe play — a zany sensibility, almost farcical dark comedy, but with an underpinning of seriousness. At the end of the day it's a very political play of a woman's awakening and finding her identity. I can definitely relate, it's the kind of play I love. Extremely entertaining but digging into more interesting things."
Since leaving W.H.A.T. in 2011, Zinn, son of late historian Howard Zinn, has written a book about acting, "The Existential Actor," while working as both director and actor. He's been active with Harbor Stage Company, made up of former W.H.A.T. actors who were able to get the lease to the old W.H.A.T. harbor theater.
Great duos on paper don't always work out in reality, particularly in a world like theater that's not known for shy egos. Any fears of that happening here? "Really none at all," says Zinn. "I'm very happy to be working with Bob. ... I feel like I totally understand what the demands are on the financial side and I'm going to do that ... All of us need a sounding board. We've already gone back and forth. He's sent me plays I've sent him plays. Even in the time that I was away from W.H.A.T. and somebody would send me a play and, it's almost like a disease, I'd look at it through the eyes of a producer — 'The title is off-putting, who's the audience.' "
My guess is that Walsh and Zinn will put that disease to good use. I'm already looking forward to next season.