Israel Horovitz's 'Gloucester Blue' Is Extended Through Oct. 11 At Gloucester Stage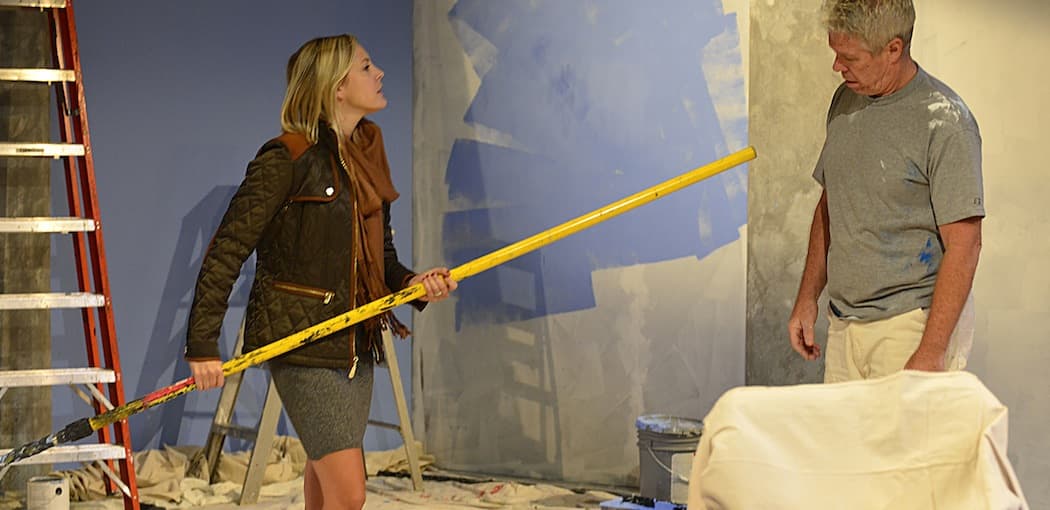 This article is more than 7 years old.
Israel Horovitz has long made this lovely fishing city on Cape Ann a laboratory for dissecting the clash of classes in America. Long before the rich became the symbol of gathering up the lion's share of money in America and the working class struggled to find work, Gloucester was something of an economic melting pot, even if there was also a certain amount of tension that Horovitz mined in his locally set plays like "Park Your Car in Harvard Yard" or "North Shore Fish."
That Horovitz also built a theater here gives productions like his new one, "Gloucester Blue" (through Oct. 11), a home-court advantage. One can walk into a Gloucester pub and overhear folks who sound like they could be refugees from his plays at Gloucester Stage. Different types of people seem to merge easily, though you wonder what those struggling to make ends meet in this economy, particularly the fishermen, really think about those with the disposable incomes to build luxury homes and only come to roost here in the summer.
---
UPDATE: According to reliable sources, Robert Walsh will be named the permanent artistic director of the Gloucester Stage Company, probably next week.
---
Not that you would want to meet three of the four characters in "Gloucester Blue." Horovitz, the original artistic director, often has a sense of compassion toward his creations; in his latest play it's more a sense of mischief. With the exception of the young man who's been hired to paint a summer home for a ridiculously rich pair of Brahmin-like chuckleheads, the characters are basically cartoons.
But then, so are "The Simpsons." They're toons with 'tude. Horovitz, who returned here to direct, is exercising his inner Martin McDonagh ("Beauty Queen of Leenane") or Tracy Letts ("Killer Joe") and he does it quite well with help from a cast who are clearly having a ball with the material — Robert Walsh, Esme Allen, Lewis Wheeler and Francisco Solorzano.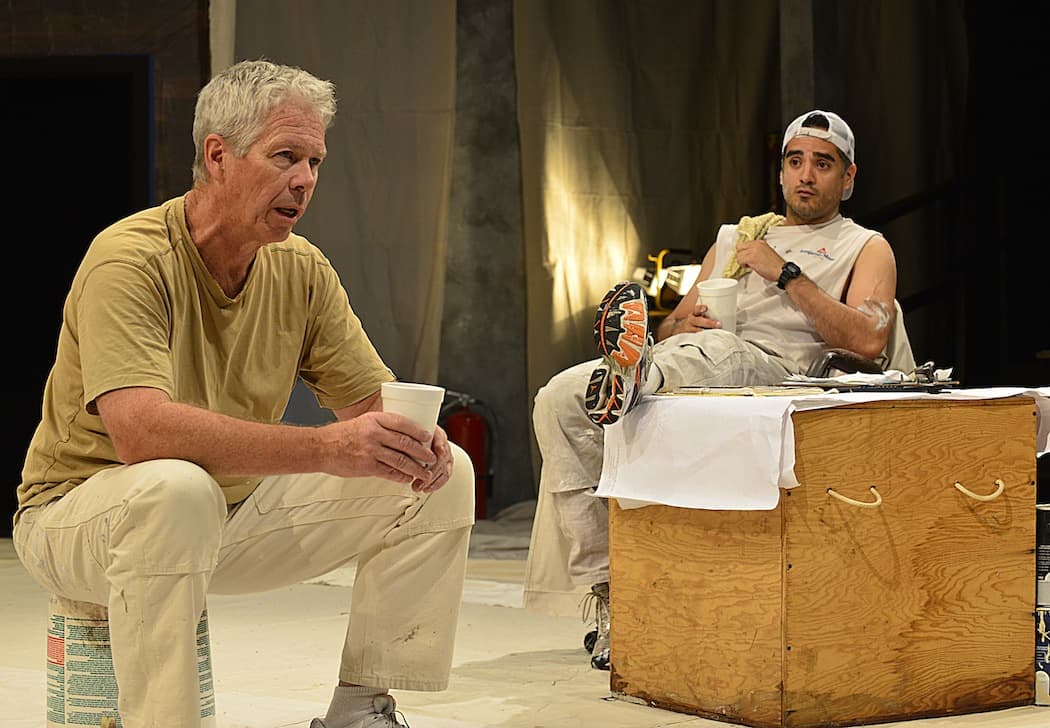 Solorzano's Stumpy, the painter who hires Walsh's Latham to help him, is the one sympathetic character. Stumpy knows there's a life beyond the narrow concerns of louts like Latham. It opens with the two of them priming the walls of the rich folks' house with Aerosmith turned up to an 11. Stumpy wants it off, he's more of an NPR guy, leading to a lengthy exchange on how the two of them observe life. "NPR could make ice cream sound depressing," says Latham.
Ouch.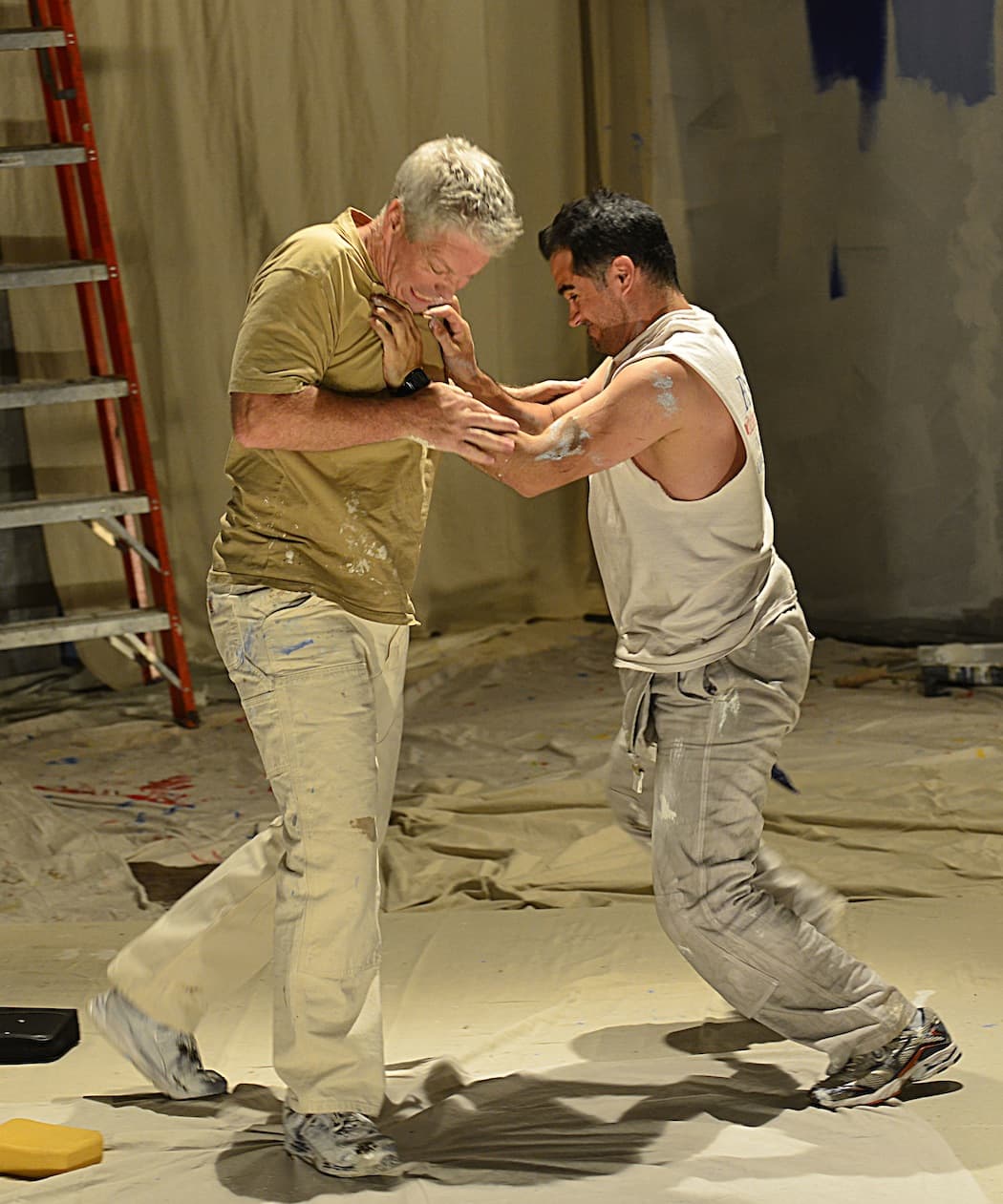 A few words about Robert Walsh. He has become a quadruple threat as an artist — a visceral director, an actor with a ton of presence in serious as well as comedic parts and one of the area's go-to fight coordinators (though the fights in this show were far from his most convincing). It also turns out that Walsh is a great administrator. As interim artistic director, he has put together a great season in Gloucester with one critically acclaimed production of newish plays by American and Irish playwrights after another. Here's hoping the theater makes him permanent artistic director. As he shows in this play in more ways than one, he and Horovitz are kindred spirits.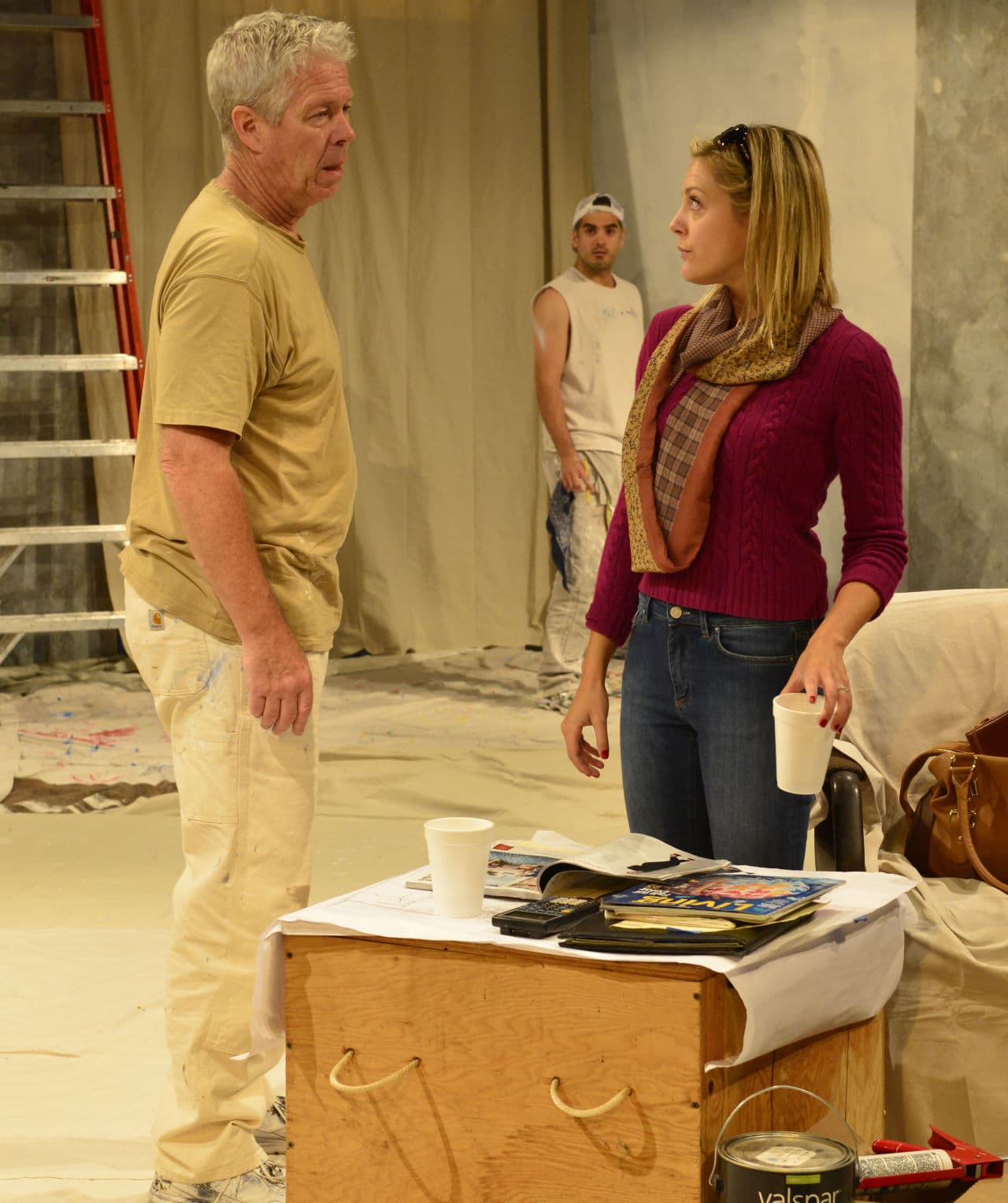 Esme Allen's Lexi is the catalyst of "Gloucester Blue" (which refers on a literal level to a paint shade). She's a knockout who's all too willing to coach Stumpy in the joys of the idle rich. And we're not talking afternoon tea. Latham looks on with increasingly narrow-set eyes. Not only is he jealous of his boss, he knew Lexi's father — a judge. Hmmm.
If Latham – whose sexual attitudes make him a throwback — is bewitched and bothered, Lewis Wheeler's Bummy is just plain bewildered. He knows he's being cuckolded, but hasn't a clue what to do about it. Latham is as willing to coach him as Lexi has been to coach Stumpy.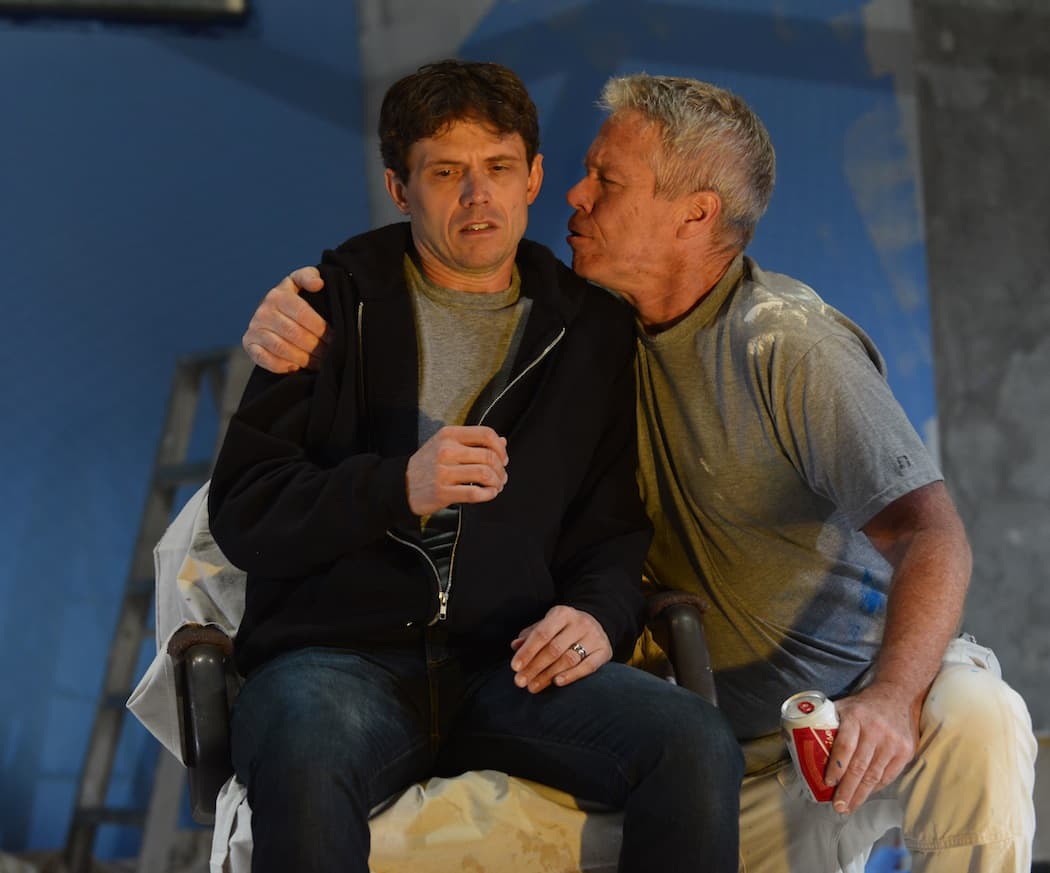 Horovitz, a Wakefield native, has a toe in all these worlds. He still has a home in Gloucester and with his many screenplays and movies, as well as plays produced worldwide, he's probably not in Stumpy's and Latham's economic class. He has a son, Adam (Ad-Rock), who's a Beastie Boy, but my guess is he's more likely to listen to NPR than Aerosmith.
At any rate, he's positioned to have an appreciation — and a skepticism — about how all the various tribes in America go about their business. That this play is more a black-humored lark than anything else doesn't detract from how enjoyable it is, at least for those with a stomach for comedy laced with violence. For all the exaggeration he's written into his characters, they're all kind of likable in a loopy kind of way.
And though it is a lark, there are serious themes tossed about, such as what the rich can get away with in America, working class rage and, of course, public radio. Economic analyst Robert Reich might not learn anything he doesn't know from the play. He might get a big laugh out of it, though. I did.