Despite Clinton's Nomination, Some Raw Feelings Among Sanders Supporters Remain
02:25
Play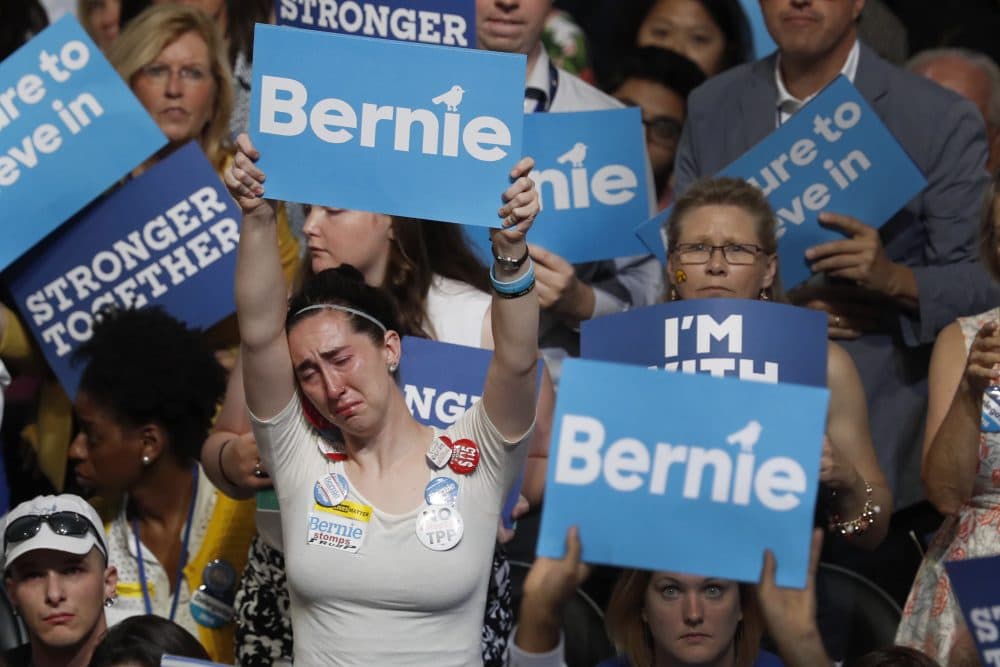 This article is more than 5 years old.
PHILADELPHIA — With Hillary Clinton now formally the presidential nominee, there's largely a sense of unity among Democrats. But there are still some hard feelings among supporters of Vermont Sen. Bernie Sanders.
Former Massachusetts Congressman Barney Frank encountered some push-back at the party's LGBT caucus as he urged delegates to vote for Clinton.
Frank is a superdelegate for Clinton. He is co-chair of the rules committee.
"And I will tell you I have a personal issue with some of the Sanders supporters, not for having been Sanders supporters, but for telling us today that they will not vote for Hillary Clinton," he said.
The openly gay former congressman was addressing the LGBT caucus where many delegates allegiance remains with Sanders.
"I do not understand how anyone can reconcile a claim to be in a superior moral political position with an intent to disregard LGBT rights when you vote," he said. "And I believe we have to carry this to the Sanders people."
Disregarding those rights, Frank implied, because a failure to support Clinton would help Donald Trump. And the Republican platform opposes same-sex marriage and supports allowing people to discriminate against gay people if their religious beliefs compel them to.
Utah delegate Cristobal Villegas took exception to Frank's comments and confronted him in the hall.
"What is going to happen to Bernie delegates? We're getting provoked. We're frustrated. We're tired. We're mad. We're angry, and we're sad, OK? We're disappointed," Villegas said. "When people like this congressman goes around and makes sure that everything's divisive at every LGBT caucus, that's the reason everything's going wrong."
"I'm quoting Bernie Sanders," Frank responded. "He's the one who said people should vote for Hillary Clinton in November. Should he not have said that?"
Another Utah delegate, Edward Lalone, interjected: "It's wrong to browbeat people or to bully people who you disagree with."
Lalone says he will vote for Clinton in November.
It was just three delegates in a hallway: one, a member of the party establishment behind Clinton, the other two, young delegates for Sanders. But it highlighted the raw feelings still present at this convention.
This segment aired on July 27, 2016.