A 5-Year Hiatus Leads To 'Freedom & Surrender' For Jazz Singer Lizz Wright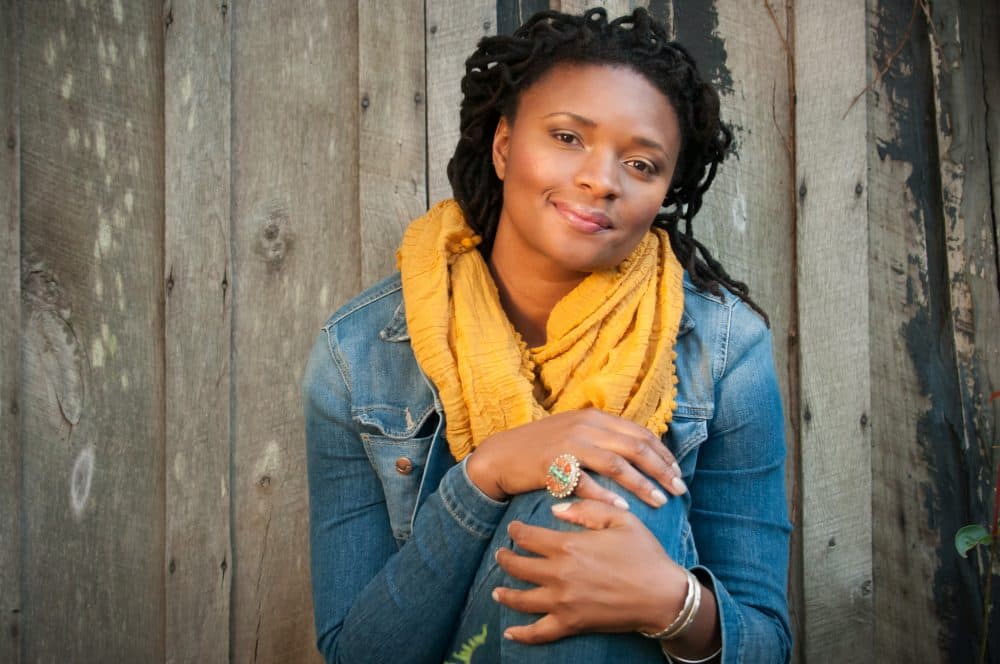 This article is more than 5 years old.
"Freedom, would you call my name?" So goes the first lyric on Lizz Wright's new album, "Freedom & Surrender." This is Wright's first album after a five-year hiatus during which she went through a divorce and moved from New York City to the South. With mostly original compositions and boisterous vocals, Wright takes the listener through her personal journey of independence.
She will be appearing at the Shalin Liu Performance Center in Rockport on Friday, July 29, at 8 p.m. prefacing a stop at the Newport Jazz Festival on Sunday, July 31. The Shalin Liu stage — surrounded by glass windows overlooking the ocean and equipped with fantastic acoustics — is a fitting venue for Wright's luscious instrument and gracious stage presence.
Wright could take up an entire evening displaying the substantial range of moods, styles and technical prowess of her vocals. She has an unusually low and rich voice that allows her to maintain a creamy and robust tone through any volume and emotion. She occasionally comes out of her deep chest voice for a more sultry whisper, and she coaxes out a variation of this technique when she uses it in her upper register. Throughout her variety of timbres, Wright adds an agile and wide vibrato and weaves that blend elegantly through the whole package.
Stylistically, "Freedom & Surrender" is not much of a departure from Wright's previous albums. Her music is something along the lines of jazz infused with gospel, soul, R&B, and folk. However, the instrumentation on this album gives it a slightly different feel. Rhodes, multiple guitars, mandolin and organ might tempt one to add country to that list. But it isn't just the music. Wright's Appalachian roots shine through in "Somewhere Down the Mystic" when she sings about mountain trails, the moon and connecting with the earth.
Last fall, Wright told Rachel Martin of NPR's All Things Considered, "I spend a lot of time with my neighbor, who's 91, and she's my favorite. She's so cute I can't stand it. She's about four feet and change, and she's got bright blue eyes, and she just taught me to care about little things. So the caring about little things that happen all the time, and returning to this basic sense of wonder, has made it easier for me to return to love without having to think about it."
Clearly, Wright had a constructive five-year break from making albums. She was reminded of valuable life lessons and one can hear this in her music. Cushioned by an ethereal instrumentation, Wright employs a throatier and softer version of her full chest voice to lean into the word "simple" when she sings this line from "Somewhere Down the Mystic": "A voice of simple beauty called up from distant days." In this song, and in many others on the album, we learn that between freedom and surrender is peacefulness.
Reading about this album and Wright's experience making it might prompt an eye roll and doubt over her spiritual awakening. During the creation of the album, Wright watched the sunsets at Santa Monica pier, enjoyed morning swims and relaxed with collaborator Larry Klein. In her bio for the Newport Jazz Festival, she describes sitting on the beach, listening back to ideas created during the day: "I could see them, unmade movies. The tide of communion would pull back and the shining pieces left could be made into anything. This is when I knew that I had, in these mosaic sessions, stumbled upon a new page in my life."
The music on "Freedom & Surrender" brings to light the sincerity of this statement, and Wright's appearances at Rockport and Newport are sure to do the same.
Correction: An earlier version of this post misstated the day of the week Wright is appearing in Newport. It is Sunday. We regret the error.
This article was originally published on July 27, 2016.
Claire Dickson Contributor, The ARTery
Claire Dickson is a jazz vocalist and writer studying at Harvard College.