Forecast: One More Hot Day Before The Showers Arrive
Boston never reached 90 degrees yesterday so the heat wave — judging by the temperatures at Logan Airport — is technically over. The record books will note a six-day heat wave in Boston. However, since no one lives at Logan Airport, the heat wave for most of us (who don't live on Cape Cod or at the beach) reached Day Seven yesterday and will hit Day Eight today.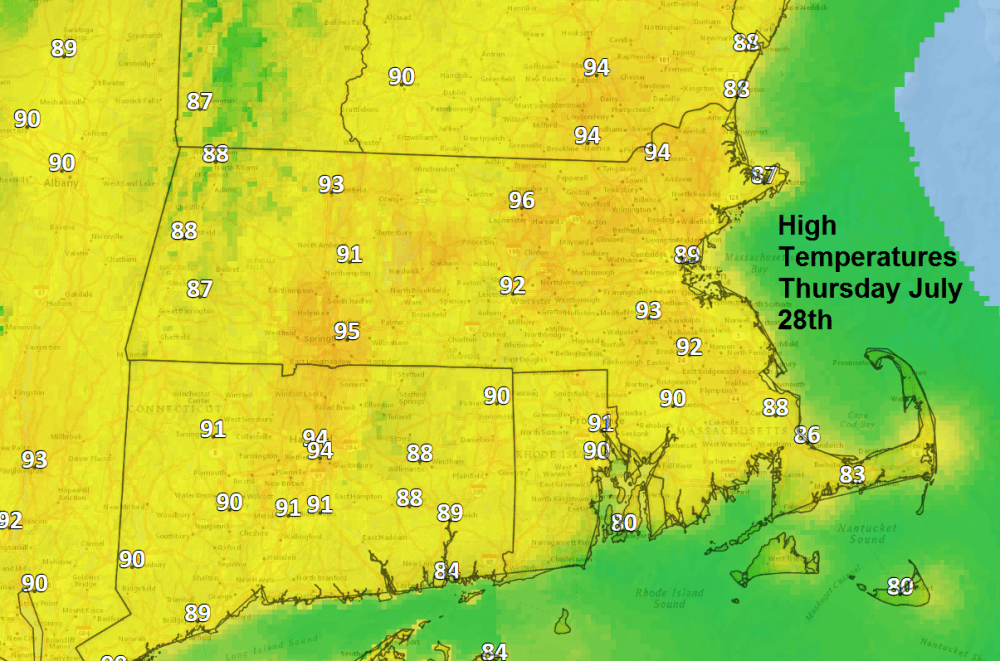 While we have a lot of sunshine this morning, clouds will be increasing through the day and there is a small chance of an isolated shower or storm this afternoon or evening. Highs will reach 90 in most places by noon, with the usual exception of Cape Cod and Cape Ann. Tonight is warm and becomes muggy.
Our eyes then turn to a storm and frontal system south of New England for Friday. The exact track of this system will determine if we see showers or a steady rain Friday and Friday evening. This seems to be our best chance of widespread rain in quite some time.
Most of the heaviest rain will be across New York and the mid-Atlantic area, but a piece of it will make it into southern New England, giving us a quarter to three quarters of an inch of rain. This won't make more than a small dent in the drought or even slow it down temporarily, but it's all helpful.
Humidity will be very high Friday. The weekend appears to be shaping up to be quite pleasant with seasonable temperatures and moderate to low humidity. Showers can't be ruled out Sunday, but it's just a small chance.
---
Today: Mostly sunny this morning, some clouds mixing in this afternoon. An isolated storm possible inland. Highs 87-95.
Tonight: Partly cloudy and muggy. Lows 65-71.
Friday: Muggy with periods of showers and thundershowers developing. Highs in the upper 70s to lower 80s.
Saturday: Partly to mostly sunny and warm. Highs in the 78-83.
Sunday: Sun and clouds and a shower possible. Highs 81-85.
Monday: Chance of showers. Highs in the 77-83 degree range.