It's Smooth Sailing With These 'Pirates Of Penzance'
Zombies and pirates seem to have special purchase in American popular culture; each seems to be adopted by alternating waves of hipsters, due to a fascination whose inspiration passes me by.
But if ever there was reason to get excited about pirates, it's the bold, boisterous production of "The Pirates of Penzance" now onstage at Barrington Stage Company. (W.S. Gilbert and Arthur Sullivan never wrote a comic operetta on the topic of zombies, to my knowledge.)
The show, which I'm pretty much required by federal theater-critic law to describe as swashbuckling, is directed by John Rando and choreographed by Joshua Bergasse, the team behind the winningly charming revival of "On the Town" that originated at Barrington Stage in 2013 before moving to Broadway, playing for 368 performances and earning a Tony Award nomination for best revival of a musical.
Rando and Bergasse find no surprising depth in these waters. The famously word-packed Gilbert and Sullivan score yields no heretofore obscured commentary on the human condition. But the show is absolutely packed with funny business, from bow to stern. And it's a can't-lose proposition if you're looking to get lost for a couple hours and simply smile along.
Will Swenson (the "Hair" revival on Broadway, and last summer's excellent "A Moon for the Misbegotten" at Williamstown Theatre Festival) stars, alongside several other Broadway veterans, as one of the least menacing Pirate Kings in literature. Swenson is all charisma as he swaggers his way through the role; it may play the same way every night, but he genuinely seemed to crack himself up a couple times when I caught the show, especially after exchanges with audience members seated onstage. Rando and team load up on the piratey "aaahr" jokes (and there's even a schoolyard reference to a "poop deck," alas) but I guess those jokes are there because people still laugh at them. And in fairness, this is a show with an extended gag about one character mistaking the word "orphan" for "often."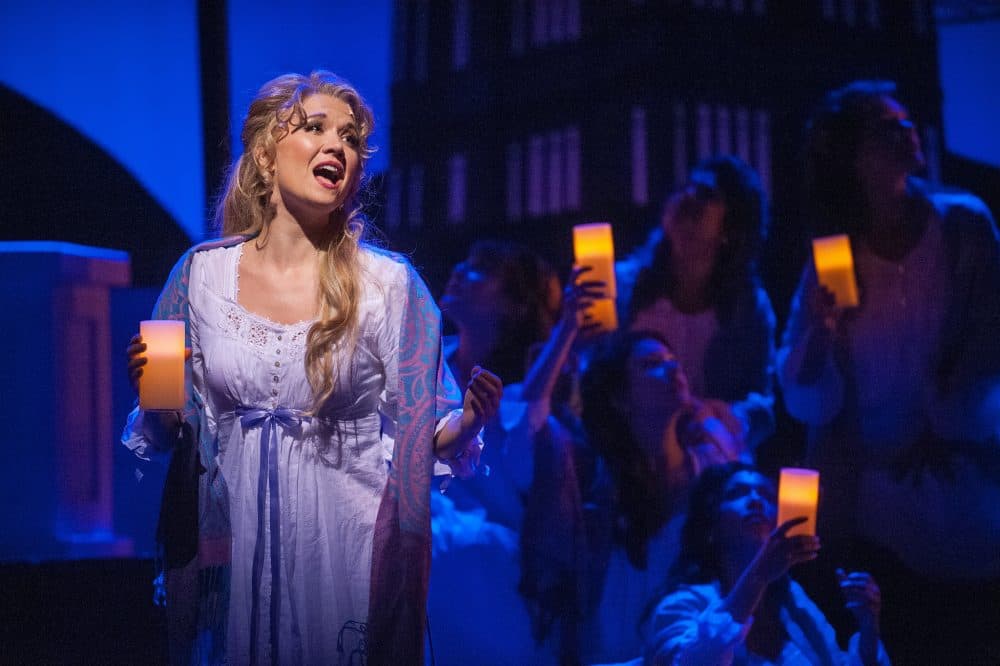 More inspired is the choreography that finds the large company dancing, tumbling, sword-fighting (Ryan Winkles designed the fights) and generally hamming it up through a high-energy production that mines for laughs at every turn. A catwalk running through the orchestra seating area (scenic design is by Beowulf Boritt) helps bring the action up close, and if you're seated on an aisle, you'd better keep your feet tucked safely under your seat.
Kyle Dean Massey ("Pippen" and "Next To Normal" on Broadway) is good as Frederic, the handsome naïf who is accidentally pledged to a pirate crew as a child, but learns little of the way of the world for his efforts. Scarlett Strallen displays her luxurious, classical range — the thing about comic operettas is that they still demand operatic singing chops — as Mabel, Federic's love interest. Alex Gibson displays wonderfully elastic physicality as the police sergeant. The casting is rich enough to stash Tony Award-winner Phillip Boykin (an "On the Town" veteran) as Samuel, the Pirate King's lieutenant.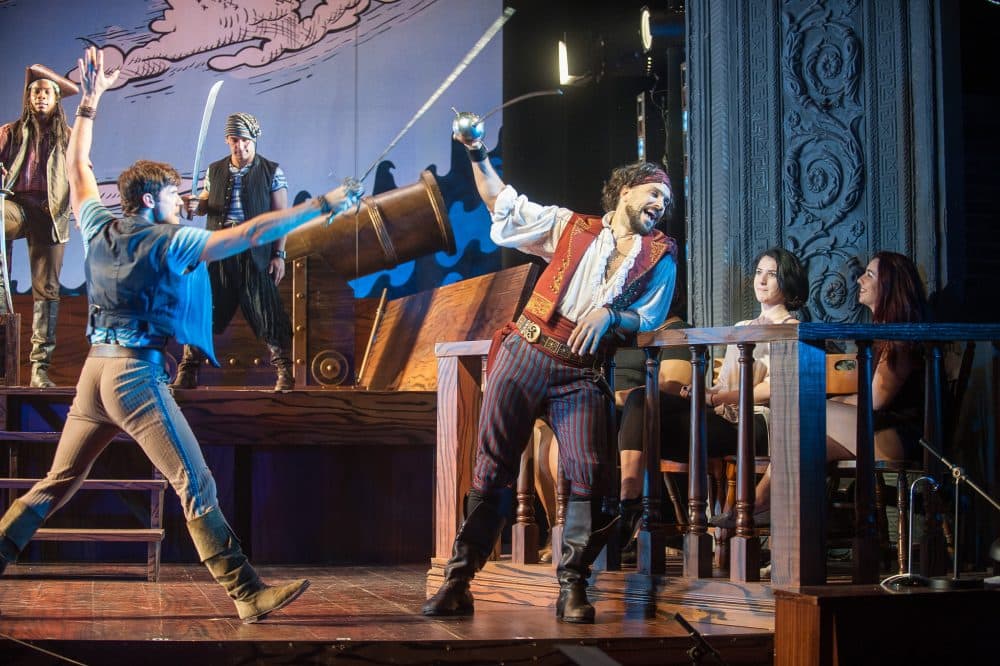 The text used for this production is the version of Gilbert and Sullivan's 1879 show presented by Joe Papp's Public Theater in 1980 and subsequently in London and on Broadway. Rando has his cast break the fourth wall repeatedly; the sergeant borrowed my program at one point and muttered, within earshot of only me and those right around me, that his "bio is right there." Late in the show, a key character does not appear, and Swenson gets laughs by revealing what show the corresponding actress has been cast in, and ruing that "this is regional theater, it doesn't pay."
But the key to this production's charm is that you never feel like the actors are laughing at the material, or cloaking themselves in even a smidgen of ironic distance. No, this is just silly stuff, and they're happy to lean into that.
Though David Garrison gets across the verbal tightrope of "I Am The Very Model of a Modern Major-General," one problem with the material (and production) is that much of the action is expressed through the very verbal songs, and the large ensemble has trouble getting each line to land. I was personally mystified by a few key plot twists (where, exactly, did a stage full of policemen come from?) but quickly learned to just roll with it.
That's because you don't go to "The Pirates of Penzance" for Shakespearean plotting. You go to get swept up in some spectacle, and perhaps giggle a bit. (Or more than a bit.) This production delivers on those counts, and more.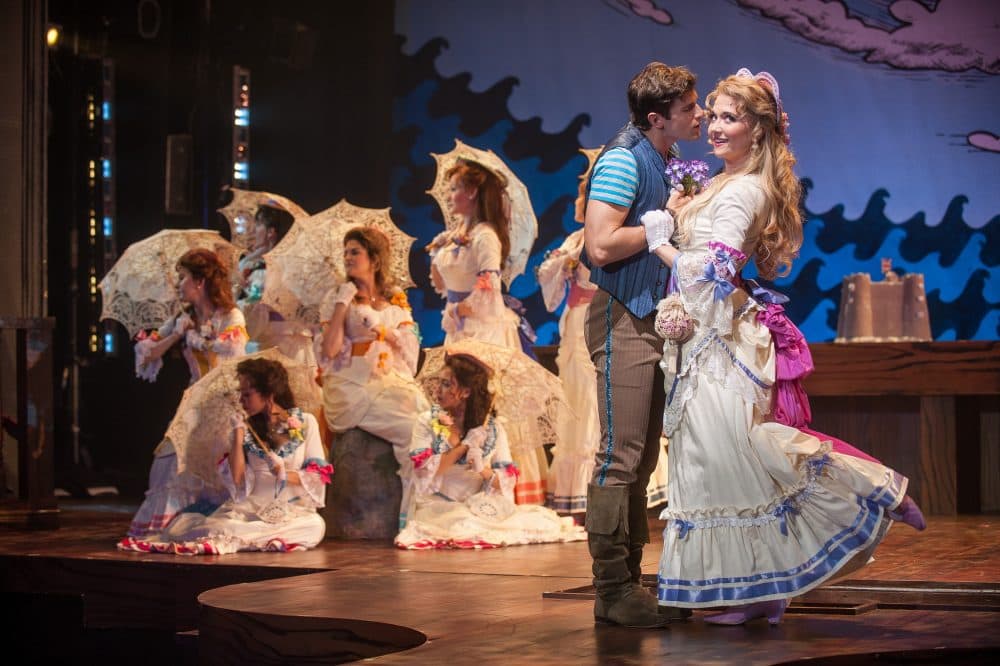 While visiting Pittsfield, you'd do well to try to also catch Barrington Stage's "peerless" before it closes on Aug. 6. Jiehae Park's dark comedy moves at manic pace as it probes the depths that one set of twin sisters will go to in their quest to gain admittance to the perfect college. It feels like the stage version of the best satirical high-school film you've never seen. Park's choice to hang the story loosely on the skeleton of "Macbeth" has its rewards and its problems, but Louisa Proske's direction keeps things spooky in all the right ways. If you miss this excellent production (or even if you don't), Company One Theatre announced last week that it'll present the Boston premiere of the play next April.
"The Pirates of Penzance" is at Barrington Stage Company's Boyd-Quinson Mainstage through Aug. 13. "peerless" is at the company's St. Germain Stage through Aug. 6.