Analysis: Trump's Bad Week Is Showing Up In The Polls
Play
This article is more than 6 years old.
It's been a pretty bad week for the Donald Trump campaign. The news cycle since last week's Democratic convention has been relentlessly negative toward the Republican.
The list of conflicts and problems Trump has encountered in recent days is too long to recite. Much of what he's facing are problems of his own making.
Now it's starting to show up in the polls. A series of state and national polls conducted over the last week show the depths of the troubles Trump is facing, with just three months to go in the campaign. State by state polling matters most, since it's the Electoral College, rather than the national popular vote, that will determine who is our next president.
A new WBUR poll of New Hampshire voters, released this week, shows Trump trailing Democratic nominee Hillary Clinton by 15 points. Other polls show him behind in the usual swing states of Pennsylvania, Michigan and Florida. To be successful, the Trump campaign needs to steadily chip away at states like these, moving them one by one into the Republican column. The last several election cycles have shown the electoral map to be increasingly unfriendly to Republicans.
Put another way, the status quo is not good enough to win.
But instead of improving the map, Trump and his campaign find themselves playing defense in traditionally Republican voting states like Georgia, Arizona and even Utah. A new poll from the Atlanta-Journal Constitution shows Clinton leading by 4 points in Georgia, a state that has gone to the Democrats just once in the last 32 years.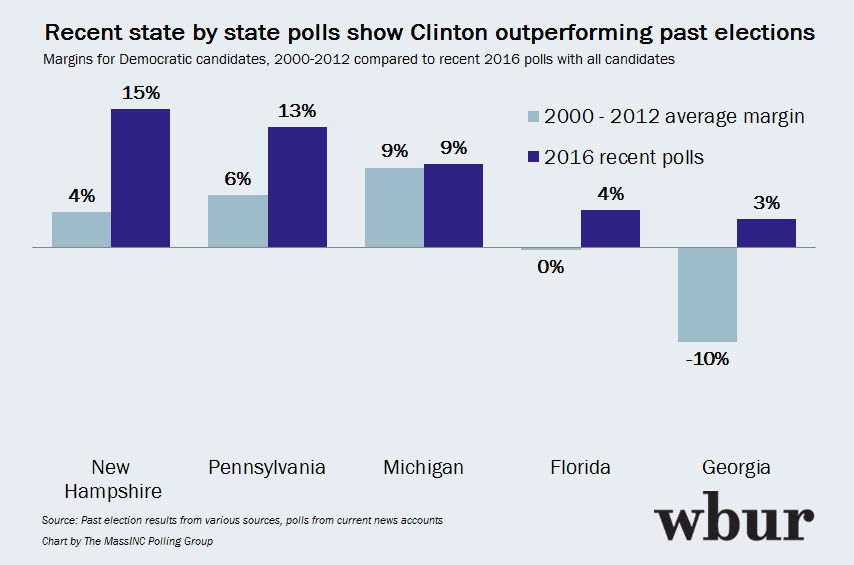 All of this adds up to a troubling picture for Trump. National polls show him trailing by margins as high as 9, even 15 points, and forecasters now give him only a 15 to 20 percent chance of winning the presidency. Some of this is likely due to the so-called convention bounce, where candidates gain in the polls following their own convention. With the Democratic convention wrapping up just late last week, this may be a part of it. But Trump has likely prolonged and expanded the bounce, spending the last week in conflict with a Gold Star family and many members of his own party, seemingly bringing himself more trouble at every turn.
If he can find a way to refocus on the issues that matter to voters, it may not be too late to turn his campaign around. Former Massachusetts Gov. Michael Dukakis led George H.W. Bush by 17 points in late July of 1988, and Bush went on to win.
That work is real, significant and pressing. But rather than working to build his coalition, every day recently seems to bring a new set of unforced errors that occupy the media -- for at least another news cycle.
This segment aired on August 5, 2016.