Maine Gov. LePage Doesn't Rule Out Resigning, Then Downplays Comments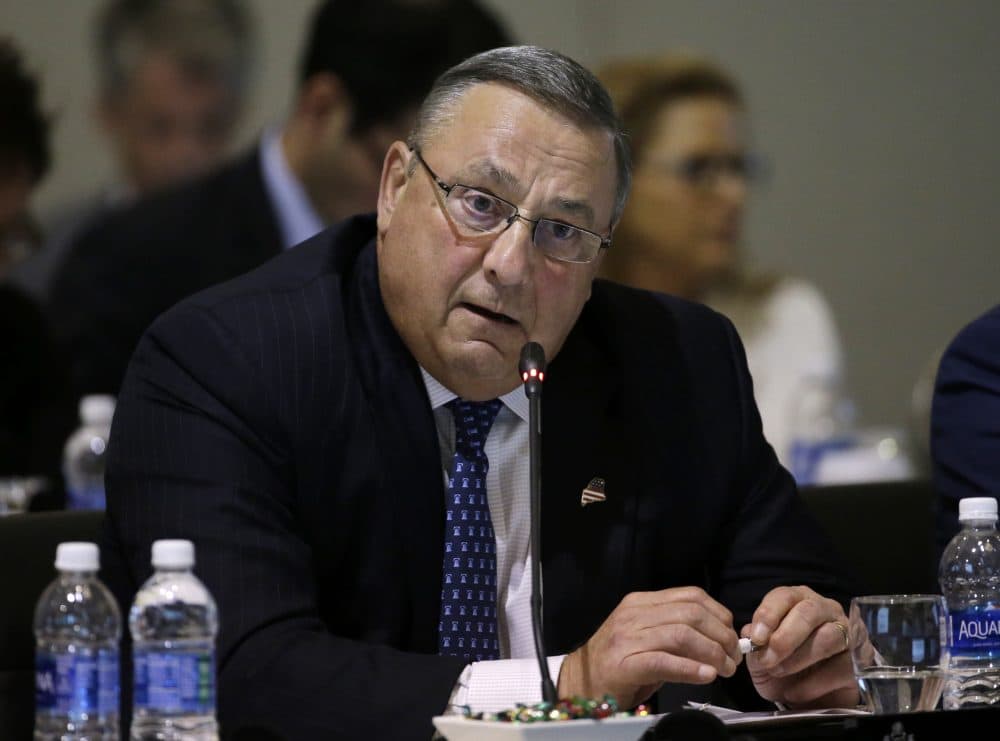 This article is more than 4 years old.
AUGUSTA, Maine — Amid political pressure and calls for his resignation, Republican Gov. Paul LePage said Tuesday that he wants to make amends with the Democratic legislator he targeted in an obscene voicemail message, but he tweeted that any reports of his "political demise are greatly exaggerated."
Speaking on WVOM-FM radio, LePage apologized for his tirade last week toward Rep. Drew Gattine and said it was "unacceptable and totally my fault."
He said he's going to meet with family and close advisers to decide what to do next. He initially declined to say whether he would serve out the remainder of his term.
"Some things I've been asked to do are beyond my ability," LePage said without elaborating. "I'm not going to say I'm not going to finish it. I'm not saying I am going to finish it."
LePage said he still has the energy to tackle issues like wait lists for state services and solar policy, but he said if he's "lost my ability to convince the Maine people that's what we need and that's the type of people we need in Augusta, you know, maybe it is the time to move on."
But a tweet from the governor later Tuesday seemed to specifically rule out resignation:
His representatives didn't immediately respond to requests for comment. A message left for Gattine wasn't immediately returned Tuesday.
Democratic lawmakers have warned that LePage is coming unhinged, and they called for a political intervention. Some also sought his resignation and say Maine's government is no longer functional.
On Friday, LePage apologized to "the people of Maine" -- but not to Gattine -- a day after he left a voicemail message that said, "I am after you" and then told reporters he wished he could challenge Gattine to a duel and point a gun "right between his eyes." He also called Gattine a vulgar name related to oral sex.
LePage accused Gattine of calling him a racist. Gattine denied it, and Maine Democrats called for LePage to stop repeating the claim.
LePage has said "racist" is "the absolute worst, most vile thing you can call a person."
The governor has been accused of making racially divisive comments before, most recently on Aug. 24 at a town hall in North Berwick. He said he keeps photos of drug dealers arrested in the state in a binder, and it shows that 90 percent of them "are black and Hispanic people from Waterbury, Connecticut; the Bronx; and Brooklyn."
LePage, whose second and final term as governor ends in 2019, told reporters last week that his repeated mentioning of the race of drug traffickers is relevant because when you go to war, "you shoot at the enemy."
"And the enemy right now, the overwhelming majority of people coming in are people of color or people of Hispanic origin," LePage said.
On Monday, in Boston, LePage elaborated on his comments to State House News Service:
Nobody wants to listen. What I said was this: Meth lab arrests are white. They're Mainers. The heroin-fentanyl arrests are not white people. They're Hispanic and they're black and they're from Lowell and Lawrence, Massachusetts, Waterbury, Connecticut, the Bronx and Brooklyn. I didn't make up the rules. That's how it turns out. But that's a fact. It's a fact. What do you want me to lie?
LePage on Tuesday said that the photos in his binder come from press reports of drug arrests, not scientific data.
In 2014, according to the FBI's Criminal Justice Information Service, 1,211 people were arrested for selling or making drugs in Maine. Of those, 170 -- or 14 percent -- were black.
There are signs of exasperation with LePage's conduct among Maine Republicans and Democrats alike. But any possible ramifications against LePage -- who has repeatedly avoided punishment and retained his base of political support -- are unclear.
Republican Senate President Mike Thibodeau and Republican House Minority Leader Ken Fredette met with LePage at the Blaine House on Monday night. The two had earlier called for "corrective action" but didn't elaborate on what that might be.
House Majority Leader Jeff McCabe, a Democrat, said that LePage has crossed a line and that he and other lawmakers may reconsider their calls for resignation if the governor agrees to seek professional help and outlines a treatment plan to lawmakers.
Senate Democratic Leader Justin Alfond questioned LePage's governing ability by pointing to the governor's comment Tuesday that being called a racist made him "so angry I literally couldn't breathe."
With additional reporting by the WBUR Newsroom
This article was originally published on August 30, 2016.