At Bentley 'Hackathon,' Grad Students Seek To Boost Boston's School Bus Experience
Resume
For decades, the experience of riding a yellow school bus has been virtually the same for every American student. The screeching sounds of the brakes, the folding doors, the plastic seats — these are all universal familiarities.
"You look at movies from the '60s and it looks exactly the same as when I rode one in the early 2000s," observed Bentley University graduate student Rachel Graham.
It was this observation that sparked Graham's interest in remixing the bus riding experience.
And one of the most challenging places to do that? Boston.
The city's public school district transports 29,000 public, private and charter students back and forth five days a week during the school year, and Graham found that for many students, the experience isn't all that great.
During her research, a seventh grader told her the most exciting thing he does on the bus is talk to the bus driver. "I asked him, what are the other students doing?" Graham recounted. "And he said, 'They stare at the seat in front of them.' And that was so shocking at first, because it sounds so boring."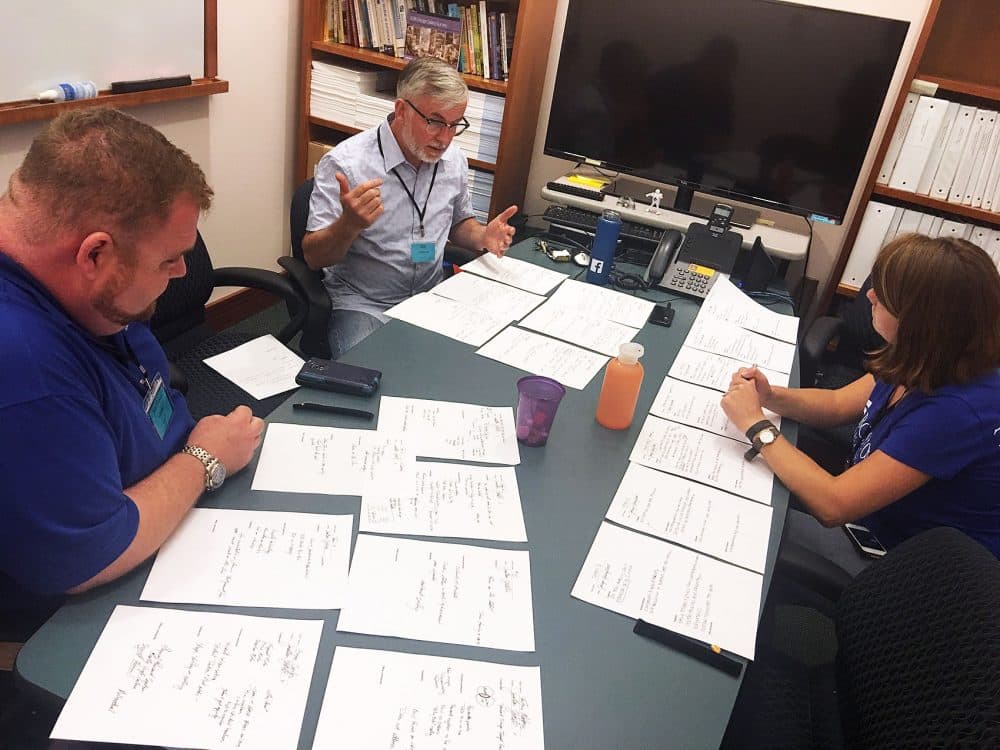 Boredom is one of the many challenges Graham and other students from Bentley decided to tackle as part of a "hackathon" partnership with Boston Public Schools. The grad students examined the transportation experience and essentially "hacked" the current model to rebuild it into something fresh, innovative and exciting for Boston students.
As part of the hackathon, Bentley students from its business school and its Human Factors in Information Design program were put into teams of five. They spent two days together coming up with ideas. All of them came up with ways to entertain the kids on the bus, with things like apps and touchscreens on the backs of seats that allow students to play games.
The winning team combined both technology and safety, by proposing "bus leaders" on every bus to promote anti-bullying and monitor screens installed on the backs of every seat to give students a chance to follow where they are their routes and report when they feel unsafe.
"We tried to put an emphasis on new technologies," graduate student Francesca Concina said. "At the same time we wanted to empower students and give them responsibility, a sense of respect and ownership."
Boston Public Schools says they will likely incorporate nuggets from all of the teams at Bentley.
"I'd really like people to see transportation as an experience, not just this thing we have to do to get human beings from point A to point B," said Roy Chan, co-innovation team leader for BPS' new Experience Lab.
BPS currently offers an app called "Where's My Bus?" that allows students and parents to track buses.
School and bus pickup officially starts Sept. 8.
This segment aired on August 31, 2016.