Logan Airport Exhibit Displays Images Of 9/11 Memorials Around The Country
An exhibit featuring various 9/11 memorials from around the country is on display at Logan Airport, ahead of the 15th anniversary of the terrorist attacks.
Eight banners hang in Terminal E — the international terminal — in an area before security so they are visible to the non-flying public. The banners feature photographs of the National Sept. 11 memorial at ground zero in New York City; the Flight 93 National Memorial in Stoystown, Pennsylvania; and the National 9/11 Pentagon Memorial in Arlington, Virginia.
The exhibit shows two of the memorials in Boston: the Garden of Remembrance in the Public Garden and the 9/11 Memorial at Logan Airport. There are also images from memorials in Jersey City, New Jersey; Bayonne, New Jersey; and Staten Island, New York.
"We thought that would be an interesting way to show it was a national tragedy, in addition to a Boston and New York and Washington [tragedy]," said Thomas Glynn, Massachusetts Port Authority CEO.
The two planes that crashed into the World Trade Center on Sept. 11, United Airlines Flight 175 and American Airlines Flight 11, left Logan Airport heading to Los Angeles. The gates from which they departed now have American flags as silent tributes to those killed.
The exhibit includes an item loaned from Glynn's personal collection: a poster of the American flag, comprised of the names of people killed. The poster normally hangs outside of Glynn's office as a reminder of the 2001 attacks.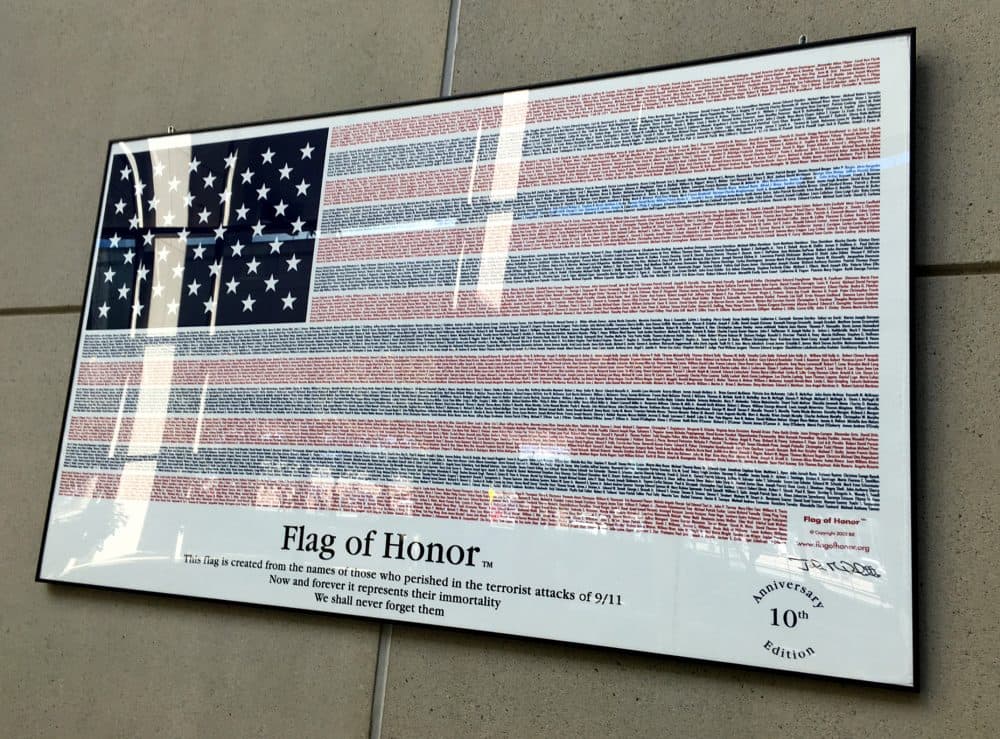 "It's very much part of the fabric for people who were here that day," Glynn said, "of which there are many, many who are here today."
On the morning of Sept. 11 this year, all aircraft on the ground at Logan will come to a complete stop for a minute to pay tribute to those killed.
The exhibit is expected to be on display through the anniversary of the attacks.
Correction: An earlier version of this post said the banners hung past security, but they are in fact in an area before entering security. 
This article was originally published on September 02, 2016.