Ian McEwan's Modern Hamlet Hears Everything — From His Mother's Womb — In 'Nutshell'
Ian McEwan has a striking talent for exploring large ideas in compact novels. To cite just two: "The Children Act" (2014), with the unforeseen consequences of an agonizingly difficult judicial decision, and "On Chesil Beach" (shortlisted for the Man Booker prize in 2007), which highlighted the cost of heartbreaking innocence.
In the aptly named "Nutshell," McEwan seems to be having rollicking good fun, playing with point of view and the structure of a murder mystery novel. The opening hooks you in, and there are some delicious plot twists along the way. It having been created by this preternaturally gifted writer, there's also much, much more. "Nutshell" has a pleasurable Shakespearean overlay (specifically, "Hamlet") and a unique narrator — a male fetus.
Nearly nine months in the womb, this tiny storyteller can see nothing but can listen, quite attentively, to everything: conversations, the radio, the TV and all the podcasts and audio books favored by his mother, Trudy. Reading "Nutshell" seems in some ways like listening to early-days radio, when that audio, predating any constraining pictures of the news, could lavishly feed your perceptions and your imagination.
Our diminutive storyteller is both acerbic and astute, grateful he'll be born in London, in modern times, with "holidays, anaesthetics, reading lamps, oranges in winter." He muses freely on politics, gender, literature ("James Joyce's 'Ulysses' sends her to sleep, even as it thrills me"), and small talk ("an adult device, a covenant with boredom and deceit").
But his main focus is a long thread of scheming conversations between Trudy and her lover, Claude. As this wee observer declares with a theatrical flourish, "I'm hearing pillow talk of deadly intent …" Deadly indeed: They plan to poison Trudy's husband John.
In many respects, Trudy and Claude echo Hamlet's Gertrude and Claudius. At 28 and heavily pregnant, Trudy is beautiful, sensuous and vain. Claude, a successful property developer, is a terminally shallow man, whom our pint-size guide disparages as knowing "only clothes and cars." Deepening the intrigue, and the Hamlet parallels, Claude is Trudy's brother-in-law. The protagonist would like to dismiss his future uncle as a dim bore, but he's overheard enough to note, ominously, "There's a whiff of sulfur about Claude."
John, a minor poet and the editor of a distinguished but struggling literary press, initially seems a bit of a sad sack. He tends to lose poets to larger publishers as soon as they've garnered some renown. He's now living in temporary quarters since Trudy kicked him out of their expansive townhouse in London's posh St. John's Wood neighborhood.
John may have less money than Claude, and may no longer have Trudy's affections, but he does own the title to their home. Trudy and John covet the valuable property, and will stop at nothing to gain control of this personal kingdom.
So here we are, witnesses to the run-up of a monstrous crime, in a sweltering city summer, with flies buzzing around abandoned food containers in the manse's high-ceilinged halls, and Trudy quaffing wine as regularly as any 20-something woman who's not pregnant. She imbibes so often, the little spy she's carrying in her swollen belly has become a wine expert. On the rare occasion when a wine label is not mentioned, he can make a very good guess, as when he rightly concludes he's drinking a Pinot Noir from "that lazy, clement summer of 2005."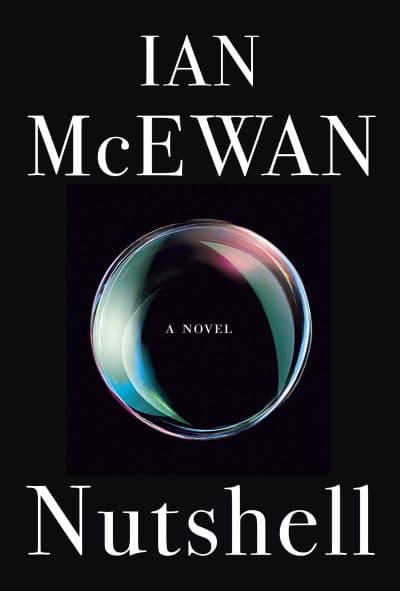 Time and again McEwan makes "Nutshell" worthy of its name — a tightly crafted world in miniature. Only rarely does he have the narrator offer opinions so sweeping their impact is dulled, as when he grandly pronounces news "the wellspring of all bad dreams." Mostly you think: Here's a being with a powerful voice, able to connect cultural dots in ways beyond what he could simply glean from podcasts or pop songs. This raises the question of how long he'll hold these insights before he may have to learn them all over again, like the babies in P.L. Travers' original "Mary Poppins" who can converse with starlings, but will lose that wondrous facility as they grow into childhood.
There's turmoil without, but also turmoil within, and lots of free time to ponder. He fears Claude wants him given away at birth, and is understandably loath to relinquish a comfortable home for an institution. Or, as he comically asserts: "my reasonable suspicion is that poverty is deprivation on all levels. No harpsichord lessons on the thirteenth floor."
This tiny bard also wages an internal ethical debate about his father's murder and his own survival: He does not wish for the crime, but if it's done he wants it to succeed, so he does not begin life in prison. As a sidebar, he muses on the nature of detective fiction, how a reader may sometimes be tempted to root for a criminal, because after all, he notes sardonically, the "datum of success is 'the perfect murder.'"
It's not a bad measure of achievement: the ability to construct a convincing scenario that stands up to scrutiny from all angles. By this standard, "Nutshell" is a triumph; McEwan has been able to accomplish this with a main character who is upside down in a small dark space, whose entire universe is built on sounds.
Ian McEwan speaks to author Steven Pinker at First Parish Church, a Harvard Book Store event, at 7 p.m. Wednesday, Sept. 21.