Mass. Unemployment Rate Drops Beneath 4 Percent
The Massachusetts unemployment rate is now below 4 percent, the lowest it's been since August 2001.
The August rate ticked down from 4.1 percent in July, the state labor department said Thursday in its monthly report, and the Massachusetts economy added an estimated 5,900 jobs in August.
The state's unemployment rate is down from 4.8 percent a year ago, and is now a full percentage point below the national level.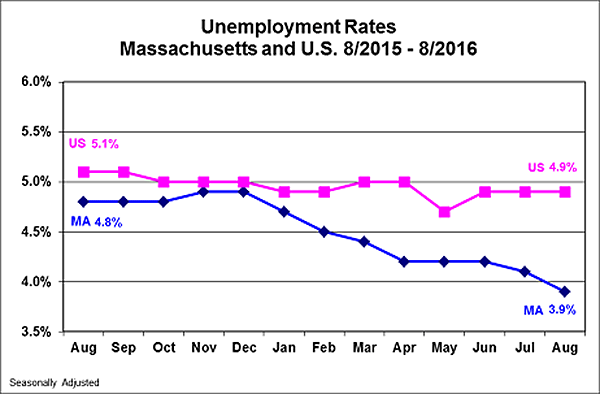 The jobless rate fell for "good" reasons, as 10,300 more Massachusetts residents were employed and 4,400 fewer residents were unemployed over the month of August — an increase in the state's labor force of 5,900 people.
Since August 2015, the labor force participation rate — calculating adults working and actively looking for work — has ticked up — but just barely — from 64.8 percent to 65 percent.
The unemployment rate is based on a survey of households, while the jobs figures are based on a survey of employers. Both are subject to revision, sometimes significantly.
The state added fewer jobs in July than first estimated, from an originally reported 7,300 gain to 5,800.
The United States added an estimated 151,000 jobs in August, slightly less than economists' forecasts.
As NPR reported earlier this month: "The jobs report has been closely watched in recent months, as the Federal Reserve considers raising interest rates for only the second time since the global financial crisis."