Analysis: As Post-Debate Polls Roll In, A Word Of Caution
Resume
The first presidential debate ended less than 24 hours ago and already the post-debate polls are rolling in. The polls break down into two basic types which tell very different stories. Caution is warranted when interpreting them.
The first type employs real polling science, and tries to reach a representative sample of the people who watched the debate. CNN and Public Policy Polling did polls like this Monday night, and YouGov released one Tuesday morning. All three gave Hillary Clinton the edge.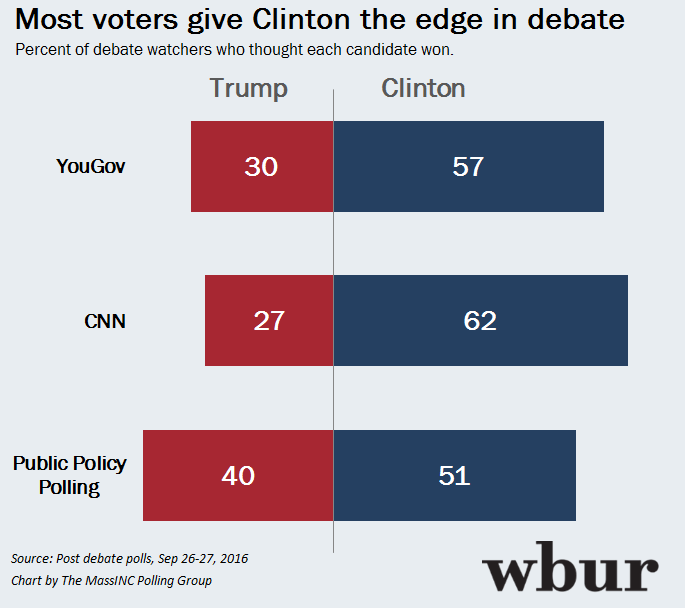 The second type of poll lets in anyone who wants to participate. The poll question is typically posted on a website that anyone can access. Little control is exercised over respondents participating more than once, and no science is employed to make these polls representative.
Throughout the campaign, Trump often makes a big deal out of these polls, because they tend to be good for him. He tweeted out a set of these polls earlier Tuesday, using them as evidence he won the debate. His supporters flock to participate in them — perhaps evidence of their passion or organization, but not of majority opinion. The Drudge Report poll, a favorite of Trump's, showed him winning the debate by more than a 60 point margin — even before the debate was over.
To give the simplest possible rule of thumb, a poll that makes no attempt to control who participates should not be viewed as representative. It's for entertainment. Read it, enjoy it, share it, but don't mistake it for the type of poll that seeks to accurately represent public opinion.
With the more scientific polls giving Clinton the win, the next question is whether the debate will change support levels for the candidates. The website FiveThirtyEight examined decades worth of post-debate polls from CNN and Gallup, and found the perceived winner of the debate often receives a bump in support.
If the pattern holds this year, it would be great news for Clinton, who has endured weeks of bad headlines and sliding poll numbers. We will know more by the end of this week, and especially over the coming weekend. That is when the first multi-day polls of the whole electorate will be released, not just those polls covering debate viewers. You can bet there will be a lot of them, and they will show more concrete evidence of whether the debate changed any minds.
This segment aired on September 27, 2016.