Report: Arrests For Marijuana Possession Are Way Down In Mass., But Racial Disparities Persist
Arrests for possession of marijuana have fallen significantly in Massachusetts after voters in 2008 decided to decriminalize having an ounce or less of the drug, but racial disparities persist among those who are arrested.
That's according to a report released Thursday by the American Civil Liberties Union of Massachusetts, which supports an effort, on the statewide ballot next month, that would legalize marijuana for recreational use among adults.
The marijuana possession arrest rate for black people in Massachusetts in 2014 was 3.3 times higher than the rate for white people, according to federal data cited by the ACLU. That's "despite the fact," per the report, "that white people use and sell marijuana at similar rates."
Overall in 2014, black people comprised 8 percent of the population in Massachusetts, but made up 24 percent of marijuana possession arrests, according to the report.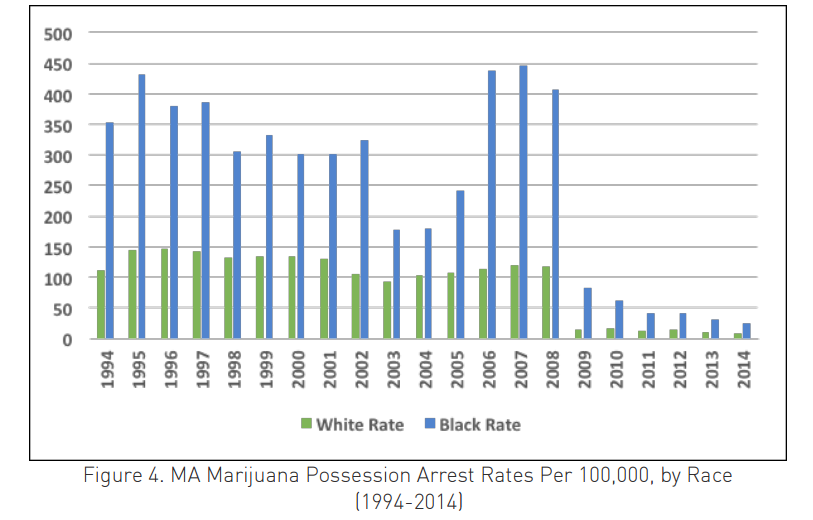 The racial disparity was even bigger for arrests of marijuana sales. In 2014, the arrest rate for marijuana sales in Massachusetts was 7.1 times higher for black people than it was for white people.
(A methodological note: Federal data doesn't make a distinction between arrests of Latino people and white people, so, according to the ACLU, "disparities between Black people and white people included in this report are likely even higher than documented.")
Longer-term, the report found that arrests for possession of marijuana are way down, following the state's decriminalization vote. There were 616 arrests in 2014, a 93 percent drop from the 8,695 in 2008.
But for the ACLU, the persistent racial disparities in arrests are arguments for voters this year who are contemplating legalization.
"Racial disparities are a disturbing feature of our current marijuana policy," Rahsaan Hall, the group's racial justice director, said in a statement. "Taxing and regulating marijuana is an important step towards reducing the harm that current policies cause to people of color, particularly Black people, and it will generate hundreds of millions of dollars in tax revenue that can be reinvested in our communities."
Opponents of the legalization effort — who include Gov. Charlie Baker and Boston Mayor Marty Walsh -- cite concerns over potential harms to young people's health, especially from edible products, and other issues with the specifics of ballot Question 4.
A WBUR poll of 506 likely Massachusetts voters, conducted a month ago, found 50 percent support legalizing recreational marijuana, compared with 45 percent opposed to the measure. The poll had a margin of error of 4.4 percentage points.
Radio Boston had more on the ACLU report Thursday afternoon. It also co-hosted a spirited hour-long debate on the ballot question earlier this week.