A New Children's Book About Leonard Nimoy's Immigrant Roots Also Tells The Story Behind Spock's Vulcan Salute
Resume
Leonard Nimoy transported the word "fascinating" into the pop culture lexicon as Mr. Spock in the 1960s TV series "Star Trek," which aired for the first time 50 years ago last month. Now "Fascinating" is also the title of a new children's book celebrating Nimoy's life, which began in Boston's West End in 1931.
"Once there was a boy named Leonard who loved to sing and to act. His parents were immigrants who felt like aliens in America and certainly didn't understand Leonard's drive to perform."
Nimoy's friend Richard Michelson read those words when we sat down to talk about the new biography he's written for kids (and likely their Trekkie parents). While "Fascinating" is a children's book, its economically-worded pages reveal poetic and profound connections between Nimoy's upbringing in a Jewish immigrant family and his much-loved, iconic Star Trek character.
It's safe to say most people know Nimoy as the actor who played the Enterprise's highly logical science officer Mr. Spock. But he was also a conceptual photographer who spoke fluent Yiddish. That's how he became friends with Michelson who owns an art gallery in Northampton.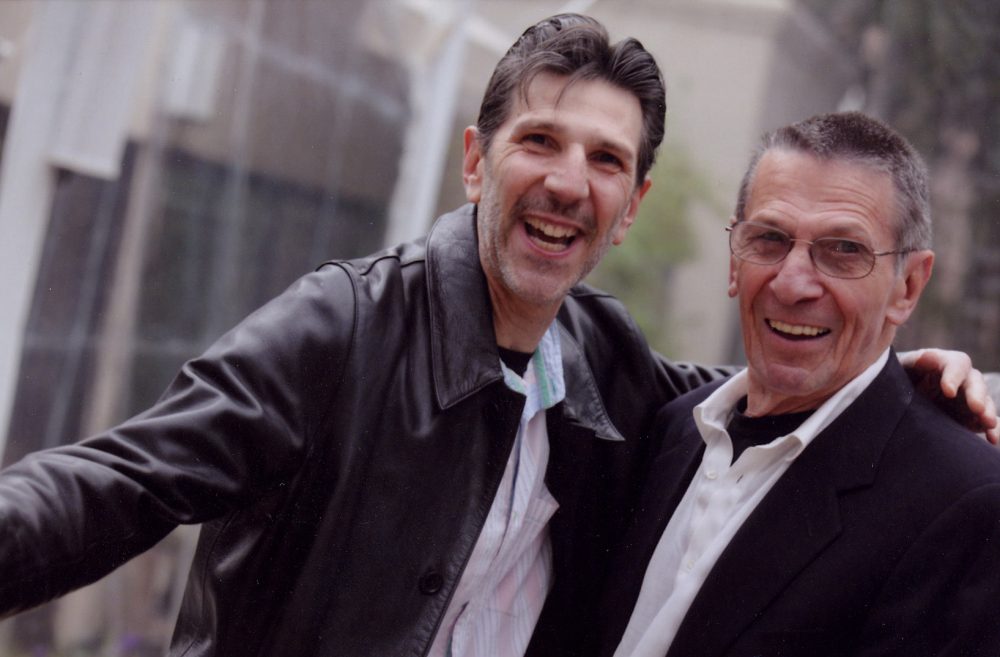 Michelson has represented Nimoy's exploratory visual work for more than a decade. In a nod to Star Trek's 50th anniversary, a new show features 50 of Nimoy's photographs.
Walking through the exhibition space, Michelson points to a glass case housing Nimoy's original camera — a Kodak Bellows — and says the first picture Nimoy ever captured was of his grandfather.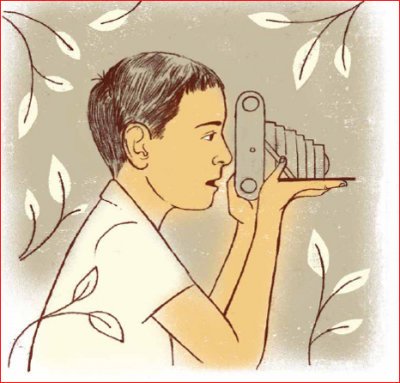 "He also took pictures of his parents. They all came to this country escaping pogroms," Michelson explains. "His parents — they wanted him to fit in — they did not want him to be an actor. When Leonard did go to Hollywood his father's only advice was: Learn to play the accordion. He said, 'Actors starve for a living, but there's always a need for a musician.' "
Michelson weaves these kinds of formative anecdotes from Nimoy's childhood through the biography. Early in the book readers meet Nimoy's Yiddish-speaking parents and grandparents who moved to a Boston settlement house after fleeing Eastern Europe.
Michelson is a prolific children's book author with a few illustrated biographies under his belt. He says he long admired his friend's journey through life. After years of bonding over meals, a shared love of art and Yiddish culture, Michelson decided it was time to record Nimoy's story for the next generation.
"So much of his later life was formed in his childhood," Michelson reflected. "His parents came over as immigrants. And they were very much outsiders — just as Spock was an outsider, later."
Sci-fi fans have connected with Spock's internal struggle with being half-human/half-Vulcan. In real life, Michelson says Nimoy encountered anti-Semitism in Boston, but also kindness, support and a sense of community.
After moving to Hollywood he found working acting, but also took jobs as a soda jerk and taxi driver. In the book Michelson recounts the ride Nimoy gave to then Congressman John F. Kennedy who told the aspiring thespian:
"Never give up as long as you can make a difference in people's lives."
Michelson beams readers ahead to 1965 when Star Trek creator Gene Roddenberry offered Nimoy the role of Mr. Spock. The actor felt nervous about playing a character with pointy ears and a funny haircut. Then, as Michelson writes, Nimoy had a realization about his immigrant parents:
" 'My folks came to the United States as immigrants. They were called aliens, and they became citizens,' he told Mr. Roddenberry. 'I was born in Boston, as a citizen, then I came to Hollywood as an outsider, and now it's time for me to become an alien. I am Spock.' "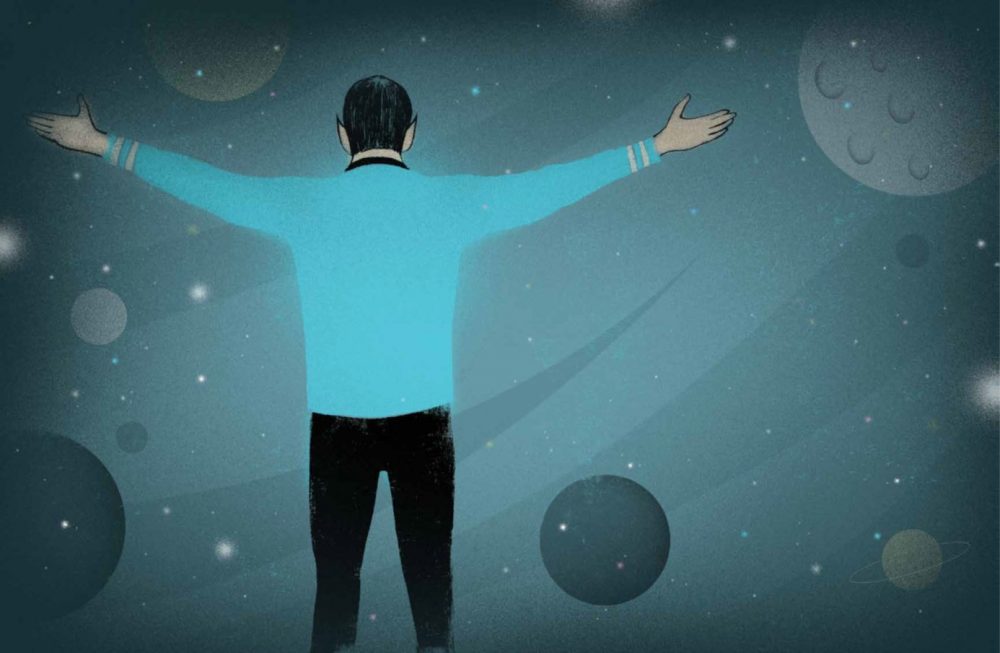 Scenes from Nimoy's life unfold in blue, white and black, space-themed illustrations. They're touched with earthen accents. Cuban artist Edel Rodriguez created the imagery and says he relates to Nimoy's tale.
"I really liked how the story mirrored a lot of my own experiences as an immigrant to the United States," he said.
Rodriguez recalls coming to the U.S. in the '80s on the Mariel boatlift. His family settled in Miami.
"For the first few months I didn't really speak any English, I didn't really know what was going on most of time," the artist recalled, adding, "One of the things I did do was I watched a lot of television."
Turns out Rodriguez watched a lot of Star Trek, and he says the show helped him learn English. Now he illustrates for magazines including the New Yorker and Newsweek. His recent Time Magazine cover featuring Donald Trump having a meltdown attracted a lot of attention.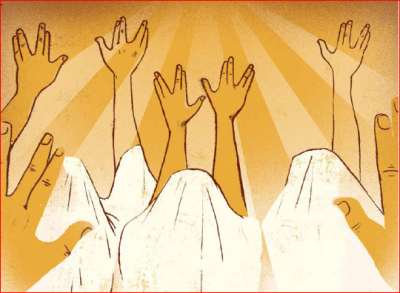 Rodriguez says he wanted to work on this Nimoy biography because it's a positive story about immigration.
"This country, to me, is what it is because of immigrants. We're all immigrants and we've come from somewhere," he explained, adding, "The language lately towards immigrants or immigration has been so harsh that I think anything that shows that we're all in this together is a great thing."
Rodriguez adds that as a immigrant artist he's constantly referencing his culture in his work — just as Nimoy did. Take Spock's signature hand gesture, the Vulcan Salute.
As a kid in Temple Nimoy watched men in prayer shawls raising their hands in the air. Their fingers were formed into a shape like the letter "V." He later learned they symbolized the Hebrew letter "Shin" — the first letter of "Shalom" — which means "peace."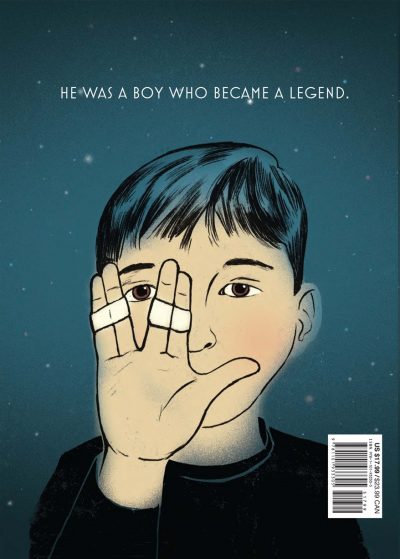 Years later, during filming of Star Trek's second season, Michelson says the actor disagreed with a scene that had Spock greeting the Vulcan Queen with a handshake.
"Leonard turned to the director and said, 'We should have a different greeting. Military men salute when they meet. Asians bow. Vulcans should do something different.'" Michelson recalled. "And this time as an 8-year-old boy came back to him. He raised his hand in the greeting he had seen in temple when he was a young boy, and he said, 'Live long and prosper.'"
That became an iconic Star Trek moment, Michelson said, "But for Leonard it was a personal moment from his childhood."
After that strangers would greet Nimoy with the Vulcan hand gesture on the street. Michelson says it made Nimoy feel like he had touched people's souls.
"He took great pleasure in knowing that people were blessing each other, and it's why he continued to do that throughout his life," he said.
Michelson misses his friend, who died a year and a half ago. They had an uncanny resemblance and were often mistaken for father and son. Michelson says he wishes Nimoy still were here so they could go on the promo tour for "Fascinating" together. But the actor/photographer did get to read the children's book version of his life before he left the planet, and Michelson says Nimoy was pleased.
This segment aired on October 7, 2016.