Thomas Gibbons' 'Uncanny Valley' Mines The Gap Between Humans And Artificial Intelligence
What is identity? What is self-aware intelligence? Can human consciousness be replicated or fabricated by science? Stoneham Theatre's production of Thomas Gibbons'  "Uncanny Valley" dips into these questions. The play, which continues through Oct. 23, is a timely offering for those whose interest in artificial intelligence was piqued by another recent production on a Boston-area stage.
Many of the themes explored in "Uncanny Valley" are similar to those explored in The Nora Theatre Company's production of "Marjorie Prime," which has just completed its run at the Central Square Theater in Cambridge. And just like "Marjorie Prime," this play didn't quite seem to close a dramatic circuit around the idea of self-aware machines. "Uncanny Valley" fails to close the gap between the intrigue of core questions about human (artificial or otherwise) identity and tangible insights regarding those questions. The genre is an evergreen source for a particularly philosophical stripe of speculative fiction, but in "Uncanny Valley," there's no great innovation — just rote retooling.
Nancy Carroll stars as Claire, a pioneer in the field of artificial consciousness, who is essentially tutoring Julian (Lewis D. Wheeler) — an android — in human social customs and answering (or evading) his childlike questions: "Why is my hair brown?" "Are we friends?" Claire is close to retirement age; her husband Howard is already retired. They have a grown daughter from whom they are estranged. Concepts of human development are meaningless when it comes to Julian, but even so, it's obvious from the start that Julian is, to some extent, a surrogate child for Claire.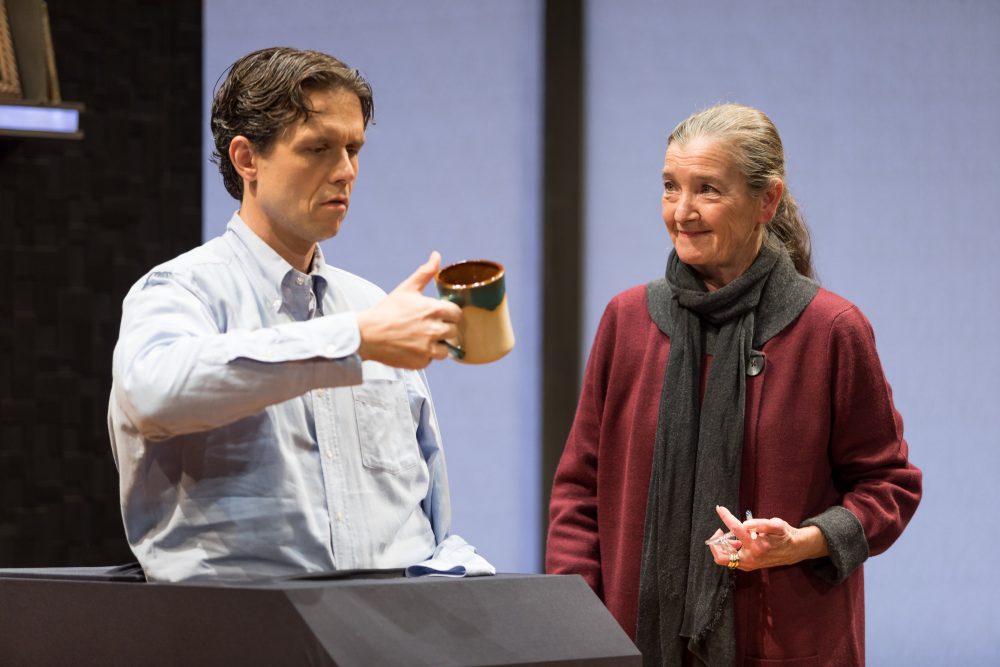 It's also obvious (or so we in the audience think) that Julian really and truly is a sentient being, despite the fact that — thanks to some clever staging — we see him being built right in front of our eyes. He starts as a head mounted on a pair of barely-there shoulders. By stages, he then gains the rest of what looks like a fully intact, functional human body: Torso, right arm, left arm and finally legs.
Wheeler puts just the right spin on Julian's curiosity and delight at each new acquisition, combining a child's sense of discovery with the capacity for comprehension of a fully developed adult. In Wheeler's hands, and under the direction of Weylin Symes, Julian's is a satisfyingly complete journey — from a clichéd flat and mechanical voice in the first scene to the presentation of an all-but-human character toward the play's end. Julian is a virtual man capable of ambition and manipulation, but he also struggles to reconcile impulses as disparate as an alpha male's desire to control a situation with a tenderly human wish to offer kindness.
Even as Wheeler's character is being built limb by limb and layer by layer, Carroll's is being revealed data point by data point. Eventually, we come to know more about the nature of her work, and her employer; we also see the conflicts between her professional and personal sides with ever-greater clarity. Both Wheeler and Carroll had small roles in major Hollywood productions last year (a fleeting scene in "Black Mass" for Wheeler and a slightly more substantial role for Carroll in "Spotlight"), but it's their work on Boston-area stages that constantly reminds audiences to cherish them and hope, selfishly, that the movies don't ever take them from us.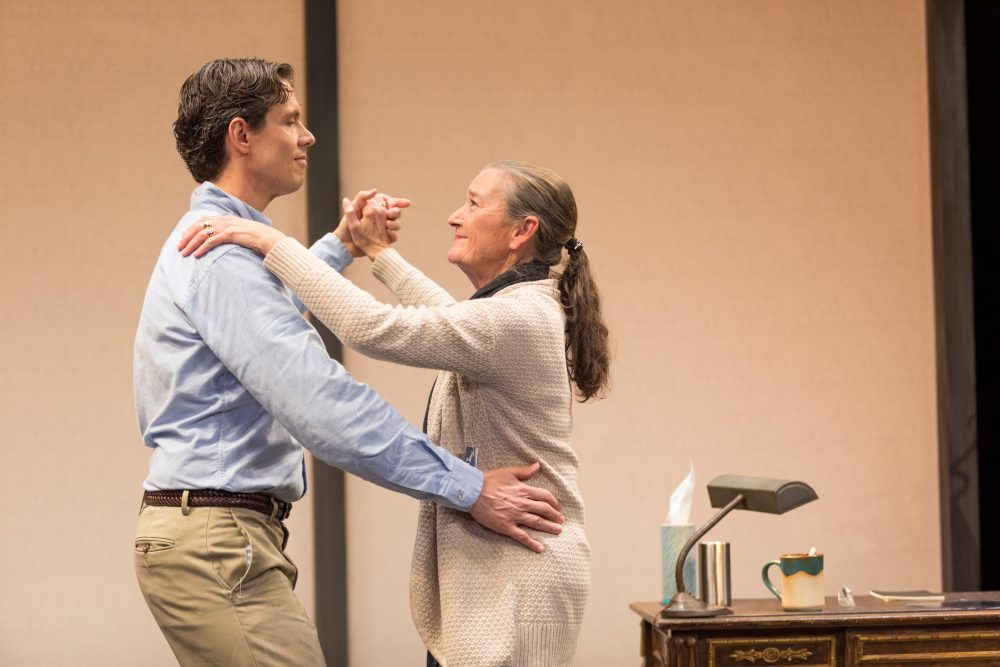 Speaking of the movies, the subject of artificial intelligence has been on the minds of filmmakers lately, from 2015's hyper-literate and coolly mysterious "Ex Machina" to the recent box office flop "Morgan," which came and went more quickly than IBM's Watson can win a round of "Jeopardy!" It's part of a recurring zeitgeist: Since the days of Fritz Lang's "Metropolis," the question of machine intelligence has emerged at regular intervals, in much the same way as other storytelling trends like vampires, zombies and alien invasions. It's perhaps no surprise that the topic would resurface in a social political climate like the one we see now, where compromise is rare and skepticism about the other guy's essential humanity is endemic.
Those resonances aren't overt in the play's dialogue, but they seem ever present, from references to social and political events taking place outside the research lab's confines, to Wheeler and Carroll's finely attuned performances, to Crystal Tiala's set design for the facility itself, which looks like a cross between a gracious penthouse apartment and a high-tech cleanroom.
But if the richness Carroll and Wheeler bring to their roles succeeds in its sheer humanity, the play's central idea is left under-addressed. Presumably, stories about artificial intelligence given the shape of the human organism are meant to address the human, rather than the android, condition. After all, wouldn't the more realistic outcome be machine life taking exception to being limited to human-scale capacities, rather than being content with the "gift" of human attributes?
But even here, the play — while sympathetic — doesn't grasp, or really reach for, anything exceptional, settling instead for the usual palette of fuzzy (and humanistic) inquiries. What constitutes life? What assurance can we ever have to convince us that an artificial intelligence is, despite its human-made origin, anything more than a series of predetermined calculations? Is our concept of consciousness the only valid one? Indeed, what do we have other than blind faith that others — or we ourselves — are "conscious" in any objectively verifiable way? These are dramatically rich questions, but they don't get the kind of play here we might lie to see.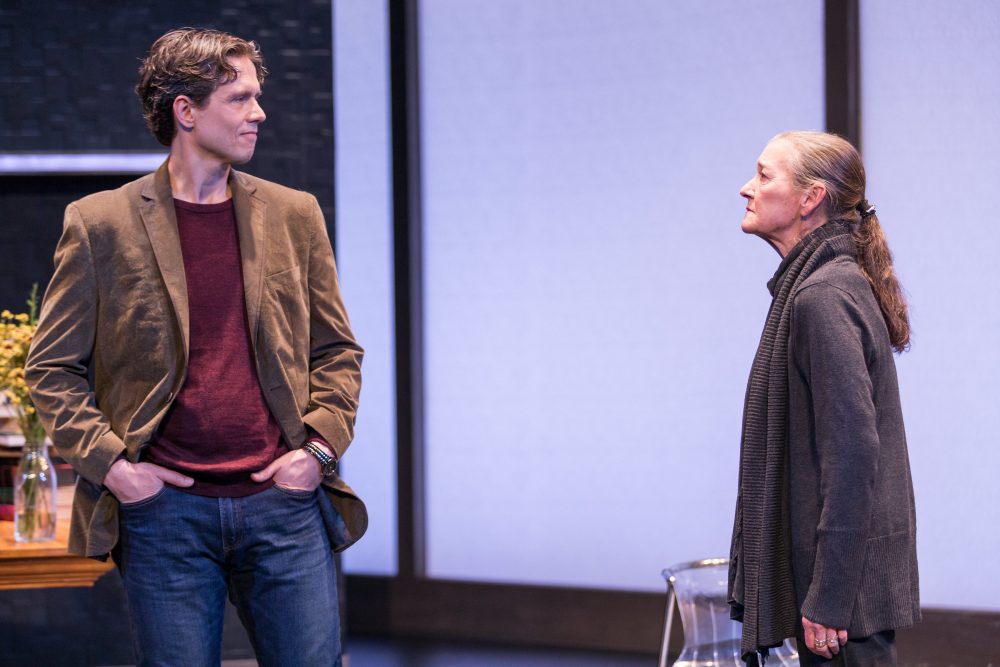 Even when "Uncanny Valley" tackles those thorny philosophical conundrums, it's with too little energy or insight. There's little here you haven't seen before if you've ever watched, say, "Star Trek: The Next Generation" and the struggles of that program's android, Data, to incorporate greater humanity into his programming (and, on occasion, his efforts to overcome prejudice and be accorded the rights and status of a genuine life form). Going back even further, "Uncanny Valley" bears some resemblance to various segments of the classic "The Twilight Zone" series, narrative DNA that's neither disguised nor much enhanced by the light sprinkling of technobabble Gibbons tosses in.
The term "uncanny valley" itself refers to a paradoxical result of highly humanoid machines: The closer an android resembles a human being, the more creepy its not-quite-human elements seem to flesh and blood people. This is a real phenomenon, and it's interesting, but Gibbons doesn't do enough to develop the concept, and he doesn't locate it centrally enough in the play to justify using the phrase as the play's title. Give "Uncanny Valley" major points for the talents of its two stars and the quality of its design work, but it doesn't quite pass the theatergoer's version of the Turing test.