On 10th Album, Boston Rapper Reks Mulls Nature Of Success And Barriers For Black Men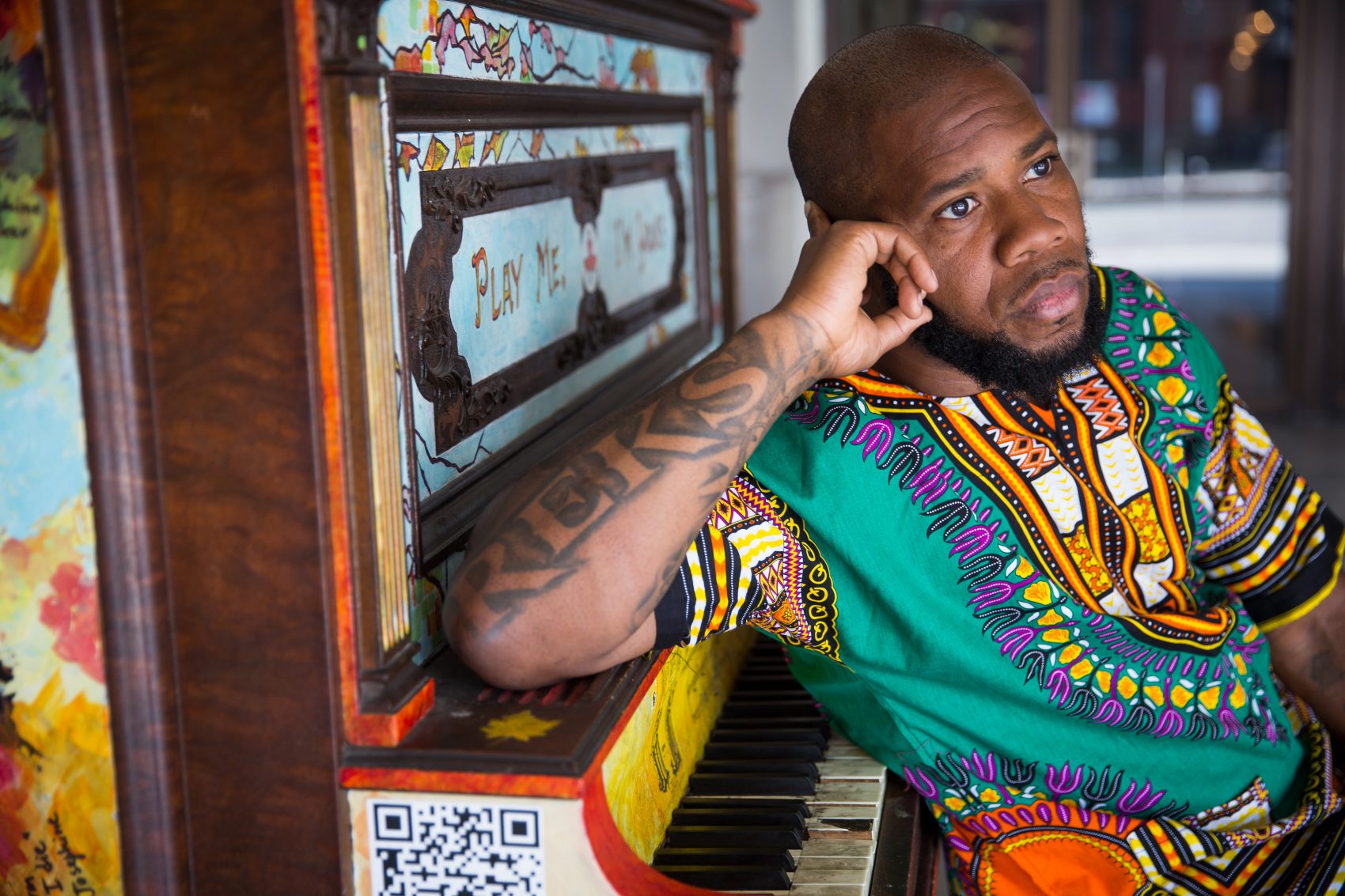 This article is more than 6 years old.
The Boston rapper Reks arrived in Cambridge on a recent October afternoon dragging a rolly suitcase and sporting a black-and-white dashiki that he bought from a Cameroonian shopkeeper on his last visit to Switzerland. Reks, whose given name is Corey Christie, was fresh off of a European tour that included stops in Barcelona, Paris and London. In a week, he would celebrate the release of his new album, "The Greatest X," with a show on Oct. 14 at the Middle East Upstairs in Cambridge.
Sitting outside at a table across the street from the nightclub where he would soon be headlining, it wasn't long before Reks was spotted. A passerby grinned when he caught sight of the rapper. "You got your thing coming up, huh?" he exclaimed, referring to the upcoming show.
Reks nodded. "I hope you're gonna be there, brother."
"Yeah man, I'll be there," the fan replied, beaming. "Congrats! You've been doing it for a minute, man."
Reks has, indeed, been doing it for a minute. It has been 15 years since his 2001 debut, "Along Came the Chosen," put the rapper on the map in the Boston underground. Since then, Reks has released albums at a regular clip, save for a five-year hiatus between 2003 and 2008 when he got married and had his first child. "The Greatest X" is Reks' 10th LP, and at 35 tracks, it is also his longest.
"I wanted to add a little bit more substance, a little bit more for people who stuck with me from day one," he says. "I wanted to get a feel of all the different albums, different pieces of me, and put them into one project."
In contrast to 2012's "Rebelutionary," and 2014's "Eyes Watching God," which were each collaborations with a single producer, "The Greatest X" boasts a prodigious collection of beat-makers, including Large Professor, The Alchemist, Statik Selektah and Black Milk, to name but a few of its more noteworthy contributors. It also cozies back up to the old-school boom-bap aesthetic from which Reks has strayed in recent years. "I just wanted to return to that formula that was my bread and butter that made 'Gray Hairs' and made 'Reks [Rhythmic Eternal King Supreme]'," he says, referring to his 2008 and 2011 albums, respectively. The result is an expansive LP that sees the rapper refreshingly loose as he lopes eagerly across dynamic musical terrain.
"The Greatest X" is actually meant to be pronounced "The Greatest Unknown," and it is a moniker that the emcee employs with snarling pride throughout the album. "'The Greatest Unknown' is basically me stating I've amassed so much success and so much riches—without amassing so much success or riches," Reks says. Yet it's an identity that the rapper has had to come to terms with. "When you're a lot younger than I am now, your mind-frame is stuck on, 'I got to get here, I got to get there. I got to do this to say I've left a lasting legacy,'" Reks explains. "And then as you get older, you have children, you've experienced life more, you've traveled the world, you've seen a lot more, you've done a lot more. Your idea of what's important, obviously, changes."
Reks' capacity for growth has long been evident. While his early efforts were, as he says, "braggadocio" records, his last three albums represented a political awakening, culminating in 2014's "Eyes Watching God," which was practically a crash course in black history and political thought. "The Greatest X" feels more personal, but politics are never far from Reks' mind. Throughout the album, the anonymity that he ascribes to his professional life also symbolizes his disenfranchisement as a black man. But some of the rapper's harshest words are saved for the sitting president. "Obama just as bad as Bush was," he spits on the opening track, the first of several passing jibes aimed at the commander-in-chief.
His disappointment stems in part from what he sees as the president's failure to respond meaningfully in the wake of numerous police shootings of unarmed black men and the rise of the Black Lives Matter movement. "If he took that and he was like, 'OK, you know what, I'm going to be the face of the reality of a group of people who have been disenfranchised, anonymous, and treated as they've been treated, and I relate to it'—he could have been that voice, that face, and it would have been a different circumstance," Reks says.
He is not overjoyed with the administration's policies, either, which he says don't go far enough. "Individuals are going to come in and shake up things and it's going to alter it a little bit. It's a tug of war," he says. "So really, there's no broad changes. There's no FDR changes."
When asked who he plans to vote for in November, Reks sounds weary. "I don't know what I'm doing," he admits, a note of resignation in his voice. "I'll probably vote for Jill Stein."
On "The Greatest X," Reks is at his most affecting when the personal takes precedent, even as the political lurks quietly underneath. "Hoop dreams/ Hoop it up in hip-hop/ Said it on the mic cause I ain't had it with the jump shot," he raps in the hook to "Jump Shots," a wistful ode to growing up in Lawrence. A life of reduced options—basketball, rapping or the street—that he describes in that song is one that he says he felt keenly in his childhood, which was marked by a four-year stint in foster care and his parents' difficult relationship. His father died when the rapper was still young. "He was a tough dude in Lawrence and people looked up to him, but at the same time they could see the evil that the man was," Reks says. But he speaks about his mother, who had him when she was 16, with both wonder and admiration. "I love my mom. She's the illest. And plus, she's the strongest," he says. "My mom was a baby, with a big child. I have a 13-year-old now—but I'm 39, you know what I'm saying? It's a big difference."
Though the budding emcee ended up chasing other accomplishments—he graduated from UMass Amherst with a degree in marketing—the mic never stopped calling. "It was tough," Reks says of the transition from his tightly circumscribed life in Lawrence to the sprawling university. "But also music was calling me. I knew about the Boston hip-hop scene, and it was vibrant. It was so alive."
Nowadays, some of his most tender lyrics are reserved for his two sons. "Got so much to teach/ Zeke and JoJo/ My two princes/ My two senses/ Are gonna be embedded/ Minus the edit/ So they can have a true history lesson on record," he intones on the gently aching "My Dark Skin (Revisited)." "It's just basically talking about the travails of having to carry this skin," he says of the song. "What it is to raise my children in a world where I have to talk to my son about what he learns in U.S. history and how he needs to behave when he gets stopped."
Yet for all his adult concerns, Reks still hustles like a young man: booking gigs, renting buses, sleeping on Airbnb floors. He says he hasn't had a job other than music since 2008.
"Before you congratulate me — I am the Thoreau of hip-hop, in that I live by very meager means," he says, chuckling. "I'm able to travel the world. I'm able to support my kids. They get everything they need. And I'm able to live my life freely and happily. And that's enough."