Forecast: Some Wet Weather Coming, But Should End To Salvage Weekend
Boston reached 81 degrees on Wednesday during an afternoon where it felt like summer. Even Worcester hit 74, far above the average in the upper 50s and lower 60s.
Today it will be much cooler and skies will become cloudier throughout the afternoon. The morning is most definitely the best part of the day.
There could be a few showers moving in for the evening commute, but it's equally possible you end up making it home without seeing any rain. Highs will be in the lower 60s, but perhaps falling a bit right along the coast with an easterly wind.
A wave of low pressure will bring more moisture into the area on Friday. What I am sure of is it will be a cloudy day, but the steadiest rain may hold off until the evening or even early Saturday morning. With all the clouds will come quite a bit of humidity. It's going to feel muggy again with a feel that is similar to Wednesday morning — but without the sunshine.
The rain will end Saturday. The timing of the end of the rain is, of course, critical to your plans.  Right now I am leaning toward a morning end, but I will refine that tomorrow.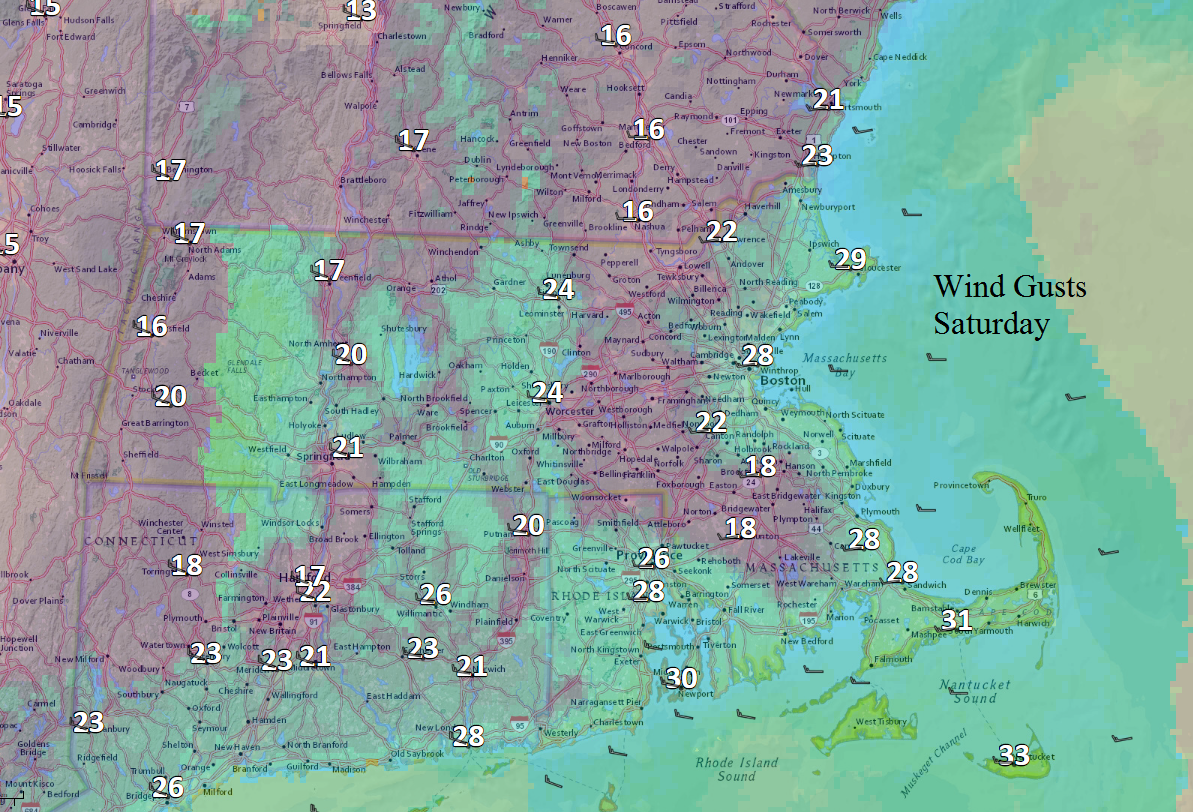 As the rain ends temperatures will fall through the 60s and into the 50s on Saturday afternoon. It will also become blustery. The winds will be strong on Sunday as well.
The Head of the Charles Regatta is this weekend. Rowers will be fighting the blustery conditions. If you are going to be a spectator, bring something warm to wear, especially on Sunday.
You can follow my weather updates on Twitter at @growingwisdom.
---
Thursday: Clouds thicken, showers develop towards dark. Highs in the upper 50s along the water to mid 60s.
Thursday night: Showers with some fog. Lows 52-57.
Friday: Cloudy with a period of showers, especially late in the day. Muggy and mild. Highs in the mid to upper 60s.
Saturday: Rain ending then clearing and becoming windy. Highs in the mid-60s, falling late in the day.
Sunday: Mainly sunny, blustery and cooler. Highs in the upper 50s.
Monday: Sunny and brisk. Highs in the mid to upper 50s.